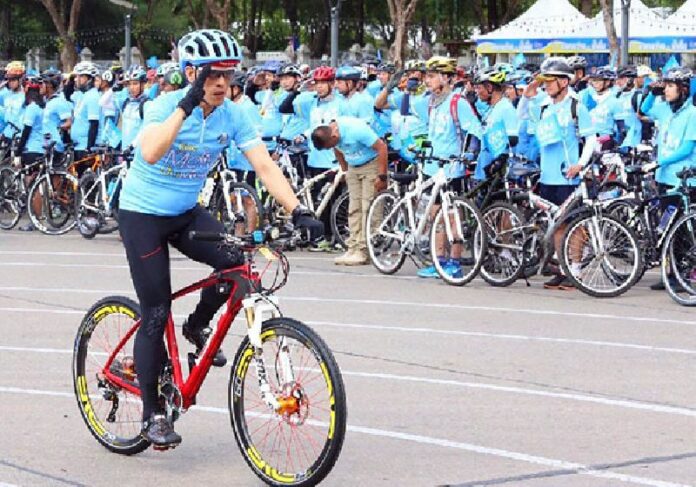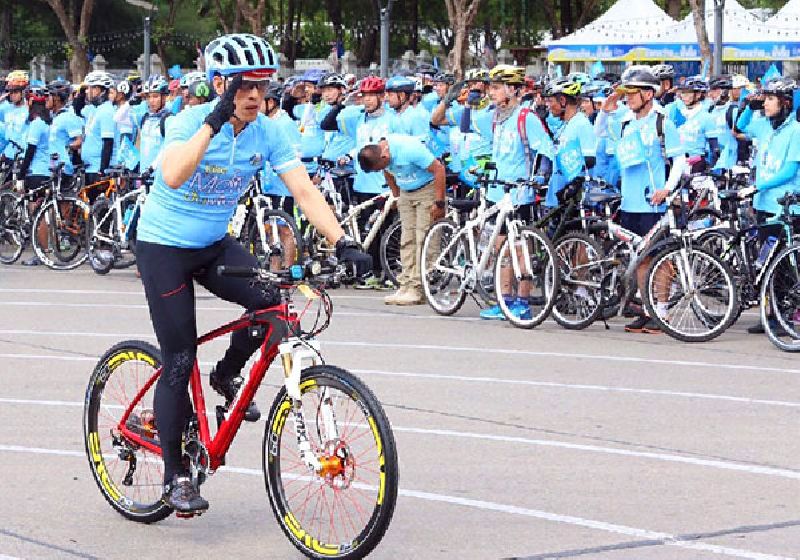 BANGKOK — The Crown Prince of Thailand is set to lead another mass cycling event to honor his father, King Bhumibol, according to one of the prince's royal aides.
The event, called Bike For Dad, is follows on the Bike For Mom event co-organized by the military government and royal palace on 16 Aug., in which Prince Vajiralongkorn led thousands of cyclists in a mass ride around Bangkok to honor his mother, Queen Sirikit.
Suriyan Sujaritpalawong, a close aide to the 60-year-old Crown Prince and a chief organizer of the Bike For Mom event, wrote Sunday that Bike For Dad will be held 11 Dec.
Suriyan also posted a royal emblem he said has been designed for the event.
No other details were given by Suriyan. The Royal Household Bureau, which manages affairs related to the Royal Family, has yet to make an official statement on the matter, and the event's official website seen in Suriyan's post does not appear to have been registered yet.
For the Bike For Mom event, the Crown Prince and his 36-year-old daughter, Princess Bajrakitiyabha, along with top government officials and more than 3,000 participants, cycled from the Royal Plaza to the 11th Infantry Division in northern Bangkok and back, covering over 43 kilometers.
Similar mass cycling events were held on the same day throughout the country. State media described the event as a project conceived by Prince Vajiralongkorn to show his gratitude toward Queen Sirikit, who turned 83 on 12 Aug. Cycling is the Crown Prince's favorite hobby, state media reports said.
Prince Vajiralongkorn is eldest son of King Bhumibol, who is set to turn 88 on 5 Dec. His birthday is designated as a national holiday in Thailand, and numerous ceremonies are organized by both state and private sectors to honor His Majesty the King on the occasion.
King Bhumibol is currently residing at Siriraj Hospital in Bangkok, where he is receiving treatment for several illnesses. The Royal Household Bureau said on Monday that his condition has improved.
The monarch's ailing health is a cause of anxiety for many Thais, who credit Thailand's relative stability to King Bhumibol's 69-year reign.
To reach us about this article or another matter, please contact us by e-mail at: [email protected].