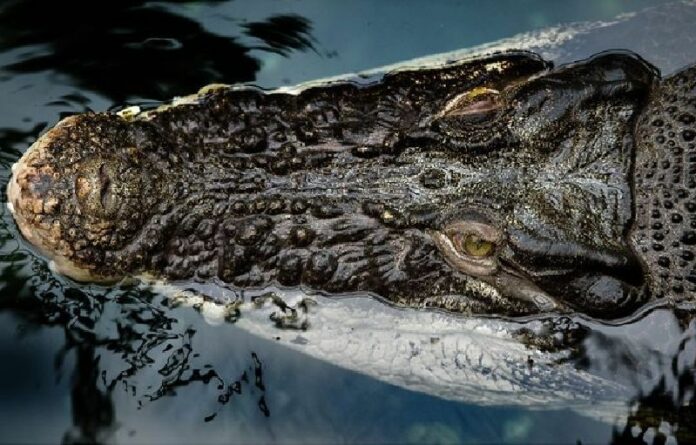 RATCHABURI — A crocodile farm owner in Ratchaburi province has offered a 1,000-baht bounty for each of six crocodiles that escaped his farm last week while the hunt continues for the runaway reptiles.
At Chinpinkliao, owner of Thep Nimit farm, said a number of crocodiles escaped from his property Friday, an escape he blamed on a migrant Myanmar worker who didn't take proper precautions while cleaning the croc pen and enabled their escape through a wastewater pipe into a nearby rice field.
"It was the worker's carelessness" that allowed the crocodiles to slip out through the pipe, At said. He told reporters today that he was able to recover all but six of the absconded crocodiles. At's farm, which also doubles as pig farm, has about 200 crocodiles, officials said.
A search team on the lookout for one of six crocodiles still missing from the Thep Nimit farm in Ratchaburi province.
According to At, he has called on local authorities and expert crocodile catchers from Chaiyanat province to help find the animals.
Should anyone manage to catch and return one to the farm, At said he'll hand over 1,000 baht for each recovered croc.
Prayong Chantateng, Chief Officer of Pak To District, confirmed today that six crocodiles are still on the loose.
"We have dispatched officials, soldiers, kamnans and village chiefs to patrol around the area and ponds behind the farm," he said.
At has also been ordered to improve fences and separate crocodiles into different pens at his farm, said Chanin Saengroonrueng, an official from Ratchaburi's fishery department.
"How the crocodiles are kept is incorrect. Small and big crocodiles were mixed together," Chanin said. "Moreover, the wastewater disposal area is installed incorrectly, that's why crocodiles slipped out easily."
He said At would lose his license for the crocodile farm if he does not get it up to code.
To reach us about this article or another matter, please contact us by e-mail at: [email protected].