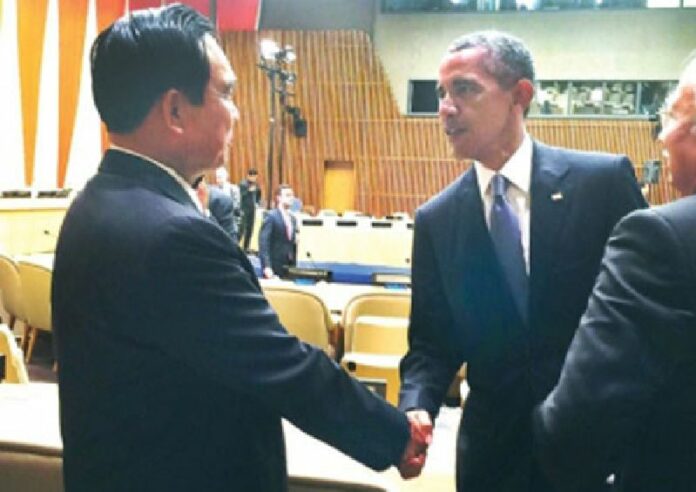 BANGKOK — The military government yesterday disputed a media report alleging U.S. officials asked junta chairman Prayuth Chan-ocha's entourage not to publish photos of the moment he shook hand with President Barack Obama last week.
The debate arose from a 29 Sept. photo that showed Gen. Prayuth shaking hand with Obama, presumably taken during his recent trip to the United Nations General Assembly in New York City. The photo appeared to have been candidly snapped on a mobile phone and shared on social media, leading to speculation among internet users whether the photo was authorized by Thai and American officials.
According to a report Friday from BBC Thai, a Facebook-based platform of the BBC in Thailand, the photo was taken at the request of Thai officials, who expended great effort to have Gen. Prayuth meet with Obama in New York to show that the United States government views Thailand's military regime favorably.
A handshake with the president of the United States is a much-sought opportunity for world leaders during the assembly, and the president's handlers deftly seek to manage contact based on the state of international relations.
Junta chairman Gen. Prayuth Chan-ocha and his wife Naraporn Chan-ocha pose for a formal photo with U.S. first lady Michelle Obama and President Barack Obama in New York City. Photo: United Nations
Citing an anonymous source, BBC Thai reported the Thai delegation secured the photo-op "after a long negotiation" on the condition from the American side that the Thai official photographer not take the photo, that it not be published through formal channels, and that it could only be released informally on social media.
Government spokesman Weerachon Sukhondhapatipak disputed that account in a news conference yesterday.
It was Obama who first noticed Prayuth in the room where nation leaders were mingling with each other and approached him to offer personal greetings, Weerachon said.
He said Obama then thanked Prayuth for coming to the UN General Assembly. A personal aide of Gen. Prayuth then snapped the photo, to which American officials raised no objections, Weerachon said.
"I insist that there was no negotiation to get the photo as reported by some media," Weerachon said. "It was only a photograph, why would we need to negotiate?"
He added, "The media that reported this story has bad intentions."
The Thai military, which came to power by staging a coup against an elected government in May 2014, was keen to publicize Prayuth's trip to the United Nations from 24 Sep. through Thursday to bolster the regime's legitimacy and credibility.
Several nations, including the United States and the European Union, criticized the military takeover, downgraded its cooperation with Thailand and announced that full relations would only be restored when a new civilian government is voted into power.
Apart from the candid photo of the handshake, another photo also surfaced on the social media, showing Prayuth and his wife, Naraporn Chan-ocha, standing with Obama and First Lady Michelle Obama for a formal photo op.
The Thai government has not published any photos of Prayuth and Obama on its official website so far.
Meanwhile, the website of Matichon newspaper on Saturday retracted the BBC Thai article that it had republished on its site, citing "inaccuracies" in the piece.
In a statement published on its website, Matichon said deputy army chief Asawin Chaemsuwan met with its editorial team and explained that the news report by BBC Thai was inaccurate. The explanation prompted Matichon to withdraw the story and apologize, the statement said.
To reach us about this article or another matter, please contact us by e-mail at: [email protected].