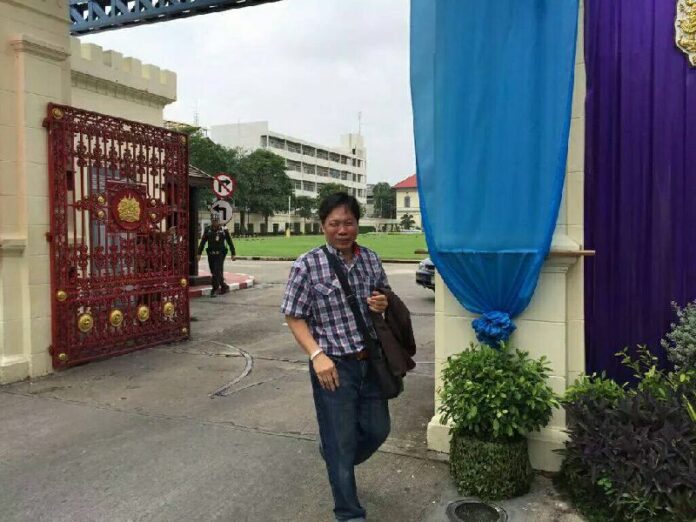 BANGKOK — The military junta detained a cartoonist from a prominent newspaper for two hours yesterday to protest alleged inaccuracies in his works.
Sakda Sae-Eiaw, who draws daily political cartoons for Thai Rath newspaper, was summoned to report to the Royal Thai Army headquarters at 9.30am Sunday over his work. He was later released about 11.30am.
Speaking to reporters, Sakda said military officers criticized him for "content in some of the cartoons that do not represent the facts."
Sakda said the ruling junta, known formally as National Council for Peace and Order, dispatched military officers to Thai Rath's office Saturday to personally deliver him the "invitation."
"The NCPO did not prohibit me from expressing my opinion," Sakda said. "But they said that from now on, if they see that my drawings and cartoons do not represent facts, they will take legal action against me, and I will be held responsible."
A political cartoon in Saturday's edition of Thai Rath newspaper by cartoonist Sakda Sae-Eiaw. He was ordered to report to Royal Thai Army headquarters in Bangkok on Sunday. Image: Thai Rath
Sakda said he insisted to the military that his cartoons had "good intentions for the country." The cartoonist also said he would "decrease" his role as a cartoonist for Thai Rath after talking with the military today.
"I will probably decrease my role a bit, because it may affect the organization that I work for," he told reporters.
Known by his pen name Sia Thai Rath, Sakda has been drawing cartoons for Thai Rath for decades.
Since the 2006 military coup that removed then-Prime Minister Thaksin Shinawatra, Sakda has visibly expressed support for Thaksin and his allies in his cartoons. His pro-Thaksin stance contrasts starkly with Thai Rath's other in-house cartoonist, Chai Ratchawat, whose work supports the anti-Thaksin faction.
Sakda has frequently criticized the military junta and its coup d'etat against the pro-Thaksin government in May 2014.
In his latest cartoon, published on 3 Oct., Sakda juxtaposited junta chairman and Prime Minister Prayuth Chan-ocha's recent speech to the United Nations General Assembly, in which he affirmed respect for human rights and free speech in Thailand, with long list of the general's suppression of civil rights at home.
Since the military takeover in 2014, the junta has banned political activity, protests and other public displays of resistance to its regime.
It has also warned media agencies to "cooperate" with the military government, while Gen. Prayuth regularly scolds reporters questioning his rule – though the regime has stopped short of full-blown censorship of the press so far.
Sakda became the second reporter in the past month to be summoned by the military junta. On 14 Sep. a reporter for The Nation, Pravit Rojanaphruk, was summoned and later placed in three-day detention at an undisclosed location to undergo what the junta described as "attitude adjustment." Pravit resigned from his post at The Nation a day after he was freed, citing "pressures" on the newspaper.
There has been no comment from neither Thai Journalist Association or Thai Rath newspaper about Sakda's summon.
Speaking to reporters before he reported to the military this morning, Sakda defended his work.
"I represent things in accordance with the facts," he said. "The issues that I put in the cartoons are from daily news. I didn't just imagine them."
He added, "I did put in some of my opinions, because writing cartoons is similar to being a columnist. It's about provoking thought with your writing."
Related stories:
The Nation Forces Veteran Journalist Pravit to Quit
Military Holds 'The Nation' Journalist in Secret Detention
To reach us about this article or another matter, please contact us by e-mail at: [email protected].
Follow Khaosod English on
and
Twitter
for news, politics and more from Thailand.