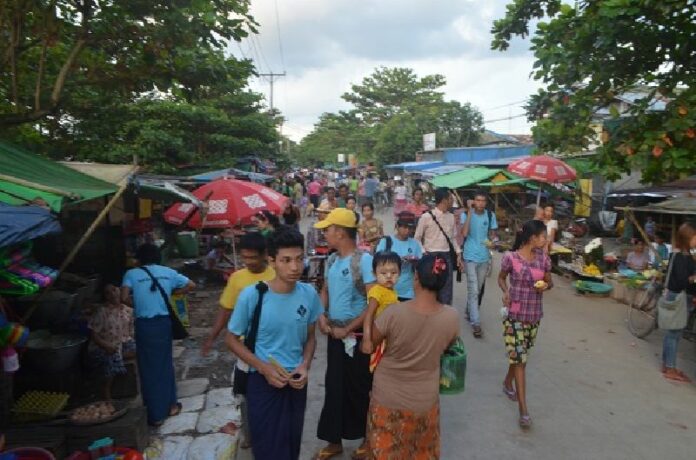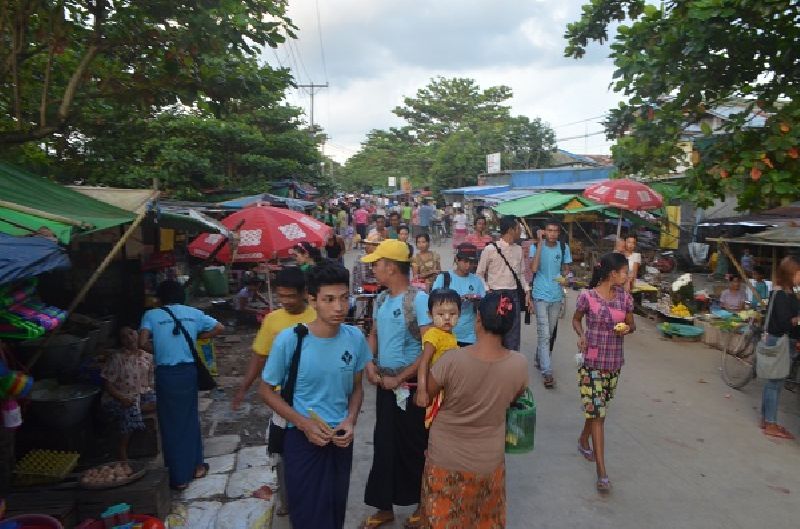 By Phyo Thiha Cho
YANGON, Myanmar — On a recent hot afternoon on a bustling street in Hlaing Thayar Township, residents and stall keepers were shading themselves from the blistering sun, but a group of youth activists clad in blue T-shirts were undeterred in their efforts to motivate would-be voters.
"Soon there will be elections that could change our future. You have the freedom to vote for your preferred candidates, but you will only be able to do so if your name is on the voter list," a member of the Independent Youth For Change announced through a handheld speaker to passers-by. "We urge you to check the voter list."
Hlaing Thayar Township, a sprawling mix of shanty towns and industrial estates on Yangon's northern outskirts, has emerged as one of the main areas in the city affected by widespread voter registration problems. The issue could leave tens of thousands of people in the township – and many more nationwide – without the opportunity to vote in Myanmar's landmark polls on 8 Nov.
Concerned activists and opposition party candidates are trying to mobilise voters in the area to make sure their names are correctly registered on voter lists. But the time left to do this is fast running out, the procedures involved are complicated, and public interest in election preparations is low.
"I'm really worried they may not be able to vote despite their eligibility," Than Myint, a Lower House candidate for the National League for Democracy, or NLD, in Hlaing Thayar Township, told Myanmar Now.
Criticism over errors on voter lists have filled Myanmar's social and mainstream media, with complaints ranging from incorrect birth dates, names and national registration numbers to the inclusion of deceased people, and the omission of eligible voters.
The Union Election Commission has blamed errors on software problems and said it is the responsibility of voters to ensure their names and details have been correctly listed.
But Aye Boh, an Upper House candidate for the opposition NLD, said he believed inaccuracies in the voter list were more than simple errors.
"I think the (commission) did it so people would be frustrated and disappointed," he said in a phone interview, declining to discuss the motivations of the electoral commission.
In Hlaing Thayar, residents viewed the problems with a mix of concern and resignation, the latter a result of a deep distrust of the government and political process after decades of military rule.
Moe Moe Mying, a customer in a grocery shop, was cynical when asked about registering for the general election, saying the lists had already been manipulated and even bulked out with the names of people who had died.
"The dead are on the list but the living are excluded. No point in checking," she said.
Some residents who attempted to correct the lists said their complaints had not been properly addressed by local election commission officials.
Aung Thein Myint, whose family has lived in the area for years, said he checked the voter list when it was released in April and found that his adult daughter's name was missing. He filled in a form to correct it, only to discover to his astonishment that in the updated voter list all his family members had disappeared, and another family was registered at his home address.
"I'm going to lodge a complaint if this doesn't change," he said. "I voted in the 1990 and 2010 elections; I just showed my identity card. This time, the process is so complicated."
Public Apathy
The commission has said it is up to voters to check the accuracy of the lists. Its chairman, Tin Aye, stated on 12 Sept. he could only guarantee a 30 percent accuracy rate for nationwide voter lists as the public had failed to actively verify their names on voter lists.
The deadline to file an application for voter list changes closed on Sept. 27. Migrant workers, however, could apply for voter registration until 10 Oct., according to the election commission.
The People's Alliance for Credible Elections, or PACE, a coalition of local NGOs observing the election preparations and the polls, said in 21 Sept. statement that it was concerned over low levels of voter participation and awareness raising on the issue.
"In centers observed, PACE saw low levels of voter turnout and low levels of voters making changes or additions to the list."
Saung Kha, a youth activist and poet, said he joined the Independent Youth For Change campaign as the public needed to be stirred into action to register and turn out to vote on 8 Nov.
"People have experience with elections in the past, but they have lost trust because previous elections did not lead to genuine change," he told Myanmar Now.
To reach us about this article or another matter, please contact us by e-mail at: [email protected].