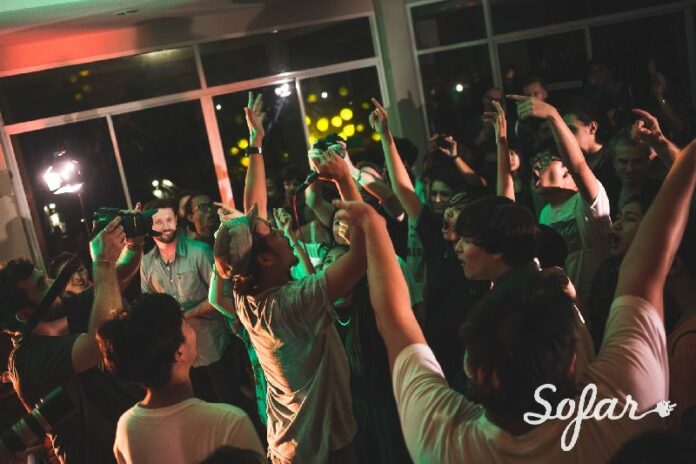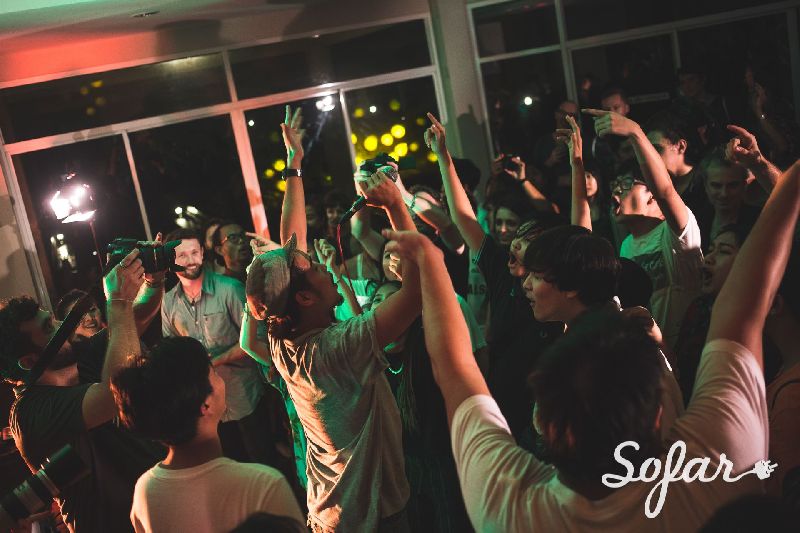 BANGKOK — They fiddled with plastic cups, arranging them carefully to set an eco-art look. Musicians arrived early for sound check, and as their music filled the air, the crew of Sofar Sounds seemed to embrace the energy as they transformed a Bangkok living room into a stage.
Sofar Sounds Bangkok celebrated its first birthday Saturday at the fifth "secret show" in its ongoing mission to foster discovery and surprise by staging concerts with a catch: Audiences have no idea who will be there.
Although Sofar proved Saturday it can woo an enthusiastic Thai and international audience, its commitment to the concept of intimate, passionate shows for only 200 people – no big sponsors, no big marketing – means that a year later it has pushed up against the limits of its ambitions.
"We don't want to sell out," said Adam Sharpe, director of Sofar Sounds Bangkok.
Big hotels and alcohol brands have wanted to sponsor Sofar, but Sharpe is adamant it needs to retain the original concept by keeping each party to no more than 200 people. So don't expect to see them on RCA anytime soon.
That's because most corporate sponsors want a big show with their banners and logos plastered on every wall. Not to say Saturday's event was sponsor-free. For the event, held inside a private residence out on Soi Ramkhamhaeng 118, the team partnered with Bangkok microbrew Sandport, Uber and Two Angels Taco truck.
A lofty, wood-floored living room surrounded by large glass windows proved a love nest for about 200 passionate music fans interested in a break from the usual commerce-driven format. The crowd was a healthy mix of both Thais and foreigners.
One by one bands took the stage for well-received sets.
One of the most respected bands of this alternative music community, Plastic Section, shook the room with a frenzy of rock. Yanin, characterized by its deep-voiced lead singer and somber lyrics was described by someone as an "contempory folk music/songs for life." Fwends fronted a lead singer with sweet sounds but an alt-rock twist. Closing out the party was Srirajah Rockers, who ended the night with a reggae-fused vibe and hidden Buddhist messages that sat well with the audience.
It's a testament to the evolving music scene that the whole thing wasn't dominated by the customary acoustic and indie flavors. In fact, Sharpe said the genres of new Bangkok music blend into one at Sofar Sounds Bangkok.
But still, it's a thing that as an event is unlikely to catch fire beyond its existing fans.
Photo courtesy Sofar Sounds Bangkok, Vincent Roazzi.
Lead singer of Sirajah Rockers, Win Chujitarom, said that at first he didn't understand why Sofar didn't want more mass promotion and audiences, but he grew to embrace the concept.
"It's held in a way in which the audience doesn't really attach itself to the identity of the singer, but attach themselves solely to the music," he said.
The whole Sofar Sounds thing started six years ago in London, where three guys wanted to stage more intimate music gatherings after attending a gig at a bar drowned out by chatter and ringing phones. Sofar, or Songs From a Room, launched in Bangkok in 2014 when Sharpe, a big fan of local acts such as Slot Machine, got wind of the idea.
He said the money comes mostly from their own pockets and donations from attendees. Crew members are volunteers with day jobs.
Pakarn Kiatpinyo, the group's managing director, said they wanted everything to go slowly. He doesn't regret that they couldn't collaborate with big brands because it would mean changing the vision for Sofar. He said its premise is an opportunity, not an obstacle.
"Why would we want to be like the others?" he said, referring to the corporate music interests that place profit above art and community.
Luise Ganser, who produces Sofar's videos, said she no longer feels anything at mega-concerts but gets goosebumps listening to bands at a Sofar show.
She remembers an audience being reduced to tears when the lead singer of Jinta sang a cover of "Reverse," a song by a close friend who'd recently died, Wanarat Chaiyapan of Assajan Jakgawan. You could fill stadium after stadium with megastar performances and still fail to deliver an emotional moment like that.
Though there are plans to stage a larger concert that could accommodate 1,000 people, they want it to maintain the same intimate feeling. Maybe in a forest, they're thinking.
On the biz side, they've recently partnered with Fungjai, a streaming music service for independent Thai musicians, to feature Sofar videos and music.
Sofar fans can enjoy an encore or catch shows they missed through Fungjai, potentially expanding the fan base and giving local musicians another platform to be heard. About 100,000 people are using Fungjai and its online zine, according to co-founder Piyapong Muenprasertdee.
"With the collaboration of Fungjai and Sofar, Fungjai hopes to reach a larger international audience, as Sofar Sounds has an international platform in 140 cities around the world," Piyapong said.
So while the shows may be small and Sofar unlikely to grow beyond its niche, it may help boost Bangkok's booming, underground alt-rock scene.
A performance by well-liked band Jelly Rocket, she said, racked up more than 50,000 views on YouTube since April.
That's a start, and Sharpe hopes to build an platform for the music to get international exposure, but he admits that's a challenge without the kind of overt marketing they are uneasy with.
Whether or not the tight-knit Sofar scene will endure in its present form, it seems to have tapped into the passion needed to build something that, although small, could build the jam for Bangkok's flourishing alternative scene through Sofar's international appeal.
Sofar Sounds next show is expected to be held late February. Learn more at Sofar Sounds Bangkok on Facebook.
Correction: An earlier version of this story incorrectly identified the singer of "Reverse" as Assajan Jakgawan. The song was originally sang by Wanarat Chaiyapan of the band Assajan Jakgawan.
To reach us about this article or another matter, please contact us by e-mail at: [email protected].