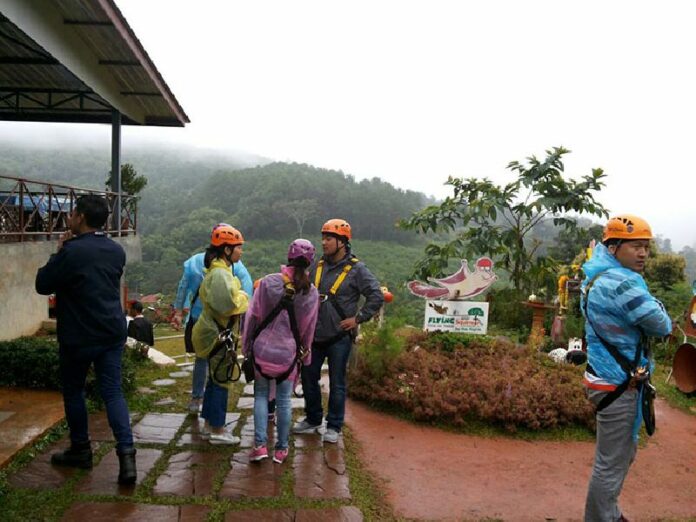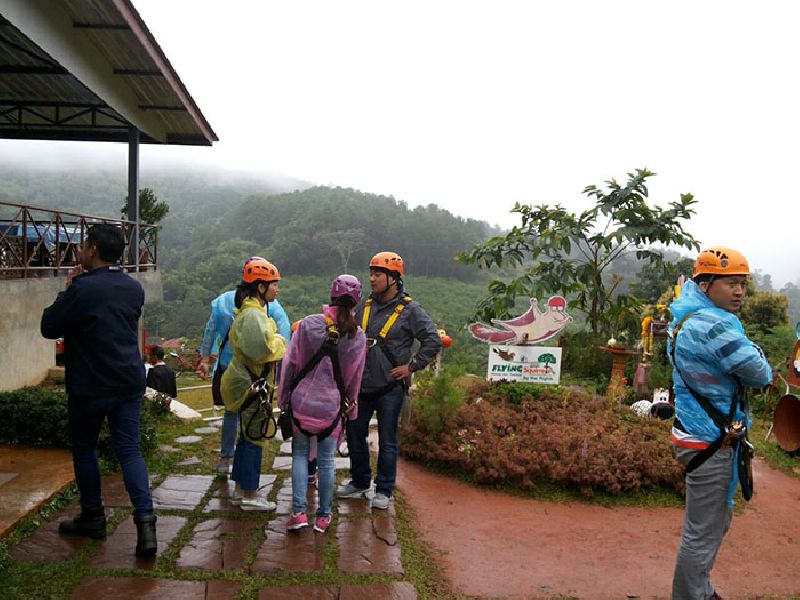 CHIANG MAI — A Chinese tourist died at a zipline attraction in Chiang Mai on Sunday, the second this year to die in the northern province under similar circumstances.
Criminal negligence charges may be filed against the owners and operators of the Flying Squirrels zipline operation after news of the fatal incident emerged yesterday from a local police commander, who told reporters his unit were notified Sunday evening about an unconscious 32-year-old tourist, who was later pronounced dead.
Police Col. Adul Somnuek said the deceased tourist's friends complained to the Chinese consulate in Chiang Mai because Flying Squirrel initially told police the victim may have died of heart failure. At that point the consulate urged Thai police to investigate the matter, he said. The consulate has not responded to requests for comment.
Khaosod English is withholding identity of the deceased until her next of kin has been notified.
Speaking to Khaosod English today, Adul said an initial autopsy revealed the tourist died from a broken neck.
"The neck was snapped, breaking it," said Adul, who heads the Mae Rim Police Station. "We just knew yesterday that the neck was broken. At first we were told that [the deceased] lost consciousness in the harness. When we reached the scene, officers didn't know what really happened. It was deep in the forest. So we were told that she feinted or had some kind of a shock."
He added that a more detailed autopsy will be concluded "within three days."
A photo posted on Flying Squirrels' Facebook page indicates authorities held a "confidence in safety in the lives and property of tourists" there on Sept. 11. Photo: Flying Squirrels / Facebook
Amphika Masanong, assistant manager of Flying Squirrels, said by telephone today the tourist must have broken her neck after coming to an abrupt stop.
She said the incident took place after the deceased and another person on the tour were placed together for a zipline ride, which is usually reserved for one person at a time.
Staff decided to put the pair together, Amphika said, because another tourist could not make it to the end of the line, and the staff determined the deceased didn't weigh enough to reach the platform on her own.
Just as she was coming to the platform, the tourist started to panic and flapped her arms about, Amphika said, preventing staff from catching her in time. She came to a halt at the end of the line, Amphika said, speculating the sudden stop must have snapped her neck.
She said the company only learned yesterday from the autopsy report that the woman died of a broken neck, saying they had no intention of distorting information.
"There was no visible wound on her body at the time, and she looked pale. We thought she was in shock, or she was about to feint, so we applied first aid and called the ambulance," Amphika said.
Though police have not filed any charges yet, she said the company is prepared to "take all responsibility."
Adul said police expect to take legal action soon based on the results of their investigation.
"We believe it was caused by negligence on the part of the operators," he said.
Police Maj. Gen. Pacha Rattanapat, deputy commander of police in northern Thailand, said yesterday that police will press charges of negligence resulting in the death of others against the company.
The Sunday incident came about three months after a 44-year-old Chinese tourist fell to her death from a zipline operated by another company in Chiang Mai.
The previous fatal accident took place June 29 at the Skyline Adventure zipline company. It was initially withheld from the media because it coincided with the arrival of junta chairman Prayuth Chan-ocha, who was touring Chiang Mai province at the time. Local authorities did not want "negative news" to emerge during his trip.
In July, a Chinese woman and American woman were seriously injured in a head-on zipline collision at a popular zipline attraction in Chiang Mai's Mae Kam Pong district.
Flying Squirrels will be shut down for three days starting Wednesday, Adul said, while Skyline Adventure has returned to business after a brief suspension.
To reach us about this article or another matter, please contact us by e-mail at: [email protected].