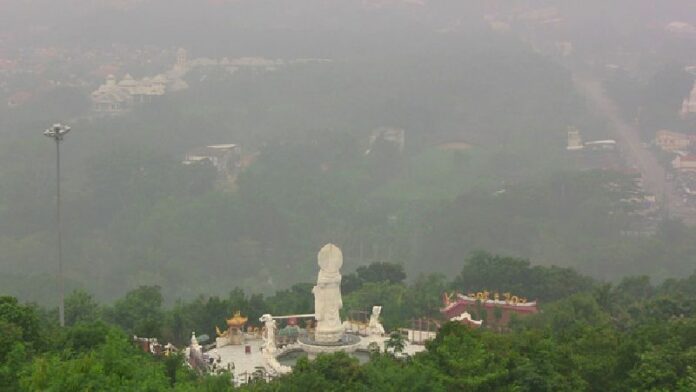 SONGKHLA — Smog from Indonesian forest fires worsened across large parts of southern Thailand today, driven by tropical storm Koppu, which has moved on from the Philippines and is bearing down on Taiwan.
The storm, combined with a weakening high pressure system over northern Thailand, has effective pushed more smoke over from Sumatra to Songkhla, according to meteorologist Nongyao Muengngam.
Conditions will lessen when the storm moves inland on Oct. 22 or Oct. 23. Rain is forecast for 60 percent of the Thai south, which will also help clear the air.
Even though Hat Yai was blanketed in smoke again today, regional environmental official Halem Jemarigun said the situation was less severe than before. The air quality is still under the safety standard and would cover the city for only few days.
Indonesian President Joko Widodo said his country has "gone to great lengths" to tackle the problem, though experts yesterday conceded failed efforts to put the fires out mean they will keep burning into next year.
Related stories:
Southeast Asia to Choke on Smoke for Months as Indonesia Fails to Douse Fires
Indonesian Smoke Spreads to Thai South, Sickening Hundreds
Indonesian Haze Forces Singapore to Close Schools