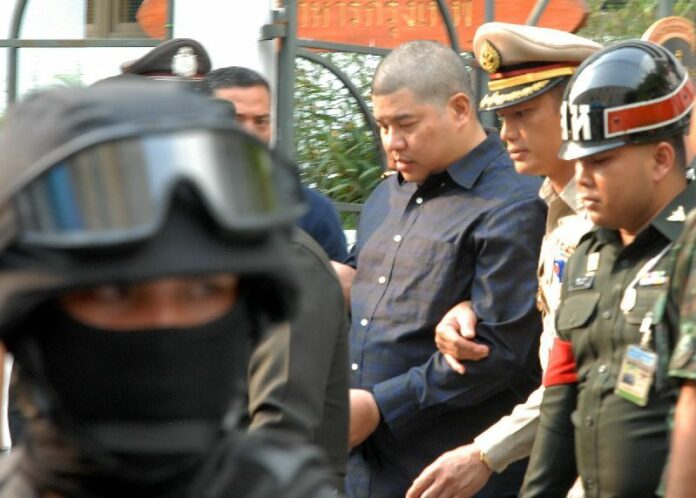 BANGKOK — One of the three men charged with insulting the monarchy Wednesday was a police officer who himself oversaw crackdowns on such offenses in the past.
Police Maj. Prakrom Warunprapha served as an officer in the online crime unit from January until last Friday, when he was arrested along with two other men and accused of falsely claiming ties to the monarchy for their own gain.
---
Famous Astrologer Among Accused 'Royal Imposters'
---
Prakorm's former unit, known officially as the Technology Crime Suppression Division, is directly responsible for prosecuting internet users who post offensive remarks toward the Royal Family. Defaming the monarchy is crime punishable by up to 15 years in jail under Section 112 of the Thai Penal Code – a law known commonly as lese majeste.
Upon appointing Prakrom as a member of the task force in January, a police official told reporters his knowledge of technology would help police track down lese majeste suspects.
Prakrom's appointment was not without controversy. In 1998 he was fired from the police force and prosecuted for allegedly forging his commander's signature. However, the prosecutor eventually dropped the charges and his superiors expressed confidence in his innocence. Upon his return to the force Prakrom was promoted from captain to major.
Shortly after his appointment, Prakrom joined the investigation of Pongpat Chayaphan, former head of the Central Investigation Bureau, who was removed from his post in November 2014 and charged with lese majeste.
Police Maj. Prakrom Warunprapha (right) at a police news conference on the investigation of former CIB chief Pongpat Chayaphan, Feb. 19, 2015.
Pongpat was accused of running a massive crime syndicate and flaunting ties to the Royal Family to cover his criminal activities. Nearly 30 people were arrestedin connection with Pongpat, including high-ranking police officers and relatives of former princess Srirasmi Suwadee.
In June, Prakrom was credited with the arrest of a woman who allegedly spread rumors of an imminent counter-coup against junta chairman Prayuth Chan-ocha. Police said the suspect, 49-year-old Chayapha Chokepornboonsri, was tracked down by the Technology Crime Suppression Division.
Chayapha was later charged with lese majeste after Prakrom's unit said it found critical remarks about the monarchy on social media.
Police Maj. Prakrom Warunprapha (standing, second from the left) at a police news conference announcing the arrest of Chayapha Chokepornboonsri, June 24, 2015
Media reports in the following months indicate Prakrom continued to work on the investigation into Pongpat's alleged criminal syndicate, collecting evidence and seizing his assets for prosecutors.
Just last month Prakrom had been tipped to become an inspector for the Crime Suppression Division; former police chief Somyot Pumpanmuang signed his promotion on Sept. 30, one day before his mandatory retirement. The order was meant to come to effect Oct. 30.
However his rise through the ranks ended abruptly Friday when police launched an investigation into a group of individuals later said to "have been falsely claiming [ties to] the High Institution to commit inappropriate acts." Prakrom was not named as a suspect at the time.
Prakrom and two other men, Suriyan Sujaritpalawong and Jirawong Watanathewasilp, were brought to a martial court Wednesday in Bangkok where they were formally charged with lese majeste and remanded into custody. Police sources told the press the three men had been in custody since Friday.
Yesterday new national police chief Chakthip Chaijinda signed an order expelling Prakrom from the police force, citing the ongoing criminal investigation.
A police news release distributed to reporters yesterday indicated that Suriyan had confessed while Prakrom and Jirawong denied the charge.
The three men are being held at the 11th Infantry Division barracks in Bangkok, which has been converted into a special prison by the military junta for cases affecting "national security."
NOTE: This article has been censored to comply with Thailand's strict lese majeste law
To reach us about this article or another matter, please contact us by e-mail at: [email protected].
Follow Khaosod English on and

Twitter

for news, politics and more from Thailand.