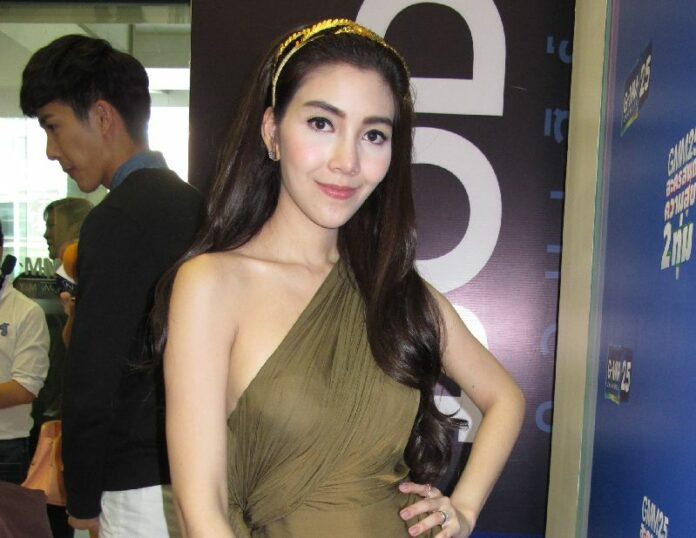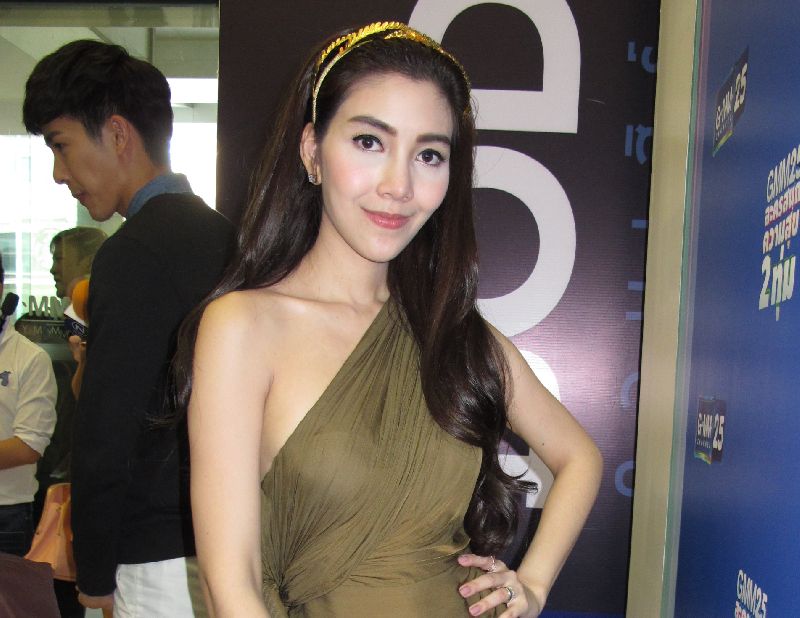 BANGKOK — Actress Virithipa "Woonsen" Phakdeeprasong has admitted Instagram photos of her posing with Chang Beer that had every appearance of being advertising were, after all, advertising.
After weeks of denials from 30 celebs that their similar Instagram photos were part of a marketing campaign, Virithipa broke ranks and confessed as much yesterday to the head of the Alcohol Control Board, whose agency is undergoing a protracted investigation of the lot of them for violating strict alcohol advertising laws.
"She said that she was indeed asked to post it by the business sector, not just something done for fun, and it was aimed to promote beer – not drinking water," Samarn Footrakool said today. "So it is clearly considered an action with commercial purpose."
---
Anyone Posting Booze Pics Will be Prosecuted, Anti-Booze Official Says
---
Virithipa today confirmed it went down as Samarn said but now insists she did it as a favor, not for money.
"I was there to explain the reason I posted those photos," Virithipa said. "I have friends at the beer company. They contacted me, but I wasn't paid."
Since the issue became an obsession of the national media on Oct. 7, Samarn has appeared in the news daily as he oversees an investigation that seems in no hurry, calling the popular personalities in for questioning one or two at a time.
Similar images posted recently on the Instagram accounts of celebs Napasasi "Mind" Surawan and Pharunyoo "Tack" Rojanawuttitham. They've since been removed after coming under scrutiny.
Samarn said Woonsen provided crucial information for the legal case against the celebrities and agreed to atone for her actions by participating in a state-sponsored campaign to discourage young people from drinking.
"This decision will benefit her in the court case," Samarn said.
After earlier insisting along with the others that the barrage of similar posts praising Chang's new product were not promotional, Woonsen's reversal fell short of admitting money changed hands.
"It's more like, I posted those photos to help my friends out," Virithipa said.
Under the 2008 Alcohol Control Act, which Samarn helped author and zealously enforces, any effort that "entices" others to drink alcohol is illegal.
Even more, Woonsen maintained she was naive of the law.
"Now that I have done it, I admit it. What's more, I had innocent intentions," she said. "I genuinely didn't know I did anything wrong. If I had known, I would haven't traded my reputation away for it."
On Oct. 10, police and the Alcohol Control Board said they would investigate more than 30 singers, models, actors and actresses on suspicion that had been paid to post photos of themselves with recently introduced Chang Classic.
The celebrities quickly removed the photos and insisted they were not compensated for posting them. However, Samarn said they are liable for prosecution even if no financial reward was made, because the law also covers any photos posted with the intention to "entice" others to drink.
The photos were first brought to public attention by Piti Bhirombhakdi, an heir to rival Singha Beer who complained the alleged marketing scheme was unethical.
Nevertheless, Samarn today stressed the agency is unbiased.
"Let me insist that there's no favoritism in this," Samarn said. "If [Chang] has information about wrongdoing by its opponent, they can tell us, so that we will take legal action against it."
Read more: Singha Heir Denies Grudge Against Chang Beer
To reach us about this article or another matter, please contact us by e-mail at: [email protected].
Follow Khaosod English on and

Twitter

for news, politics and more from Thailand.