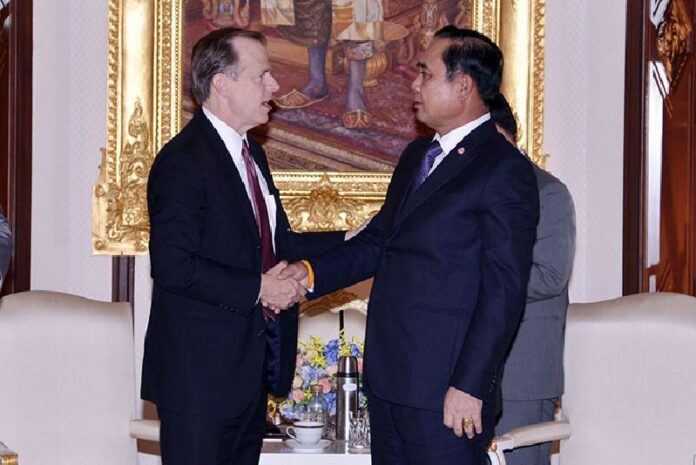 BANGKOK — Recently installed U.S. Ambassador Glyn Davies met with junta chairman Prayuth Chan-ocha this afternoon at Government House.
The two men made an introduction and discussed several issues such as democracy, the economy and public health in the first meeting between a top American envoy and Gen. Prayuth since the latter seized power in May 2014, straining relations between the two traditional allies.
"We hope that Thailand will follow the road map back to democracy" Davies said after the meeting, adding that he has urged the junta chairman to increase space for expression of opinion and political participation.
The meeting was said to last about 90 minutes.
A government spokesman said Prayuth spent nearly two hours explaining the past decade of Thai politics to Davies.
"He wants him to look back at the history," Weerachon said.
The spokesperson also said Prayuth defended his policy on free expression to Davies.
"We have been using Article 44 of the interim constitution constructively. We have never harmed or caused trouble to anyone, except those who are involved in criminal cases, which have to go through the system." Weerachon said. "The prime minister has also insisted on [credibility of] Thai justice system, which has been discredited by some people."
To reach us about this article or another matter, please contact us by e-mail at: [email protected].
Follow Khaosod English on
and
Twitter
for news, politics and more from Thailand.