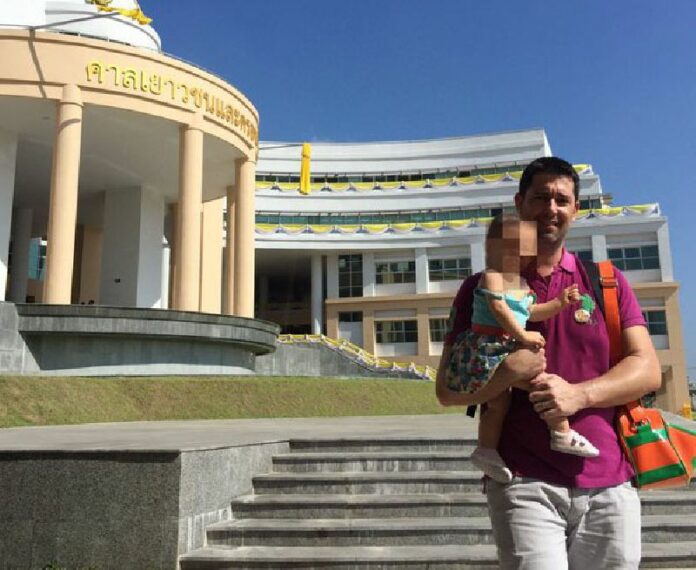 BANGKOK — Manuel Santos was in tears as he carried baby Carmen out of a courtroom today where he and his husband, Gordon Lake, learned their quest for legal custody would be delayed another five months.
After going into semi-hiding for nine months with the newborn after her surrogate mother refused to sign off on transferring custody, the Central Juvenile and Family Court today accepted the request from baby Carmen's biological parents and set a March date for testimony.
Santos' husband Gordon Lake said they were disappointed by the delay but confident of the outcome.
"Unfortunately we have to wait for four-to-five months to continue," Lake said. "That is very unfortunate, but nothing has happened would make us not trust in the justice system and trust the right thing for Carmen will be done, and Carmen's best interests will be taken into account. We're still very optimistic."
---
Battle Over Baby Pits Gay Parents Against Thai Surrogate
---
Neither the surrogate mother who has said she wants to keep the baby, Patidta Kusolsang, nor her legal advisor, Verutai Maneenuchanert, were present today.
Dozens of supporters were present at the Chatuchak district courthouse this morning, along with a representative from the U.S. Embassy. Lake is an American citizen.
Lake said the court asked to have Carmen brought into the court and ordered DNA tests of the couple and surrogate.
The same-sex couple has been stuck in Thailand for almost a year after Patidta abruptly changed her mind and refused to sign documents for Carmen, now 9-months-old, to get a U.S. passport and leave the country.
Patidta has said she worried the baby and herself were victims of human trafficking. Her legal advisor also suggested she was deceived by the couple to be a part of illegal commercial surrogacy.
"I want to keep the baby." Patidta said in a television interview in July, after she filed a child abduction complaint. "I am willing to return the money."
Sperm from Lake and an egg from an unknown donor were implanted into Patidta for the pregnancy. She said she received more than 500,000 baht for the whole process.
Carmen was born a few months after a series of incidents brought the kingdom's surrogacy industry into the spotlight, bringing Thailand notoriety as the "womb of the world."
A law banning foreigners from commercial surrogacy in Thailand was passed soon after her birth and went into effect July 30.
The two dads wrote earlier this month online they were publicly advised by child welfare official Rarintip Sirorat on how to best appeal to the court under the law. The new law grants a right of appeal to couples who arranged surrogacy before it went into effect, Rarintip reportedly told them.
Another complication is that homosexual couples are not recognized by Thai law.
The couple said they would move outside Bangkok to save money as the fight would be continue longer than they had expected.
The couple's situation has invited support online, with supporters in and out of the kingdom using hastag #bringcarmenhome.
A lot of them expressed concern about the couple's elder son Alvaro, who is staying with a nanny in Spain. Since Carmen's birth the fathers have seen little of their son born to an Indian surrogate three years ago.
"Thai law makes me feel that the justice doesn't exist. I'm pissed off. Instead of having a great life, Carmen has been stuck here because of the two crazy woman," wrote Twitter user @ta_ped in Thai.
Photo: @tonkumchoke /Twitter
Related stories: