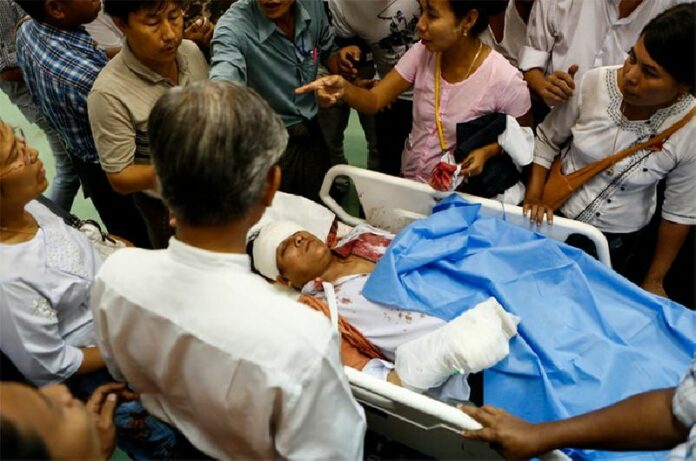 By Antoni Slodkowski and Soe Zeya Tun
Reuters
YANGON — An opposition lawmaker and two other people were attacked with machetes and injured on Thursday, in the first serious violent incident in campaigning for Myanmar's historic Nov. 8 election, his campaign manager said.
Naing Nan Lynn, a lower house lawmaker from Aung San Suu Kyi's National League for Democracy party, who is running for a seat in the regional assembly in Yangon, was attacked while campaigning around 9:30pm by three men with machetes.
The attackers were being held at a police station. Their motives were unknown.
"One of the guys came out and started yelling at the car. He returned with two other men with machetes and attacked the people around the campaign truck," Aung Myo Oo, an NLD campaign manager who witnessed the attack, told Reuters.
"The candidate suffered serious injuries after being hit on his head and his arm." The three injured people were taken for treatment Yangon General Hospital.
The attack will likely raise security concerns ahead of a rally by the NLD's charismatic Suu Kyi, who typically draws massive crowds, planned for Sunday at the heart of Yangon, the country's commercial capital and its largest city.
The NLD leader and the Nobel Peace Prize laureate Suu Kyi, has criss-crossed the country without major incidents, galvanizing crowds with a message of sweeping change, faster reforms and a state respectful of ethnic minorities.
Tensions have been running high in the run up to the poll, in which the NLD is expected to trounce the ruling Union Solidarity and Development Party, or USDP, and the but the attack is the most serious case of election-related violence so far.
Myanmar's junta ceded power to a semi-civilian government four years ago after ruling for 49 years.