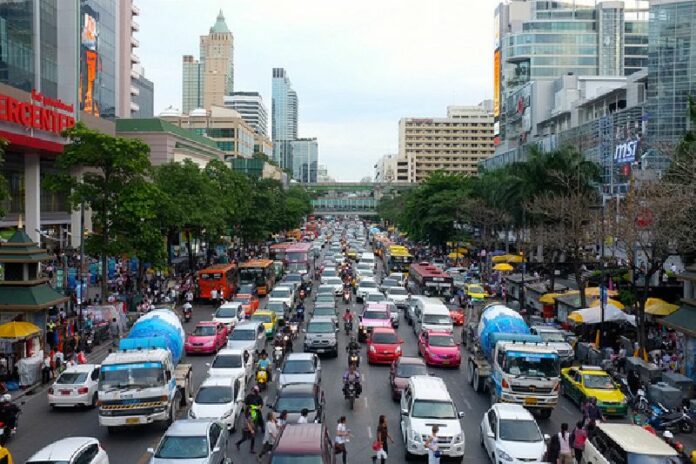 BANGKOK — While continuously voted to be the world's top destination for tourists for 4 consecutive years, Bangkok ranked 102 out of 140 best cities to live in 2014.
As the only city in Thailand that people can elect their own Governor, Bangkok should be a role model of participatory local governance.
That was the non-profit research institute "Thailand Future Foundation" said when they revealed their new study about the City of God on Friday.
Here are 10 facts they believed can stimulate residents to push for changes against Bangkok Metropolitan Administration (BMA).
1. There are 37 units working toward the city's traffic in the world's ranked 8th traffic jam city.
While Ministry of Transport directed the routes of BTS Skytrains, operating concessions was given to private investors by BMA.
BMA Built and maintain all traffic lights, but it was practically controlled by traffic police.
The recommended speed for biking in the city = 16 km/hr = the average speed of the car driving in the main road during Bangkok's morning
36% of travel time for Bangkokians is wasted unmoving
2. We highly invested in the less used transports.
Safety, punctuation and convenience remain the familiar problems about public transportation.
City Hall's solution – smart taxi stands and public bikes system, remain unused.
3. Bangkok's 3,200 unsworn municipal officers (tessakit) = 2 officers / 1 sq km
But what about the law enforcement?
4. The BMA spends 377 million baht annually on PR to publicize its campaigns.
That same amount of money could buy:
… 100 Bangkok Express Service spots
… 3,500 more street sweepers
… half of the 778 million baht tax revenue the city collects for the 100,000 billboards officially permitted around the city
5. Expensive Bangkok lives push people to live in suburb. But the remoter they live, the more they have to pay for travel cost.
Land and condominium price in Bangkok increases 8 percent each year
Average wage in Bangkok increases 4 percent each year
Bangkok's Skytrain fares is more expensive than
6. Bangkok's has less than half the green space the BMA claims, because it counts traffic meridians, roadside trees and inaccessible private gardens.
BMA claims 5sqm / person
Practically accessible 2.2sqm / person
5 biggest park areas combined = 2.8 sq.km
5 biggest malls area combined = 2.6 sq.km
7. BMA has 97,000 employees
2X more than Seoul
1.5X more than Jakarta
with the annual budget more than 80 billion baht
Isn't it enough to work on the city's problem?
8. 2 in 3 of students from schools under care of BMA failed international math test arranged by The Program for International Student Assessment (PISA).
9. Every BMA unit was evaluated "excellent performance" resulting in 2.3 billion baht bonus money.
66 out of 200 million baht training budget was used for study trip both in the country and abroad.
A new complex of Bangkok city hall located in Din Daeng consists of a 37 floors building and a couple of 27 floors buildings. Photo : Arun Chaiseri Consulting Engineers
10. The construction per square metre of the new city hall office is higher than "MahaNakhon" skyscraper which is the tallest building in Thailand.
The 37 floors building located at Din Daeng is still not completed even it has been building for

20 years

.