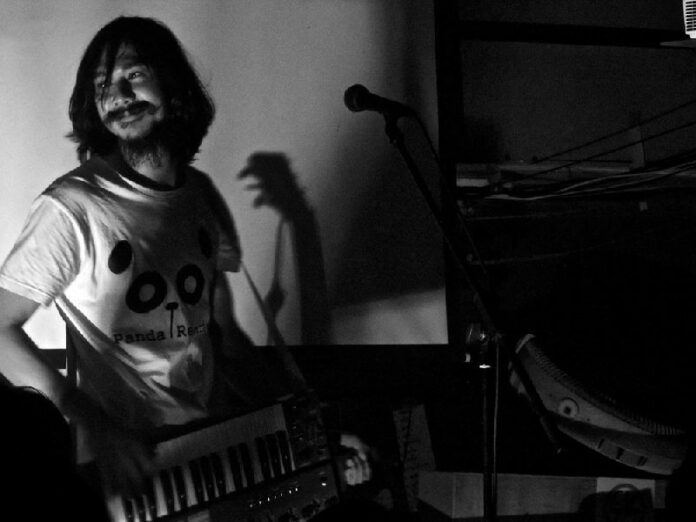 By Lisnaree Vichitsorasatra
Staff Reporter
BANGKOK — When Wannarit "Pok" Pongprayoon was a '90s teenager, his parents signed him up at a Yamaha music school to learn the electronic keyboard. It was kind of a trend then.
So he took his place at the first lesson and dutifully listened to the instructor, but when it came time to play, he just wouldn't play the correct notes like all the other students. Instead of learning the conventional way, he just listened and played.
"I listened and followed what the teacher was playing," he said. "I realized later, when I became a music teacher, that this was called 'ear-training.'"
Two decades of broken conventions later, Pok leaned against a stage Saturday at an old theater in Bangkok's Pinklao area as 22 bands celebrated the 16th anniversary of Panda Records, the label he founded to bring together the cacophony of tribes that make up Bangkok's ardent original music scene.
A few hundred people, mostly teens, danced and swayed to their favorite bands, most unheard of in the mainstream. The roster included Monomania, Summer Dress, Abstraction XL, Plastic Section, Chladni Chandi, The Sticky Rice, and RedTwenty – just to name a few.
"Thanks for P'Pok, who saw something in us!" someone shouted from the stage.
The sounds weren't what many would call melodious – some yelled, some sang in broken English – but it meant something to the authenticity-starved youth dancing away in the haunted Halloween theater. The place was small, but the heartfelt, unpretentious vibe brought it to life.
Everybody knew each other and heckled the musicians on stage. People were allowed to be themselves, to hear and play the music they love – even if others think they stink.
And at the center of it all, with a grin framed by a rough chevron of mustache and stringy long hair, stands Pok.
Pok, now 39, started Panda Records as a nonprofit label in 1999 with friend Somsri "June" Sangkaew to support underground musicians.
Today it's a movement representing the new sounds of Bangkok, though little heard beneath the din of Grammy-pop, and has spawned the Stone Free Festival and Noise Market events.
For better or worse, a vintage Meow-Er track, 'Dream,' survives on YouTube
Keyboard-Wielding Upstarts
Pok started a band at university that was soon noticed by Eastern Sky, a small label then working with the likes of T-Bone, Modern Dog and Siam Secret Service. Pok and friends called themselves Meow-Er and made a five-track EP.
"I had an ego," he said, reflecting on the time when he was about 18. "I wasn't sure anybody would understand what we wanted to do."
Discarding typical fixed notes or chords, the band experimented with different sounds that couldn't be put down on sheet music.
"They had headaches with me," he said of the label, laughing.
The '97 economic crisis spelled the end of Eastern Sky.
A year later he started Stylish Nonsense with Yuttana "June" Kalambaheti, a drummer both wild and gentle who could be mistaken for Animal from The Muppet Show. It was a time when electronic music was taking off due to its low production costs.
They experimented with synthesizing, cutting and pasting, emulating drums and making effects. Like the way he listens to music, Pok starts playing different chords that sound strange and unnatural.
"At first it sounds weird, and then later when you play it frequently, you start getting acquainted with it," he said of his method for both listening to and making music.
June and Pok still play regular gigs, either in T-shirts or lovely dresses, that can range from semi-conventional music to dissonant noise. It's like Russian Roulette for sensitive ears. In September they played a month's worth of European dates.
Wannarit 'Pok' Pongprayoon and Yuttana 'June' Kalambaheti perform as Stylish Nonsense at a February 2014 show. Photo: Courtesy Stylish Nonsense
Pok has preached his gospel of the unconventional. For "The World May Never Know," he invited the musicians of Srirajah Rockers to play in a strange setting with different instruments arranged for the musicians.
"Some bands can't do this," Pok said. "They think to play music, they need to have a set of equipment and instruments and be on a stage."
Dave Crimaldi, underground music blogger and the titular Rock Philosopher, says very few people could do what Pok has; supporting independent musicians without quitting to have children or because they couldn't keep it going.
Wannarit 'Pok' Pongprayoon at rest in a photo posted online Sept. 1. Photo: Courtesy Stylish Nonsense
Prophet Without Profit
The "nonprofit" part of Panda Records means just that. It's struggled to make money from the start.
"Panda Records doesn't believe in capitalism, they do it for the love of the music, making just enough money to sustain themselves," said Piyapong Muenprasertdee, co-founder of a new indie streaming music service in Thailand called Fungjai. Piyapong believes Pok has created a small but strong community on the principle music should be dictated by musicians, not record companies.
After making an album and getting it out to different locations, Pok would call retailers who'd never heard of them to find out if any had sold from the box sent, and ask for some money if they did.
"Sometimes they said the records were being sold, but then later discovered the whole box under the table," Pok said. "That's Thailand!" Again, the reflexive laugh punctuates the absurdity.
"With big labels, it takes them one day to sell thousands of copies. With us, it's three years!" When I asked him how strange that was, he cracked up and said, "Strange!"
Panda's Stone Free Festival, a kind of answer to the crassly commercial Big Mountain Music Festival, may attract thousands to open spaces in Saraburi or Kanchanburi, but it still loses money. No sponsors; no advertising. Bands sell merch and local vendors roll up with beer and food. One year friends organized a post-festival benefit just to help Pok pay the bills.
Yellow Fang plays the Stone Free Festival in January 2014. Photo: Courtesy Stone Free Festival
But Pok and friends seem okay with that. If anything, he says attempts to work with commercial enterprise left him with even less money.
"Often when bands play for big companies, the companies pay money for the loud speakers or the radio show who then later sell that music," he said. "The musicians will be the last one to get money, or they don't get any money at all."
Still, a man has to make some money, and Pok says he is no secret rich guy backed by family fortune. Sometimes he models for friends in fashion or does some commercial advertising work. That means, he explains, taking foreign songs and adapting them to Thai lyrics.
"I can't accept that, sometimes," he said. "I [also] do music for department stores, the music they think is cool."
He has doubts about his methods, but they don't change his belief that money pretty much ruins any chance to create something genuine.
"What people call 'the arts,' when there is no money in it, they won't do it. What people call 'creativity,' or 'charity,' if there is no money they won't do it," he said. "It's a misunderstanding that to be a vehicle for something, it needs money."
That brand of purity sets a pretty high bar for anyone to measure up to, and the corporate music squeezers out there are all Sanchos to Pok's Quixote.
As someone who's swept the floors and schlepped the gear for lack of money, Pok's even skeptical of those with noble aims, even such as Fungjai, if their goal is profit.
"You have to see them when they don't have money, that's when you see the real thing."
It can be said that Pok is impractical, but he's succeeded by being impractical for two decades, and the community he's helped build provides a desperately needed counterbalance to Bangkok's commercial culture.
For his part, Pok believes he was just a little ahead of the curve, as people today do not need to pay big money to companies or media for a space to be heard.
"Today, everyone is equal," he smiled.
Stone Free Festival returns Dec. 11 – 13 with 56 bands playing nonstop for three days and two nights in Saraburi province. A limited number of pre-sale tickets are now on sale for 1,000 baht. Entry will be 1,500 baht at the gate.
On Nov. 21 & 22, the music-DIY-crafts fest that is Noise Market will be staged in the garden of Museum Siam. Unlike its many imitators, Noise Market is free.