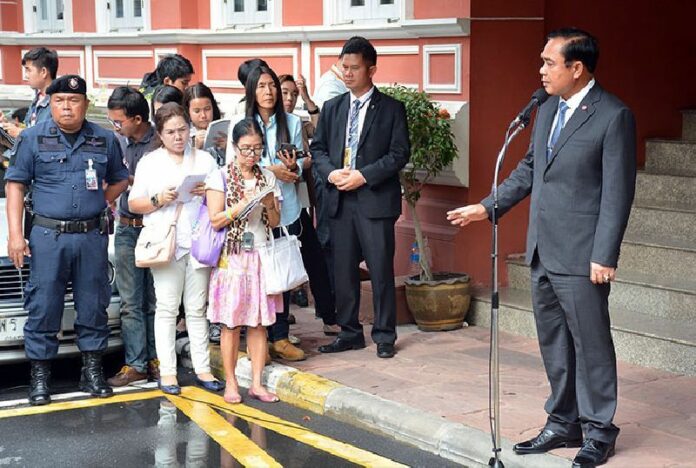 Todd Ruiz
Editor
BANGKOK — A global nonprofit promoting press freedom spared no colorful language in detailing what it described as the military government's "skillfully orchestrated crackdown on freedom of information" in Thailand.
"Media Hounded by Junta Since 2014 Coup," a special report released Thursday by Paris-based Reporters Without Borders, describes junta chairman Prayuth Chan-ocha as a "predator of press freedom" who has systematically rolled back rights and expression.
"The obsession of the past 15 months with restoring 'peace and order' (or its use as a pretext) has stripped journalists and independent civil society representatives of the media freedom and freedom of information that they had won at great cost during the previous decade," the report said.
That statement was aimed at the junta's oft-stated raison d'etre, that it took action and has remained in power to bring stability and order after years of cyclical social ruptures.
As an example the report cites order No. 103/2557, which forbade criticism of the junta it deemed to be of malicious intent.
The result of the order, it concluded, has been aggressive self-censorship.
The report also criticized extensive use of lese majeste (insulting the monarchy) and defamation laws as tools to silence the media.
The report is notable for its hyperbolic tone, and though most of its assertions are supported by citations, it does stretch credibility in places.
A page devoted to "Predator of Press Freedom Prayuth Chan-ocha" describes him as an "eccentric megalomaniac" whose comments to the press have attracted "the entire world's attention to his contempt for freedom of information and its defenders."
It cites the defamation case against Phuketwan reporters Alan Morrison and Chutima Sidasathian as "reprisal by the junta for their reporting," despite the fact the navy sued them five months prior to the May 2014 coup d'etat, and they were acquitted in a court under military rule.
The report concluded by urging Thailand to counsel with the UN Special Rapporteur on the promotion of freedom of opinion and expression. It also called upon the military junta to end censorship of the media and repeal all legislation adversely affecting press freedom, such as lese majeste.
The report did not only find fault with the junta.
It also noted press freedom in Thailand has often been victimized by rival Yellowshirt and Redshirt political factions. To fix this, the group urged Thai media agencies to "begin an internal debate about journalistic ethics and practices with the aim of moving beyond the current partisan behavior, which is counterproductive."
Related stories:
Prayuth Threatens to Silence Critics Amid Uptick in Detentions [Transcript]
Critic's Passport Revoked as Junta Reaffirms Ban on Criticism
Prayuth's Anti-Media Diatribe Continues Unabated [Transcript]
Prayuth Threatens to Silence Critics Amid Uptick in Detentions [Transcript]
Critic's Passport Revoked as Junta Reaffirms Ban on Criticism
To reach us about this article or another matter, please contact us by e-mail at: [email protected].
Follow Khaosod English on
and
Twitter
for news, politics and more from Thailand.