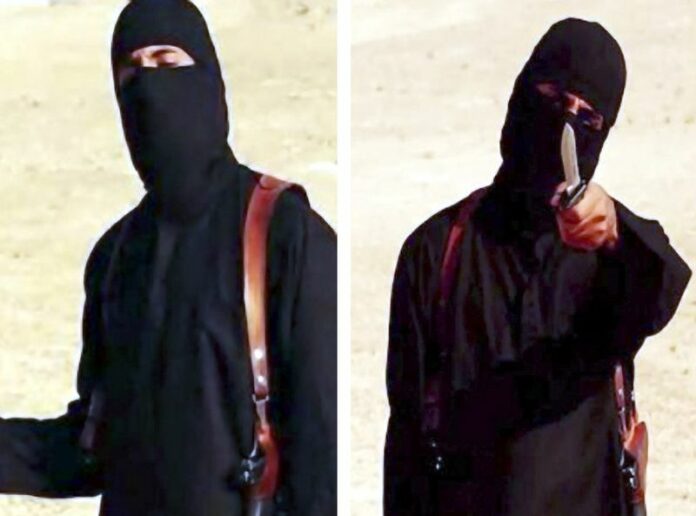 LONDON — The Pentagon said Friday it is "reasonably certain" that an Islamic State militant known as "Jihadi John" has been killed in a drone strike in Syria.
"We know for a fact that the weapons system hit its intended target and the personnel on the receiving end of that weapons system were in fact killed," Colonel Steven Warren said.
The United States had not yet verified the death of the militant – Kuwaiti-born British national Mohammed Emwazi – but had a "great deal of confidence" based on intelligence that he was killed.
The drone strike that the Pentagon believes killed Emwazi was a "fairly routine operation" that took place in the Islamic State stronghold of al-Raqqa in Syria, Warren said.
Warren said one other person was killed when a Hellfire missile hit the targeted car.
"Jihadi John did have a … best friend with him who's also now dead," Warren said.
Emwazi, who appeared in several Islamic State beheading videos, was a "primary recruitment tool" for the terrorist organisation, according to Warren.
Describing him as somewhat of a "celebrity" among the militants, the colonel said his death would be a "blow to their prestige," even though he was not a main tactical or operational figure.
"This guy was a human animal and killing him is probably making the world a little bit better place," said Warren, who spoke to reporters at the Pentagon on a video call from Baghdad.
White House spokesman Josh Earnest said Emwazi was a leader of Islamic State who was "a target worth going after." Earnest said the drone strike was consistent with the broader strategy to degrade and destroy Islamic State.
"He was a strategist for that organization, and he was intimately involved in the effort … to recruit individuals to their cause," Earnest said. "His ability to use social media to inspire and radicalize people around the globe meant that he was making a valuable contribution to ISIL."
British Prime Minister David Cameron earlier Friday called the attack "self-defence," saying Emwazi was a "barbaric murderer … intent on murdering many more people."
"It was the right thing to do," Cameron said, adding that British and US forces worked "hand in glove" on the mission.
Unidentified US officials quoted earlier in US and British media had expressed confidence that Emwazi was dead.
US broadcaster ABC News quoted one official as saying the airstrike was "flawless" and Emwazi was essentially "evaporated."
The Syrian Observatory for Human Rights, which monitors the Syrian conflict, said four foreign Islamic State fighters, including a senior British leader, were killed in the airstrike.
Emwazi first surfaced in a video in the beheading of US journalist James Foley in August 2014.
Pentagon press secretary Peter Cook said Emwazi also participated in the videos showing the killings of US journalist Steven Sotloff, US aid worker Abdul-Rahman Kassig, British aid workers David Haines and Alan Henning, Japanese journalist Kenji Goto and other Islamic State hostages.
Reacting to news of Emwazi's possible death, Haines' daughter, Bethany Haines, said she "felt an instant sense of relief, knowing he wouldn't appear in any more horrific videos."
"He was only a pawn in ISIS' stupid game, but knowing it's over, that he's finally dead, still hasn't sunk in," Haines told the broadcaster ITV, using an acronym often used for Islamic State militants.
"As much as I wanted him dead, I also wanted answers as to why he did it, why my dad, how did it make a difference," she said.
Reg Henning, the brother of Alan Henning, told the BBC he was "glad [Emwazi] had been killed but would have preferred him to be brought to justice."