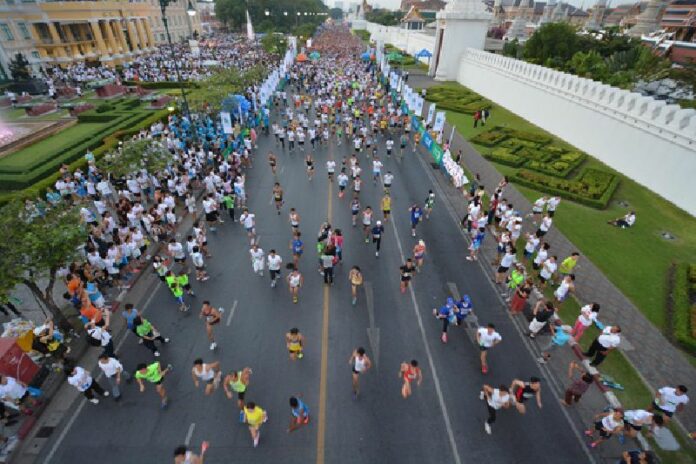 BANGKOK — The organizer of the annual Standard Chartered Bangkok Marathon today blamed the national jogging association for adding an extra seven kilometers to Sunday's half-marathon event.
A furious reaction from runners spilled out on social media, Pantip and elsewhere to throw barbs at the event's organizers, claiming the 28th outing of the self-proclaimed, world-standard marathon had increased the distance of the half-marathon to 28 kilometers from 21.1 kilometers.
"I am utterly disgusted that a marathon that prides itself and markets itself as one of the best in South East Asia, cannot get the distance right," wrote the Facebook user David Paul Nicholson on the event page.
Runners said the increased distance could lead to severe injury or worse for the approximately 6,000 runners registered for the event who were not prepared for the longer run.
It was the second year in a row organizers got the distance wrong, Nicholson said.
"Last year it was less than 20kms, this year well they have outdone themselves this time," he wrote. "I feel sorry for those first-time guys who have trained for months for a particular finish time, and then to have this happen to them."
Many of the complaints were directed at organizer Amazing Field.
"A knee injured, wrong timing of my result & all the preparation for nothing. This for as much as USD$50-60! A shame for you, a shame for the land of smiles," wrote Facebook user Adi Kel on the official page of the organizer Amazing Field.
Speaking by telephone today, an Amazing Field representative said the company took no responsibility for the mistake. She said it must have been the fault of the National Jogging Association of Thailand.
"We are not putting the responsibility on them," said the representative who answered the phone but spoke only on the condition she not be named. "But we were only responsible for the registration process, distribution the shirts and numbers to runners."
No one answered the phone today at the jogging association.
Other runners were also irritated that race medals were handed out with shirts before the marathon even started, the Amazing Field rep said that has been their policy since last year as "runners like it because it is more convenient."
The main sponsor, Standard Chartered Thailand, acknowledged the problems on their official Facebook page, saying they were discussing what happened with the jogging association. The association would investigate the issue and announced their responsibility, how ever it cannot be reached by the phone by the time this article was published.
Online discussion also attacked on many issues from the Sunday marathon including the insufficiency of medical supply and toilet.
The event offered four different runs – a marathon, half-marathon, mini-marathon and Walk-Fun Run aiming to reach 33,000 runners. The route passes through scenic parts of Bangkok's old town, and tickets for non-Thais run two to three times as much as those for Thai citizens.