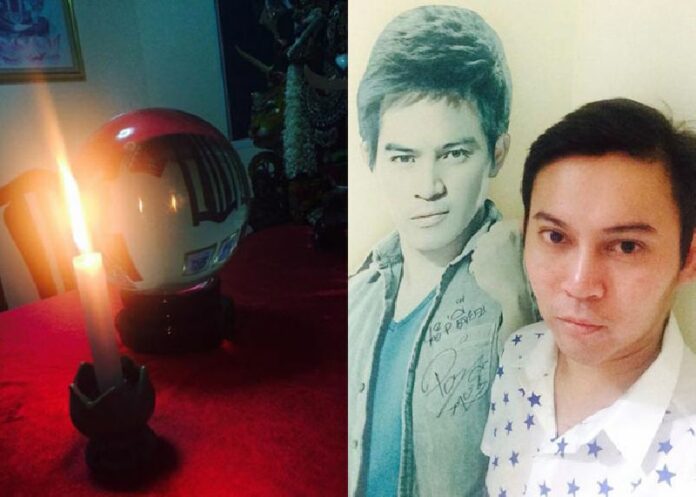 BANGKOK — Yannitat Aeumtrabuth, a renowned astrologer known as Ajarn Bank, said he's learned that a comatose television star is under spiritual assault from a man he killed hundreds of years ago in a previous life.
Thailand's most famous fortuneteller, Luck Rekhanitade, jumped into the media circus Monday night to say he knows what will happen to Thrisadee "Por" Sahawong – but can not tell the public, yet.
As the national obsession over the 37-year-old actor enters its ninth day of media infatuation, the door has opened wide to opportunism from Superstition Incorporated, with astrologers and shamans screaming for attention with their self-proclaimed – yet widely embraced – powers.
"Hoping I can become a monk in time," Yannitat wrote on Facebook last night of his power to help the actor recover. "I'm afraid it will be too late."
A sketch posted by fortuneteller Yannitat Aeumtrabuth of 'Khun Mad,' the spirit he says is preying on the actor.
The Media-Magical Complex
These updates aren't confined to late-night radio programs or web forums, but found on the front pages of national newspapers.
Much like the magic men and their crystal balls, the media seem to foresee that covering Por's metaphysical condition can deliver a future of likes, clicks and organic Facebook reach.
Por, a famous soap opera (lakorn) actor, was brought to Bangkok's Ramathibodi Hospital on Nov. 9 in a coma blamed on complications from dengue fever.
A professor of philosophy and religion said no one should be surprised the media dragged superstition into its coverage, given its power with audiences.
"Looking with an open-minded point of view, nothing is wrong with relying on the supernatural," said Silpakorn University's Komkrit Uitekkeng. "But, in the meantime, it also reflects our immaturity as a society."
In regards to ethical astrology, Komkrit said those publicly predicting a critically ill man's future had gone too far. All those shaman charlatans, however? They don't operate under any code of conduct, he said.
The director of Buriram Pittayakhom School, where Por attended secondary scool, led teachers and 3,000 students to pray for him Tuesday morning in Buriram province. Video: TNN / YouTube
Public Figures, Personal Mythologies
Stories in the media have already prompted Por's father to make merit at a certain temple and rearrange their home according to feng shui. The actor's brother was ordained as a monk this morning in hope of helping Por recover.
Yet the media's obsession tests part of the story's broad appeal: Por's saintly public image. This is a price of fame in Asia, where celebrities hide relationships or sexuality to maintain immaculate reputations.
"He is too good, better than human. He is a lovely man, who never perceives himself higher than anyone," enduring celebrity heroine Naowarat Yuktanan said Saturday.
Ever since Por played the earnest village headman of 2009's Pu Yai Lee Kab Nang Ma, he was typecast as the good guy. Inspired by the movie role, he reportedly distributed some of his land back home in Buriram to villagers. An animal rights group named him ambassador, and he was deemed a role model for His Majesty the King's philosophy of economic sufficiency.
On Friday evening, however, the story took a twist worthy of lakorn.
Por, it turned out, had a 2-year-old daughter kept secret from the public. In the ensuing four days, every move by the little girl has been dissected in news stories which have discarded their usual reticence regarding photos of children.
"I am not sure the media got proper permission to feature his daughter," said Mana Treelayapewat, dean of Communication Arts at the University of the Thai Chamber of Commerce.
Since then, pictures and video of the girl have captivated reporters every time she appears at the hospital. In those stories, the toddler has assigned a mythical role as a symbol of hope for Por's recovery.
Whether a near-death experience was required to grant some humanity to a celebrity or not remains to be seen when – and if – he wakes up.