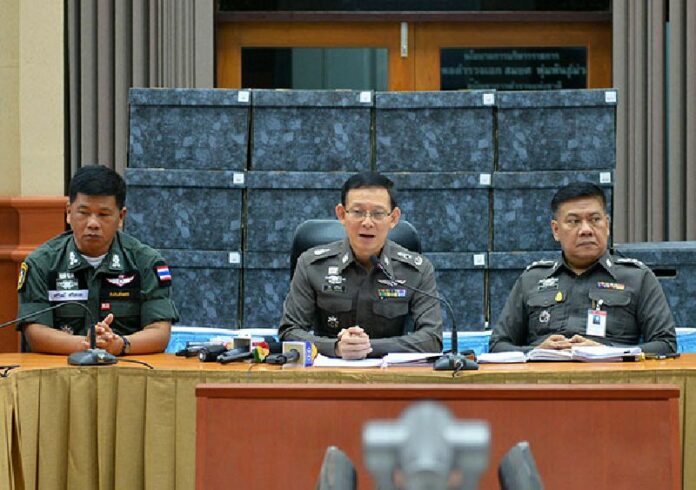 Teeranai Charuvastra
Staff Reporter
BANGKOK — The police officer in charge of investigating human trafficking has been allowed to quit the force out of fear for his life and is rumored to be preparing to flee the country with his family.
Maj. Gen. Paween Pongsiri sought to quit the force earlier this month rather than be transferred to the southern border provinces, the very region where he spent six months going after human traffickers. After the investigation was shelved, Paween was assigned to the region, at which point he went public with his fear of reprisal from henchmen working for those he'd arrested.
On Monday police chief Chakthip Chaijinda said he had accepted Paween's resignation.
"I am not going to block his resignation," Police Gen. Chakthip said. "I believe he has carefully made his decision."
---
Trafficking Investigator Quits Case for Fear of Reprisal
---
A police phone number listed for Paween did not ring Tuesday and Wednesday.
After the May 1 discovery of border slave camps, Paween headed a task force until October against trafficking rings in the south. It was one of the biggest crackdowns on trafficking in recent years; a total of 88 people were arrested, including bureaucrats, local administrators, businessmen, police officers and one high-ranking army officer.
In September the investigation was put on hold when the police general supervising it was promoted to the Prime Minister's office. Paween pleaded at the time for support to continue the investigation. A few weeks later, he was abruptly transferred to the southern border command unit, despite his protests that he would be targeted by traffickers and their supporters.
When it became clear the order would not be overturned, Paween resigned from the police force, citing fears for the lives of him and his family.
"I have enemies all around me. My family feels concerned for my safety. They are afraid that there will be retaliation," Paween told Matichon on Nov. 7. "So, resigning from the bureaucracy altogether seems to be the best option."
On Tuesday the website of Thai Rath newspaper reported that Paween and his family are preparing to leave Thailand.
Police spokesman Songpol Wattanachai said he had heard nothing about Paween leaving the country, and suggested that even if the report is true, Paween might only be taking an overseas vacation.
"Maybe he's going on holiday?" Maj.Gen. Songpol told Khaosod English Tuesday. "I don't know what's on his mind. Maybe he felt disappointed by the transfer order, so he quit in protest, and used this opportunity to go on vacation and relax."
Weerapong Chuenphakdee, commander of the Ninth Region Police and former boss of Paween, said he also hadn't heard of Paween leaving.
"I haven't heard about him leaving. And why would he leave anyway? He didn't do anything wrong," Maj. Gen. Weerapong said over the phone.
For years authorities have turned a blind eye to human trafficking networks in the southern region. Rights activists accuse some members of the security force, such as the navy, of accepting bribes from traffickers in return for safe passage through Thailand.
The embarrassing discovery the slave camps in the jungles of Songkhla province ended longstanding denials. An aggressive response was mounted with a vow to eradicate the trade of humans.
Paween was assigned as the top investigator with a mandate to go wherever the investigation took him.
However, some government officials privately told Khaosod that Paween overstepped by implicating a senior army commander, Lt. Gen. Manas Kongpaen, in the alleged crime, despite being warned not to do so.
It was for that audacity, the officials said, Paween was booted from his job.
In an interview with Matichon on Nov. 7, Paween said he felt unfairly punished for his effort to fight human trafficking.
"My working team was fully dedicated, and they went through really difficult times," Paween complained. "But I feel that I haven't been treated fairly on some issues."
Related stories:
Trafficking Investigator Quits Case for Fear of Reprisal
Police Shelve 'Solved' Human Trafficking Investigation
Death Camps: Police Arrest 12, Seek 56 Others in Trafficking Probe
To reach us about this article or another matter, please contact us by e-mail at: [email protected].
Follow Khaosod English on
and
Twitter
for news, politics and more from Thailand.