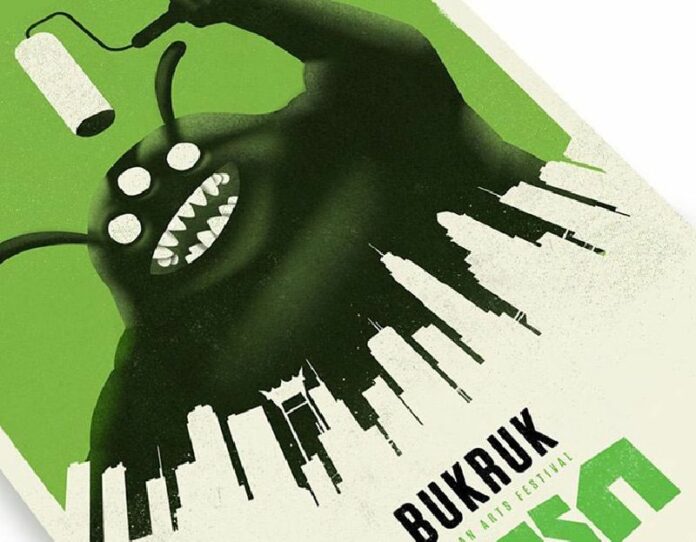 By Lisnaree Vichitsorasatra
Staff Reporter
BANGKOK — Three years after spreading into the sois and onto the walls of Bangkok to herald the arrival of street art as a force, a bigger and more polished Bukruk returns in January.
Street art has exploded into the mainstream since the first was held in 2013, in Bangkok, and to keep Bukruk relevant, its organizers have played with the formula. Where the first brought together artists from Europe and Thailand, more Asian artists will be involved this year.
And overall, whether from Barcelona or Bucharest, Khlong Toei or Tokyo, the roster of talent seems more consistently high-shelf. The 10-day festival will also make better use of the city itself.
"Bukruk was the first street arts festival, but saying that it has inspired the street arts in Thailand would be pretentious," organizer Nicolas Dali said. "We are not trendmakers, but a global movement in Thailand."
That may be, but the first Bukruk was staged at a time such expression was just becoming more broadly recognized in the Thai capital, and since 2013, street art has gone from fringe to oversaturation, with the most commercial galleries hyping "street art" links, however tenuous.
For its second outing Bukruk organizers seem intent on getting some distance from that, namely by relabeling it an "urban arts" fest and adding a lot of other stuff to do.
The beating heart of Bukruk will still be wall-wide paintings, but artists will also show in ones and twos in partnering galleries. Check out DJ/VJ sets, and watch large murals come to life in Chinatown before your eyes at live painting events. There will be more digital arts, artists talks and a fierce party (but more on that later).
Murals from Bukruk 2013 by Tawan, Yuree, Bon, Alex Face and the late Mamafaka near BTS Ratchathewi in Bangkok. Photo: Courtesy Gabriel Camelin
Location, Location, Location
Moving away from the normal centers for consuming culture, the festival in January will transform the riverside on the Bangrak and Khlong San sides into an "open-air museum" linking the art to the history, context and now of the place.
"It's a beautiful part of the city and quite neglected," Dali said, citing the story of Georgetown in Penang, Malaysia, which has built a brand as a cultural destination by cultivating the arts.
Organizers view the area as a potential place for presenting more street art and are joining hands with galleries and its sponsors to draw attention to the area. Adding cool art in the area, they hope, will serve to revive it and encourage its preservation in the rapidly developing capital.
To attract more tourists to the ancient town, organizer Myrtille Tibayrenc said, there will be digital art in addition to the eccentric wall paintings. Myrtille said mapping projections, media art that swims with the shape of the buildings will cascade onto the area's historic structures.
As last year, murals will be painted in interesting places supported by the community where they can stay up for at least 10 years.
The Bangkok Metropolitan Administration and Tourism Authority of Thailand have expressed interest in supporting the project, but so far the festival's primary sponsor is the European Union.

Songkhla-born artist Rukkit was featured in Bukruk 2013

Rotterdam-based artist Daan Botlek from his 2013 mural in Siam Square will return for Bukruk II

Artists, Artists, Artists
Thirty artists from Asia and Europe will join the event, and we asked organizer, Myrtille Tibayrenc of Toot Yung Art Center notoriety, to talk about some of them.
Daehyun Kim, a Seoul-born graphic designer and illustrator based in Vienna whose life project "Moonassi" depicts two characters representing opposing situations, minds and ideas. Tokyo-born Motomichi Nakamura will present mapping projections of humorous characters which contrast the artist's "disturbing message."
We asked another returning organizer, Myrtille Tibayrenc of Toot Yung notoriety, to talk about some of the artists.
Spanish artist Aryz will bring his big-wall talents honed in cities around the world. "He sees the world as a museum," Tibayrenc said. From Austria comes Nychos, a world-class street artist with a love of animals – at least what's inside them. At least five Thai artists will be featured, such as Lolay, who's known for visually pondering in splotchy inks and surprising detail the relationships between humans and their behaviors, social standing and more. From New York comes a veteran photographer of its street scenes from the 1970s and 1980s; Martha Cooper, who will display and discuss her work.
Bukruk 2013 opened with an awesome, unrestrained street party its second coming seems intent on exceeding.
A one day music festival will kick things off at the Docklands, an open-air dry dock on the Chao Phraya River. While a giant mural takes shape before the audience, it will hear stirring Mor lam from none other than Paradise Bangkok, as well as music from Cambodian Space Project, Yellow Fang, Desktop Error and Degaruda. All hands will be on the decks with European DJs such as Sun Glitters, Dye and La Fine Equipe. Other ASEAN-sourced DJs from Malaysia and Vietnam are also hoped for.
They have also added an animation night with an "uncanny" theme, with films from a Czech animated film to the eccentric, modern anime.
On the cerebral side, the Thailand Creative & Design Center, or TCDC, is still with us and will host talks with the artists. Expect plenty of people selling food and design work.
The walls and galleries partnering with Bukruk will be in walking distance, turning the neighborhood into a distributed, open museum. Participating spaces include The Jam Factory, Soy Sauce Factory, Speedy Grandma, P.Tendercool, Bridge and Serindia Gallery.
The Bukruk Urban Arts Festival runs Jan. 21 to Jan. 31. Check out more information at the website or Facebook page.
To reach us about this article or another matter, please contact us by e-mail at: [email protected].
Follow Khaosod English on
and
Twitter
for news, politics and more from Thailand.