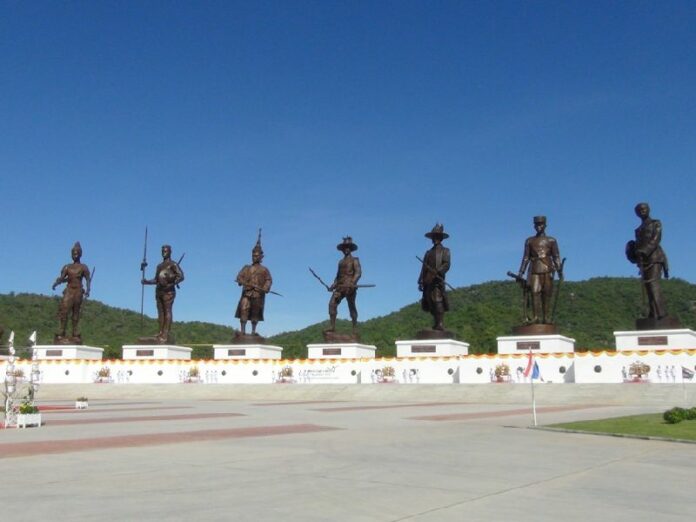 BANGKOK – The results of the army review of alleged graft in its 1 billion baht Rajabhakti Park project will be released Friday, according to army chief Teerachai Nakwanich.
Gen. Teerachai said today he would personally announce the findings – the first concrete response from authorities to the scandal, weeks after reports about financial irregularities in the project surfaced on the media.
"Tomorrow, at 11am, I will hold a news conference about the result of inquiry into construction of Rajabhakti Park," Teerachai said this morning.
He added that he has already been verbally briefed about the report by an adviser to the Royal Thai Army.
The internal review was announced by the army on Nov. 12, several weeks after media agencies first ran stories about corruption in Rajabhakti Park, a massive park in Prachuap Khiri Khan province that features seven giant statues of Thailand's historically prominent kings.
The scope and methods of the review were not announced.
---
Govt Not Responsible for Rajabhakti Park Graft, Minister Says
---
Construction lasted from November 2014 to August 2015, and is said to have cost at least 1 billion baht. Much of the budget came from donations overseen by a charitable foundation established by the army.
But army officials anonymously complained to the media about shady transactions in the project, such as the unusually high costs of equipment and a middleman who took 10 percent commissions from the budget for each giant statue, which reportedly cost around 40 million baht each.
Although former army chief Udomdet Sitabutr, who oversaw the park's construction, admitted to the media that some of the allegations were true, neither police nor the national anti-graft agency is investigating the incident.
Police spokesman Piyapan Pingmuang said police cannot do anything about the alleged graft unless the military request them to do so, while National Anti-Corruption Commissioner Vicha Mahakhun said his office is waiting for the army's internal investigation to wrap up first before it considers launching any probe.
---
Police, Army Disagree Over Which Should Probe Royal Park Graft
---
Nevertheless, the martial court has issued an arrest warrant for an army colonel who reportedly claimed false ties to the monarchy and embezzled money in the Rajabhakti Park project. For his alleged crime, Col. Kachachat Boondee has been charged with lese majeste (defaming the monarchy).
Kachachat fled Thailand to Myanmar on Oct. 31, according to records provided by immigration police.
Rumors Dismissed
Teerachai's announcement came a day after an army spokesman dismissed as obvious fakes documents alleged to leaked copy from the report on social media.
The anti-government Facebook page called "I Must Have Received 100 Million Baht from Thaksin" published yesterday two photos purported to be from the report. The documents implicated a number of top officials by name.
The post quickly went viral and has been shared more than 1,600 times. But army spokesman Winthai Suvaree told reporters Wednesday evening that the documents were fake.
"They were not bureaucratic documents," Col. Winthai said. "They were fabricated."
Today an army commander also denied media reports that lese majeste suspect Kachachat had been arrested near the border with Myanmar.
The website of Daily News newspaper reported that Kachachat was arrested in Myanmar and would be transferred to Thai police in Mae Hong Son province.
Lt. Gen. Somsak Nilbanjerdkul, commander of the Third Region Army, said today the report was false. "We have not received such news from Myanmar," he said.
To reach us about this article or another matter, please contact us by e-mail at: [email protected].
Follow Khaosod English on
and
Twitter
for news, politics and more from Thailand.