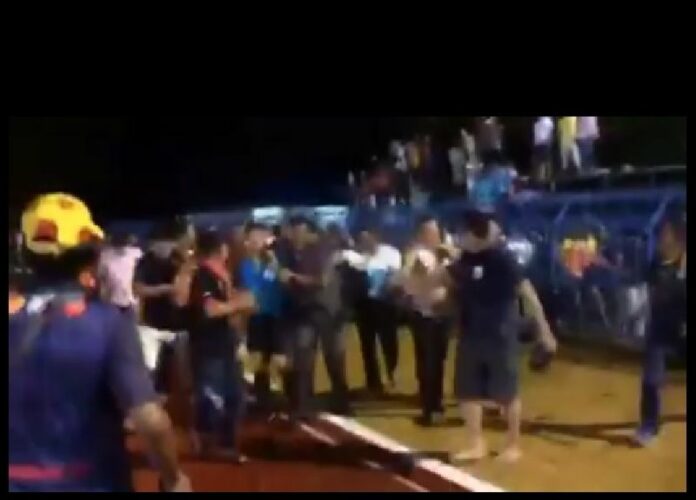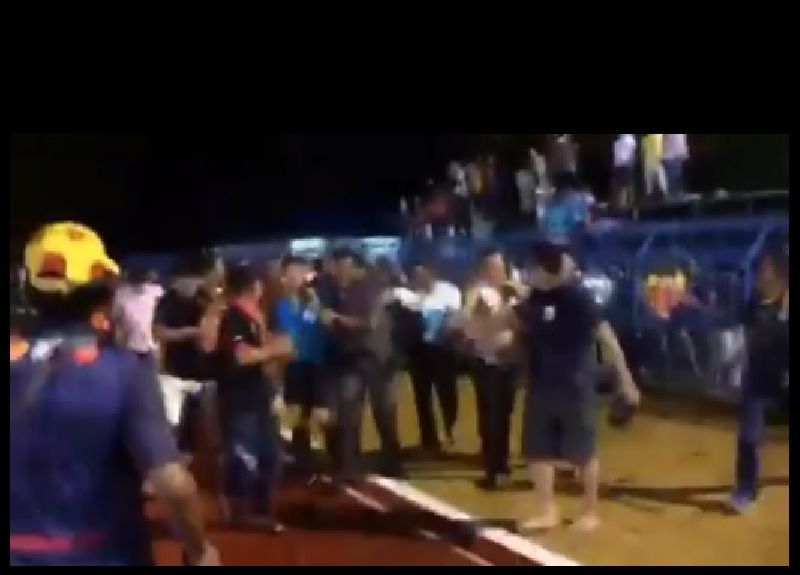 SATUN — A match between Satul and Khon Kaen football teams ended in chaos Sunday night after home team fans stormed the stadium and assaulted referees they believe were biased against their team.
The violence broke out at the end of the match, which the visiting team ultimately won 1-0. The score outraged some Satun United fans who felt cheated of victory by the referees, causing hundreds to surge onto the field and beat the refs into "confessing" on camera they'd been paid off to fix the match in Khon Kaen United's favor.
Only a handful of police officers were stationed at the stadium. The referee, Karin Soisangwan, said at a news conference in Bangkok today he had no choice but to make a false confession to save himself from the angry mob.
"I thought, if I didn't say the things that they want me to say, I won't make it out alive," Karin told reporters today.
Satun United chairman Samrit Liangprasit apologized on behalf of his team's fans today. He said he understood they were upset with the referees' judgement, but he wishes they should have voiced their complaint in a proper way instead of resorting to violence.
Samrit also faulted local authorities and police for dispatching only 65 officers to monitor the match, despite the size of the crowd, said to be more than 5,000 people on the Satun side alone.
Chief of the Satun Police Station, Col. Chairat Kanchananet, has been transferred to inactive post for failing to maintain order at the stadium last night.
To reach us about this article or another matter, please contact us by e-mail at: [email protected].
Follow Khaosod English on
and
Twitter
for news, politics and more from Thailand.