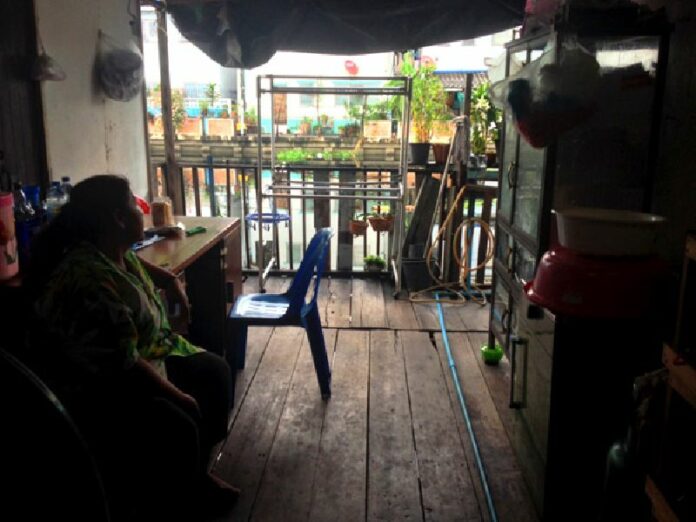 BANGKOK — Sujit Artpru laughed as he handed his 70-year-old mother-in-law a bowl to place under a leak in their corrugated metal roof.
A few months after moving into a temporary house to watch workers demolish their home of 21 years just a few meters away, which in a few weeks will swarm with workers widening the canal it sat alongside, Sujit and his family of four clearly aren't used to their new arrangements, but they're trying to make the best of it.
"Now you can see how we struggle with life for now," he said Friday with a surprising lack of anxiety in his voice.
It was better than the alternative. After the military government announced in February it would demolish more than 7,000 residences along nine Bangkok canals to improve transportation and waterflow, Sujit and 184 other families living along Khlong Lat Phrao learned they would be among the first ordered to clear out.
A few months ago, Sujit, who represents the families living along the canal, volunteered to be the first to give his home to the wrecking ball.
It was a demonstration of sincerity to a deal reached with the help of a government agency in which the residents of all but one canal agreed to give up their homes to save their community. They agreed to move away from the edge of the waterway and rebuild in shared units further back.
At least they would be allowed to stay. For one, they didn't dispute that they were squatting illegally on the land. It belonged to the Treasury Department when they built their homes there decades ago and still belongs to the Treasury Department today.
The massive public works plan required clearing out longstanding communities which have grown up along the waterways, and only those living along one canal could not be preserved, due to insufficient space.
Under the 1.65 billion baht budget, 128 kilometers of berms and access roads will be raised along the canal banks. City hall awarded the project to River Engineering Co. Ltd., and construction is expected to begin in December once it gets a green light from the cabinet. It's hoped the project will be finished in four years.
To save the communities from extinction, the Community Organizations Development agency stepped in to coordinate a plan, including bringing in experts to consult with the residents on the design of new homes.
Sacrifices Made
Everything comes at a price. To continue living where they have been for three generations, the residents agreed to give up their homes for construction of the berms, access roads and other improvements.
That meant, whatever size of their former homes, everyone now would live in identical units on identical plots of shared land. Those who owned bigger homes had to sacrifice; those in smaller shelters got an upgrade in space.
Sujit's community, called Bang Bua Ruam Jai Pattana, must also start paying rent to the Treasury Department of a few thousand baht per year.
Their homes sit along a stretch of Khlong Lat Phrao called Khlong Ban Bua. It's a poor community, where people may work as street sweepers, run a food stall or operate a motorcycle taxi.
As community leader, Sujit agreed to demolish his home first and divide up the land he used for sharing with another family. It was better than having to move.
"I work around here, my son also studies nearby," he said. "If we had to move, life would be difficult."
Architecture experts from Thammasat University who supervised the project said that by compromising and allowing the canal communities to continue existing brought many advantages to Bangkok
"If we leave it as undeveloped public space, we would have to install some security cameras to monitor the possible crime," said Boonanan Natakun of the Faculty of Architecture and Planning. "But the communities along the canal have their own system to taking care of each other."
Scholars stressed one of the most important reasons the communities along the canals should not be developed into suburbs was that they provide a place for the capital city's low-paid workers to live.
"Bangkok runs on the service economy. Labor like taxi bikes, street food sellers, they are all driving our GDP up," said Wijitbusaba Marome. "These people need basic infrastructure."
Wijitbusaba disagreed with more hardened views about clearing them out.
"Those who ask, 'Why are you helping illegal people?' might forget that these people have useful functions in the city. They are not our burden."
For the community's part, the only real complaint given voice is that the whole thing is taking much longer than expected.
The community agency's project chief said it was now delayed because related agencies could not agree on how wide the canal should be in each area, and the rental contract for Sujit's community was still awaiting approval.
"It reflects that the locals are ready, but the government agencies are not," said project chief Sayam Nonkhamchan. "They are still arguing about the size of the canal."
The city official overseeing the project said the width has now been agreed upon and not the main reason for the delay. "The width of the canal depends on scientific and engineering determinations, which is a small issue," said Deputy Bangkok Governor Amorn Kitchawengkul.
City hall also said eight out of the 43 affected communities have already been successfully moved.