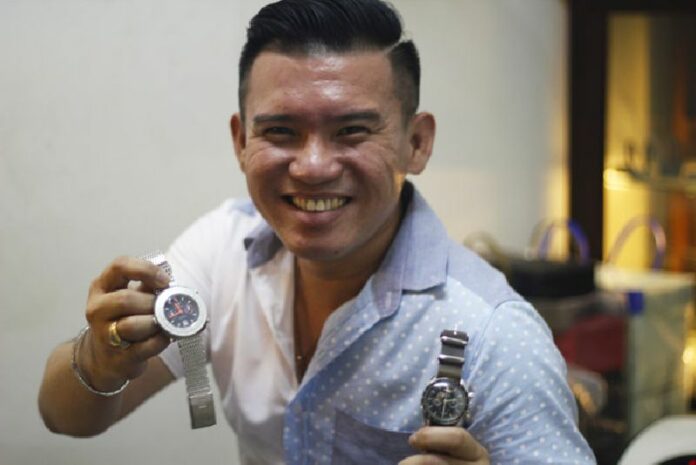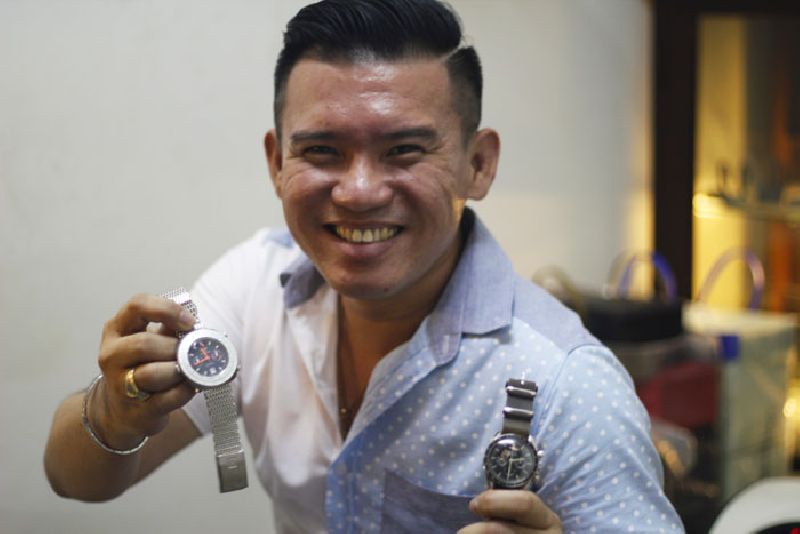 BANGKOK — As shoppers capitalize on the efficiency of the digital age, traditional transactions are dying.
Merchants and traders are giving way to iPhones and e-shops, even street food and taxis are just a few swipes away. But there's a certain fascination with doing business the old fashioned way, and in a small alley at Chatuchak Weekend market, the vintage watch trading industry defies the odds to go against the trend of modernization.
"Watches are different than anything else. You need to be able to see every single detail and examine it. You need to love it. You come here to do that," says Tongchai, who goes by the moniker Dr. Air Watch.
Tongchai has been dealing vintage watches for over 20 years. His business has persevered through the Asian Financial Crisis, the Global Financial Crisis, and the recent Thai economic slowdown. The vintage watch trading business seems as steadfast as some of the sterling brand names it champions.
"Watch values are tied to the economy, but the business is always good." he says. While the values may rise and fall, demand remains steady. "When people have extra money they buy watches for fun, and even when the economy is slowing, they buy watches as investments, because Rolexes are as good as currency – sometimes better." He's referring to the recent weak performance of the Thai baht.
All of Tongchai's business is done out of a small, unassuming stall near Chatuchak Gate 1 lined with vintage watch dealers. Most operate in cash only; he's only had a credit card processing machine for less than a year. He'll move numerous watches valued from 100,000 baht to as much as 500,000 baht on a good weekend. The dim lighting and small trash deposits are a far cry from the glitzy luxury malls where people spend the same amount – or often far less – on high-end timepieces.
In the Western vintage watch markets, face-to-face transactions have been completely replaced by online marketplaces like analog/shift of New York City and Chrono24 out of Germany. Many don't see this business model as realistic in the Thai market.
Taweesak, another veteran in the business specializing in vintage Seiko, believes sites like these only galvanize the market in Thailand.
"It's hard to find a good watch now. In Asia, if you order a watch online you're probably not going to receive the same watch as in the picture," he says. With an entire industry in the Philippines and China based on copying authentic parts, it's very hard to separate the real deal from the fakes. The general consensus among Thai collectors is that online shopping in Southeast Asia can be dangerous. Dealers have the specialized knowledge to present authentic examples to customers.
And that's a positive thing for Teewasak, who doesn't welcome any sort of modernization in the industry.
"I'm bored of answering questions on Facebook. I can't even see the screen!" he says. "My customers have been coming to me for 20 years, they can pick up the phone and call me."
While the domestic market may be resistant to change, other Thai vendors are using technology to reach foreign markets. Athisak Mujanamontin also operates out of a stall at the weekend market, but during the week, he fields inquiries from the largest market in the Asian watch collecting world: Japan.
"We need to embrace Line, Instagram and Facebook, because the younger generation is using technology. The collectors that I've been selling to for decades keep me in business, but if we don't connect to younger foreign buyers, the market will slow down." Athisak conjectures.
He uses tools like Instagram to show Thai and foreign buyers his newest watches for sale, but he specifically states that they need to come to his JJ stall to buy the watch. It works. Distance doesn't stop overseas buyers from flocking to the market. "Japanese customers will already know what they want from seeing my Instagram feed. They'll come with a list and buy in bulk. They're often dealers in their country."
One thing is for sure, and that's the rising values of vintage watches.
"Margins are small, but you'll always make 1-t0-5 percent on a Rolex," Tongchai says. Teewasak reports that customers are buying watches as investments in bulk, and with recent currency fluctuations, there's not a better time to buy.