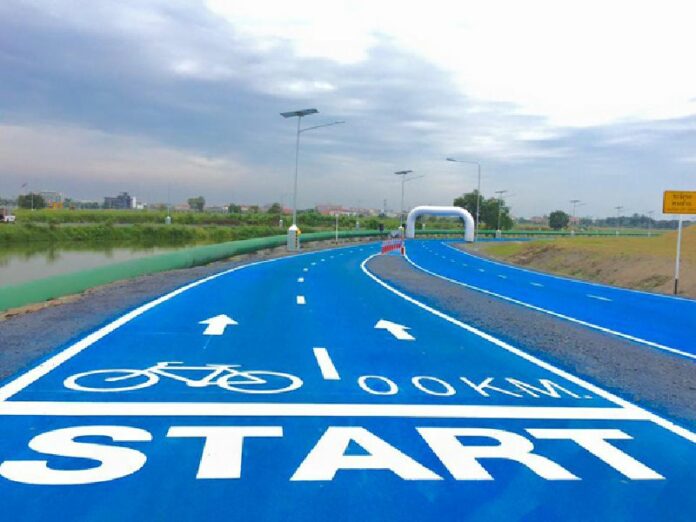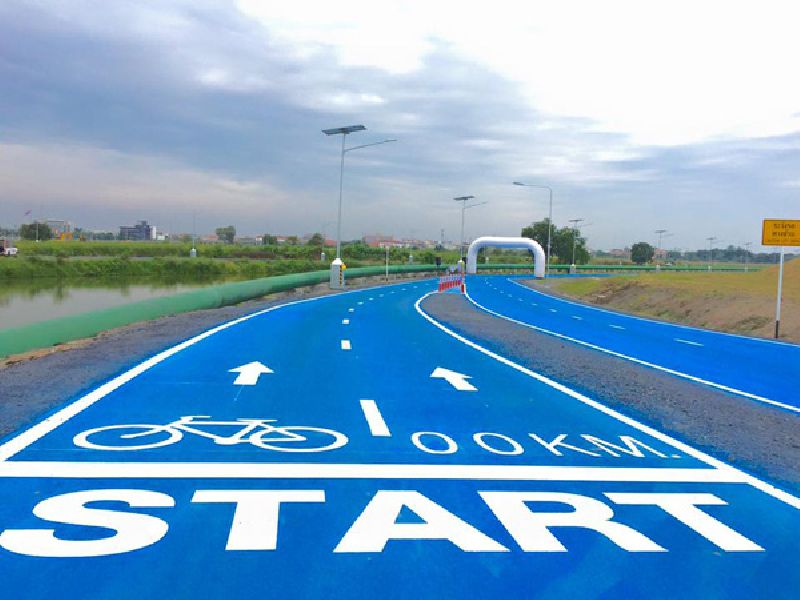 SAMUT PRAKAN — Airports of Thailand announced yesterday that their green bicycle lane will reopen Saturday after seven months of renovation.
After being closed since June 8, Suvarnabhumi bike lane, known as "Green Lane" will be officially reopened under the new name "Sky Lane." The surface has been repainted in blue, and with a 500 million baht budget provided by Siam Commercial Bank, the 23.5-kilometer bicycle track has also upgraded to be smoother and reflective at night.
"In the first phase, both the full 23.5-kilometer and shorter 1.6-kilometer track will be open from 6am to 6pm," said Airports of Thailand Chairman Prasong Poonthanet, according to Dailynews.
Prasong said the opening hours will be extended to 10pm early next year after lighting along the track is installed. The new opening will also introduce "SNAP", a wristband using radio-frequency identification (RFID) technology to track access of the cyclist, which they claimed would improve security and convenience. Mr. Prasong said each cyclist must register with their national ID card or passport to receive a snap wristband that acts as a permit for the Sky Lane.
Other facilities such as bicycle service points and places to sell food and beverages were added during the renovation. Its parking lot was also expanded to accommodate approximately 1,500 cars.
The bike lane around Suvarnabhumi airport was first opened to the public in March 2014 and it is claimed that there were up to 600 people using it on weekdays, prior to the renovation. Entry to the freshly renovated bike lane will be free.
Regarding the newly renovated Terminal 2 at Don Mueang Airport, Prasong also reassured people that it is ready for the opening tomorrow. Though some of the restrooms, shops and restaurants are still under construction, the chairman confirmed that it would all be finished by the end of February, 2016.