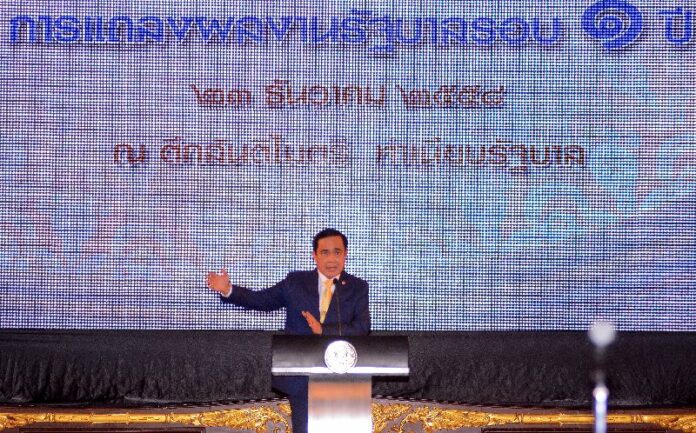 By Amy Sawitta Lefevre and Panarat Thepgumpanat
Reuters
BANGKOK — Junta chairman Prayuth Chan-ocha gave a sweeping year-end speech today in which he reiterated that the junta will hand back power in 2017 and that it was entering "phase two" of its reform plan.
The junta has repeatedly delayed planned elections, claiming the country is not yet stable enough to hold a poll.
Prayuth said the junta was sticking to its plan to hand back power in 2017.
"We have one year and six months left starting January 2016 to July 2017 and the government will lay the foundations for the things it did not do and if it cannot complete them they will be put in the reform plan," he said in a televised speech.
"We are entering phase two now."
The military government, led by coup-maker Prayuth, has stifled dissent and has gone hard after critics of the monarchy by using a harsh royal insult law to detain dozens of people, prompting stern criticism from rights groups, the United Nations and Western governments.
Nineteen months after the coup it is struggling to revive Thailand's export-dependent economy.
Despite announcing big-spending on large road and railway projects, domestic demand remains weak and record-high household debt is hurting Southeast Asia's second-largest economy.
The junta continues to wield wide-ranging powers under a special security measure that allows security forces to make arrests without court warrants and detain people without charge.
Prayuth addressed accusations of rights abuses in his speech saying it was not his fault if dissenters violate the security order.
"The law says you can't do this and they still do it," said a visibly angry Prayuth. "Then they say I violate human rights."
Despite an order that bans public gatherings, open opposition to the junta has increased over the past year.
Additional reporting by Aukkarapon Niyomyat and Pairat Temphairojana
To reach us about this article or another matter, please contact us by e-mail at: [email protected].