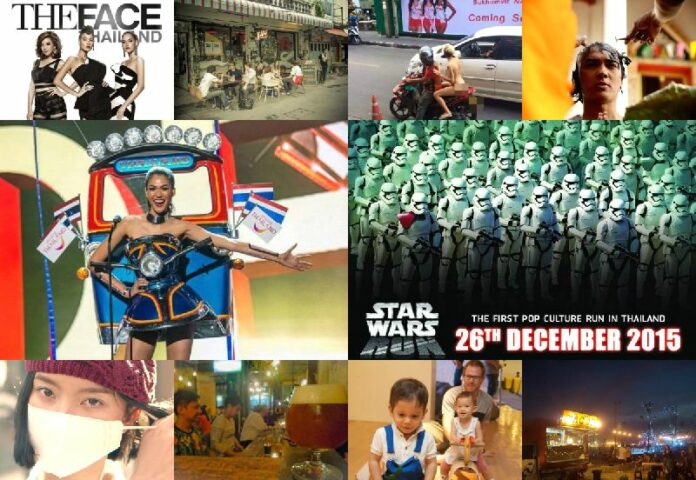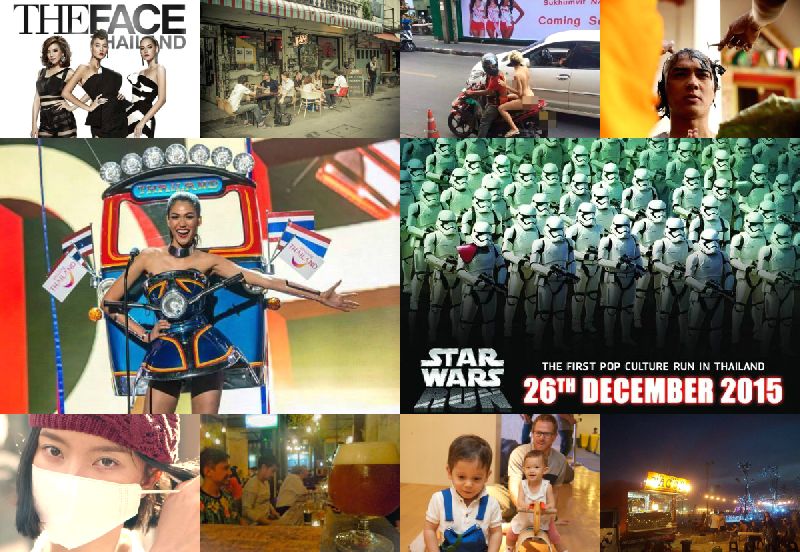 By Lisnaree Vichitsorasatra
Staff Reporter
BANGKOK — What happened last year in the kingdom? We take a look back at some of the trends and interesting happenings of 2015.
THE TUK TUK DRESS
Thailand has not won Miss Universe since the 80's, but who cares. We may not be the most beautiful people, but we're the most fashionable. The Tuk-Tuk dress worn by Miss Universe Thailand, Aniporn "Nat" Chalermburanawong won the Best National Costume at Miss Universe 2015, and ever since there have been replicas of the costume, even on cats.
The tuk-tuk dress was designed by Hirankrit Pattaraboriboonkul, 35, who works at the ever so traditional, Ministry of Culture. He told Khaosod that he was "inspired by Thai pop culture and decided to break from the traditional approach to try something new."
PETITIONS
A campaign asking for the right to allow Carmen to go home with her family. Photo: Courtesy of Change.org
While petitions aren't only limited to Change.org, Thais are most likely to turn to this website to voice their opinions and influence a movement. Change first came to the kingdom four years ago, so it isn't something new, but the Campaign Director, Warisara Sornpet told us that the number of petitions increased by 120 percent last year. Not surprisingly, she believes junta suppression is one of the reasons people started to take more interest in online petition platforms.
"STRONG" REALITY TV SHOW
Photo: The Face Thailand / Facebook
Mixing juicy attitudes, bitchiness, and competition, people quickly got hooked on this modelling competition series that originated in America. Thailand's version started in 2014, featuring Lukkade Metinee and two other models as judges, but surprisingly it has became even more popular in 2015.
Bee Namthip and Chris Horwang, both outstanding actresses, also play the part of the bitchy judges hauling hurtful remarks at contestants: "your face looks homely" or ban ( a ban face means it's plain) and "how much plastic surgery have you had?". Who could forget those cutting remarks? Despite this being reality TV, which is usually a byword for fake and pretentious, fans seem to think the actresses aren't acting and it's all real.
SENTIMENTAL ADS
Thai advertisers discovered, many years ago, that people will drop their fork and spoon to watch a sentimental moment.
One unforgettable ad that ran last year was the Story of Lalin, which was launched on social media and youtube. In it a popular internet celebrity escapes to Japan, hiding her face with a mask. She later reveals that her pretty face was full of pimples.
Another equally sentimental one is the ad of a homeless person, sleeping in front of a man's shop, before being chased away. Later it turns out that the man was protecting the vendor's shop at night. There are many more of these type of ads, and they will never stop producing them here, so be prepare a box of tissues to mop up more tears this year.
Watch Lalin here:
Watch street man Ad here:
FOOD TRUCKS
Two angels tacos. Photo: Courtesy of Two Angels Tacos
Despite the clean eating movement, Thai teens and adults are hoovering up more quality fast food than ever. From burger vans like Lil' Fatso, to Pizza Massilia, Two Angels Tacos, and Manhattan Mango, the food vans have been popping up like mushrooms, making us feel like we're in the U.S.
Across Bangkok, teens grabbed cheesy fries, sliders, and pizzas from mobile vendors.
THAI CRAFT BEER
Craft beer in Chinatown at Let The Boy Die. Photo: Let The Boy Die / Facebook
Although Beer gardens will always be a thing here, more beer lovers in Bangkok are searching for a more unique craft beer taste in private bars, leaving the beer gardens emptier than usual.
STAR WAR GEEKS
A promotional photo for "Star Wars Run Thailand" from the Facebook page of the organizers / Facebook
Before the opening of the new Star Wars movie all Star War fans rushed to reserve a ticket. People started posting pictures of themselves with lightsabers. It also joined forces with the exercise trend, to make the Star War Run which although not a success, was something to be remembered, until the next sequel.
GOING UNDERGROUND
Customers in front of Jam's three year anniversary party. Photo: Snap Limn
Music, theatre, and dance aren't always to be found in obvious places. The best music might be bubbling up somewhere in a tiny bar like Jam and films by potential future stars, can be seen in a place where you wouldn't usually expect to find them. So, get into these hidden places and ask the people for more information about other underground spots and you'll be a hipster in no time.
BANNED and CANCELLED
Scene from Arpat, the movie formerly known as Arbat. Photo: Sahamongkol Film International
How many times have you heard this? After looking forward to watching a movie or booking a ticket to an event, it gets banned or cancelled.
Remember, the ban of "Insects in the Backyard" in 2010? Well last year they lost a legal attempt to overturn the ruling. The controversy stemmed from a scene that showed sex organs as the protagonist watched a porn video.
A new film, "Arbat", about a misbehaving novice monk, was almost banned before changing the name of the film and cutting out a few minutes, winning last minute approval.
Indie music fest, Stone Free cancelled the original plan to host it in December, changing the dates to Jan. 15- 17 and switching from the established venue to Kanchanaburi after hitting some snags.
PROUD PUBLIC SHOWS
A woman puzzled onlookers when she appeared casually walking down a street and riding a motorcycle taxi Sunday near a busy red light district.
Let's face it, there was a time when you wanted to show the world your naked body, but you didn't. Well these Chiangmai students, and "Nana Naked Girl" were cooler than you, they let it all hang out did it their way and proudly so.
To reach us about this article or another matter, please contact us by e-mail at: [email protected].