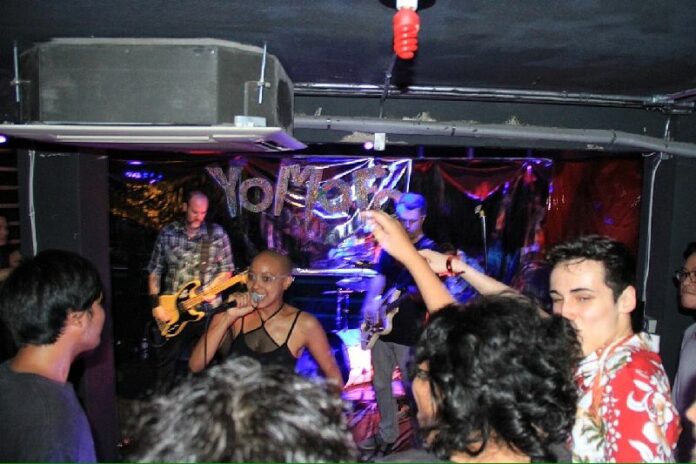 BANGKOK — Looking to embrace the busy buzz of the Bangkok underground? Head to Whiteline, for some quality, night time fun.
Although it sits unassumingly at the corner of Silom 8, the renovated shop house-style building is easily recognizable as part of the scene. The kick-ass graffiti style painting of an octopus with a three-eyed human head, slaps visitors in the face as they step in through the front door.
Founded by Oliver Wolfson and his business partner Joe Delaney, Whiteline started off early 2015 as a giant shop house.  Now it's transformed into one of the best hangout spots downtown and boasts a serious sound system.
The first floor is dedicated to a huge unpretentious bar and art gallery, while the second floor is home to cool, quality, underground beats.
Whiteline hosted a lot of events in 2015, including international craft beer event "Brewtopia II" and "YoMoFo."
At the YoMoFo event on Dec. 6, the second-floor stage was filled with thick techno beats and familiar faces of kick-ass Thai and expat bands such as Deadtown Trash, Plastic Section, Degaruda, The Sangsom Massacre and The Sticky Rice. Ravers and rockers were both well catered to.
"Actually the first YoMoFo was held a few weeks before Songkran festival. Whiteline was very raw and sparse back then," Delaney said. "I introduced the space to some friends who collaborated with RhuBarb & CustTard promotions to help promote the space and celebrate Bangkok's underground art and music."
Apart from standard suds such as Leo and Singha, the beverage selection also includes a list of local IPAs, quality brews and special organic non-alcoholic ginger beer.
Whiteline will run a daytime cafe along with the art gallery downstairs in the near future, according to the owner Wolfson. Visitors can expect a variety of homemade food such as pancakes and vegan chocolate brownies.
Whiteline's January calendar already is filled to the brim with a bunch of cool events including Pineapples Hello 2016, Concrete Jungle 2 (BK RAS), Brew Revolution 2 and more.
To reach the place, hop on the BTS, get off at Sala Daeng station and walk for a few minutes to Silom Soi 8.