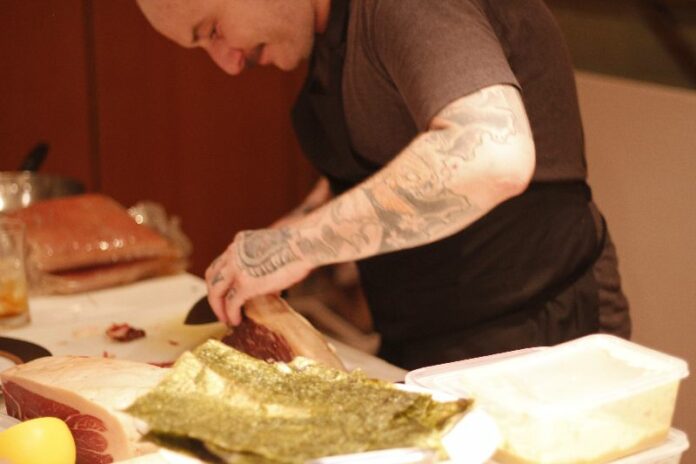 "There are so many free boobs in Bangkok, why go to Hooters?" shouted a man in a thick German accent. Another interjected, "Hooters is supposed to have, well…Hooters! I just can't see this succeeding here." Finally a third guest came to a conclusion, "It just might work if the girls can be bought, but that completely changes the business model."
This is the sort of discussion I heard at Frying Pan Canvas 1.0.
Frying Pan Canvas is a new pop-up dinner series put on by Jess Barnes of Opposite Mess Hall fame, and Justin Dunne, the man behind Evolution48, a Bangkok F&B consulting firm. The maiden dinner took place at Justin's private residence, but future dinners will be held at secret locations. Jess cooks up the food while Justin supplies diners with proper social lubrication.
And everyone at the dinner was very well lubricated.
Justin Dunne mixing cocktails
The Frying Pan formula is predictable: four courses, four cocktails. It's the social aspect of the dinner that makes it remarkable. With each course guests switch seats, sit with strangers, and discuss a new topic related to the F&B industry in Bangkok. Vagaries of a slowing economy and the city's obsession with food trucks were among the topics explored at this dinner. The only rule is that politics stay out of the discussion. Boobs, when discussing Nana's newest "family restaurant" are fair game, though.
My seat didn't come free, in fact a seat didn't even come at all. In order to attend, I had to work in the kitchen doing prep work to earn a spot, and a spot meant standing around a residential kitchen. Perhaps the best vantage point to observe a crowd of nearly twenty diners, mostly from the hospitality industry, get drunk and pontificate about Bangkok's proliferating food scene.
The discussion, comical most of the time, painted an insightful picture of what industry professionals are thinking about Bangkok's exploding restaurant market. One diner, Daniel Fraser of Smiling Albino, noted that he had just taken out a New York Times food writer who was in town to do a story on how Bangkok is rising to the status of a global culinary capital.
The first course, lardo wrapped around strawberry enveloped by toasted nori, was just as juicy as the discussion that ensued.
Lardo rolls with Chiang Mai strawberries and toasted nori
You're opening a burger joint in Bangkok. Where do you put it?
Immediately the crowd started wondering if Bangkok even needed another gourmet burger. "Maybe a junk food burger is better?" remarked a man saying that he'd put it on Wireless road to target the grease-loving Americans.
Another gentleman saw Saphan Taksin as a future culinary hot spot. "You have commuters, you have tourists." He remarked that a high-end gourmet burger restaurant might work there as tourists open their wallets easily.
Jess Barnes doesn't see it that way, "The next 24 months aren't looking bright", he opined. "Prices will need to come down when people are tighter with their spending." From his experience at markets and pop-ups all over town, he's learned that 200 baht is the point where people start to become discretionary with their spending habits. Food under 200 baht is easier to sell.
Speculation about tough times looming in the near future set the next topic of discussion up naturally:
We know the economy is slowing down. Why are there so many restaurants opening up? How does that math work?
The short answer is, it doesn't, but it also might not matter. Jess explained that restaurants have become the new accessory of the Bangkok elite. "A lot of places that are opening up don't need to succeed financially to stay open." he says. He also noted that "Bangkok is probably the easiest place in the world to open up a restaurant. It doesn't take a lot of money and things can move quickly." He notes that the Thai tradition of suppliers giving restaurants roughly 15 days to pay for goods keeps business from racking up huge debts and then failing massively.
To end on a light note, Justin posed the question of whether or not the recent opening of Hooters was a good thing for Bangkok. The room agreed–it's just not risque enough to catch anyone's attention– and the food probably isn't the main draw either. In other words, it's just not exciting enough.
Increasing competition, tightened spending, and more media global attention than ever before are lighting up the restaurant scene, but everyone at the dinner agreed: 2016 is going to be a pivotal year for the food and beverage industry in Bangkok.
To reach us about this article or another matter, please contact us by e-mail at: [email protected].