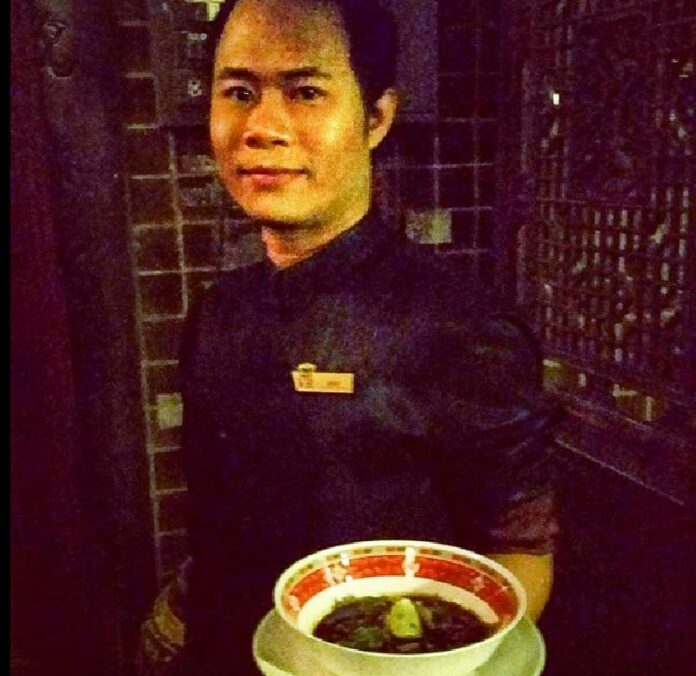 By Cole Pennington
Correspondent
BANGKOK — Last July Jess Barnes spent his nights beside Blair Mathieson (formerly of Quince) in the small kitchen at Maggie Choo's churning out baos, dumplings, and noodles.
Their Chinese comfort food was the kind that's preemptively consumed before a long night at the neighboring club swaying back and forth to soulful jazz tunes and watching the lounging Shanghai-styled pretties become prettier with every cocktail. It's not the cheap and greasy stuff, but the feel-good kind of Asian street food that's inventive and approachable, albeit trendy.
With a sterling reputation built on markets and pop-ups, you may have enjoyed one of Barnes' universally lauded baos before. Even the New York Times has given them praise.
A bao at Maggie Choo's, prepared by Jess Barnes
Photo: @jessbarnesbkk / Instagram
The Maggie Choo's pop-up was an enormous success. The young chef was still running his mainstay joint, Opposite Mess Hall for another two months before closing it to open what would become Daisy Matthews.
But as the Bangkok dining scene goes, Daisy Matthews never opened.
Jesse Barnes was back where he started, less a restaurant.
But as things fell apart with the Silom venture, they came together in another form: A semi-permanent establishment at Maggie Choo's, a grown-up version of Big Trouble in Little China.
"We're not purposely trying to fit into the 1930s Shanghai concept, but in a way, we do anyway." Jess says. When he first occupied the space and started designing the menu he leaned towards tried and true Opposite Mess Hall favorites. Then he came to realize that diners weren't looking for the same thing as at Opposite.
"We're a place to eat that's attached to a club. We're not a restaurant.' says Jess. The plates are shareable, and the portions are sized for diners to order a few to snack on.
Jess has moved away from the Big Trouble model that emulated the immigrant-driven Chinese food made famous by places like Mission Street Chinese and Momofuku.
Exotic meat
The menu isn't without a dish doused in sweet and sour sauce, but this time around the meat in question isn't chicken, it's rabbit.
"Several years ago I put rabbit on the menu and immediately took it off. The Thai demographic didn't get it." But now it seems like rabbit is an easy sell – especially when it's slathered in zesty orange glaze. Jess says "the middle class is traveling more, becoming more exposed to different culinary traditions. People are more open to try new things." In other words, in 2016 putting rabbit on the menu is less risky.
"It's quite popular now" the chef says.
Buttermilk fried rabbit. Photo: @jessbarnesbkk / Instagram
What's absent is a menu heavy on what Jess calls "Dude Food" that was prevalent in 2013. Instead diners are treated to interpretations of Thai-chinese dishes that borrow heavily from multiple disciplines. The mushroom fried rice gets a heady dose of truffle oil while also incorporating rat ear fungus: a cloudy, spongy fungus that lends well to adding interesting and unexpected texture to an otherwise predictable dish.
truffle and mushroom fried rice. Photo:

@jessbarnesbkk / Instagram