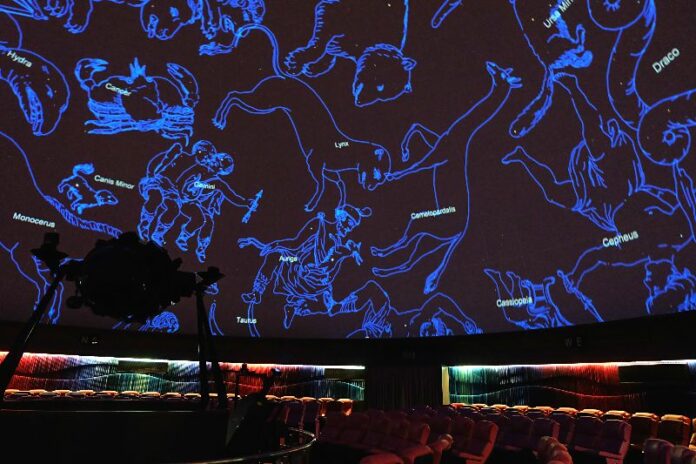 BANGKOK — As the Bangkok Planetarium reopened yesterday after being closed for more than half a year for renovation, let's have a look inside the newest, most awesome astronomical experience in town!
The opening ceremony took place Tuesday morning in the presence of professor Kamjorn Tatiyakawee, the permanent secretary of the Ministry of Education.
With a budget of nearly 93 million baht and technological assistance from Ditto Group and Evans and Sutherland, the highlights of the revived space-learning center include a custom-built fish-eye lens, Digistar 5 theater system with 5.1 surround sound and two "Christie" 4K-resolution digital projectors.
Yesterday afternoon, the 360-degree dome showed constellations in the night sky and later a documentary film "Experience the Aurora," which captures the spectacular northern lights from different locations. Many in the audience couldn't help gasping in wonder as the pale green light danced across over the screen and some space objects bounced towards them in high quality 3D.
"The new projectors are designed to handle more heavy-duty tasks. They also have auto blending and auto alignment features and can accommodate up to 100,000 stars with more realistic visuals," the Science Educator Parin Tanawong said. "However, we still need some time to adjust the scripts to be more fun and smoother for our audience."
The 280-seat planetarium offers free admission until this Saturday. From Sunday the admission fee will be 20 baht for children and 30 baht for adults. All shows are only in Thai for now, but we're informed that bilingual (English and Thai) shows will take place soon.
To visit the renovated Bangkok Planetarium, take a BTS to Ekkamai. It's located next to the Eastern Bus Terminal.
Parin Tanawong, who has provided the educational voice-overs for films at the planetarium for nearly 6 years, working at his new control panel.