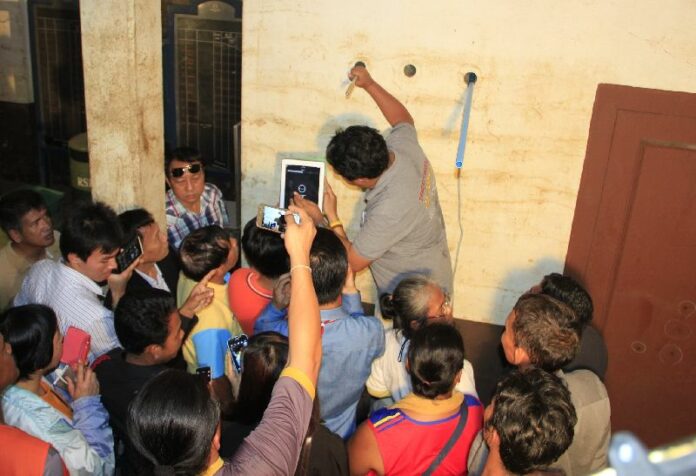 NAKHON SI THAMMARAT — After more than one month of mystery, we finally get to take a look inside the antique bank vault in Thung Song district.
Since its discovery in November, the vault in the basement of a former Siam Commercial Bank building has ignited imaginations across the Kingdom as to what could be inside.
Today a large crowd, including the Thung Song district head Tossaporn Chantaraprawat, Mayor Songchai Wongwatcharadumrong, State Railway officials and Siam Commercial Bank staff, gathered at the 108-year-old building that housed the vault to see its contents.
Read: #VaultWatch: Camera to Penetrate Repository's Secrets
After a 10-minute camera insertion process, the cameraman slowly showed pictures of the vault's contents to the crestfallen crowd; one wooden box and one iron box. According to mayor Songchai, both look like tool boxes and were lying in different corners of the vault.
Even though what's inside those boxes remains unknown, officials believe that the dusty containers are empty.  Some of the crowd, curious to solve this mystery once and for all, asked officials to crack open the vault and break the boxes. This request was rejected.
After the commotion was over, Songchai said officials will continue the renovation project of the building as planned. The site, which is owned by State Railway of Thailand, will be restored and transformed into a museum to preserve the city's historical and cultural heritage with a budget of around 10-million baht, Songchai said.
As for the vault, it will be left alone, without any further attempt to search more. But curious tourists will still have a chance to take a peek into the vault.
"We want to leave it to as a mystery," Songchai said. "After the building is renovated, we'll have CCTVs installed for tourists and visitors who are interested to see the inside of the vault. This should be another way to promote the Thung Song district."