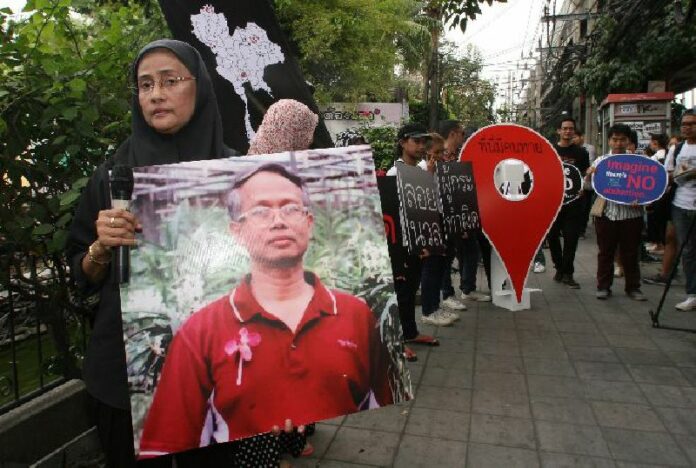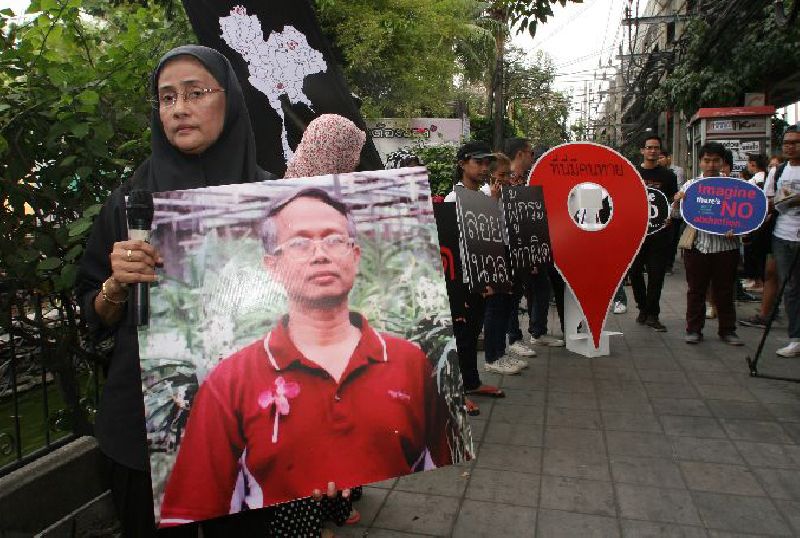 By Pravit Rojanaphruk
Senior Staff Writer
BANGKOK — The Thai government should take decisive and sustained efforts to tackle the problem of enforced disappearance, said Zeid Ra'ad Al Hussein, the UN High Commissioner for Human Rights.
"All of the families of those who have disappeared have the right to know the truth regarding the disappearance of their kin, as well as any progress and the results of investigations," said Zeid, in a statement issued from Geneva on Jan.6.
The High Commissioner also called on the government to criminalize enforced disappearance, of which there are currently at least 82 cases, including human rights lawyer Somchai Neelapaijit, in line with international standards.
---
Activists Mark 11th Anniversary of Human Rights Lawyer's Abduction
---
The statement cited the latest ruling by the Supreme Court in the case of missing lawyer Somchai. On Dec. 29 last year, the Supreme Court upheld a decision by the Appeals Court to acquit five police officers accused of involvement in the abduction and disappearance of Somchai.
Somchai, who was active in defending the rights of Thai-Malay Muslims in the deep south, disappeared in March 2004.
The statement noted that witnesses reported seeing Somchai being forced into a car on the night he disappeared, but because enforced disappearance is not a crime in Thailand, five police officers later stood trial on counts of robbery and coercion.
"One police officer was convicted, but the others were found not guilty by the Bangkok Criminal Court in January 2006. In 2011, the Appeals Court overturned the conviction against the police officer, finding insufficient evidence to convict the remaining four accused and ruled that Somchai's family could not stand as joint plaintiffs. In the last ruling, the Supreme Court upheld these decisions. Under international law, family members of a victim of enforced disappearance are also victims."
Zeid said the judiciary's role is not only to interpret laws and procedures but also to protect and defend their citizens' rights.
"The Supreme Court of Thailand missed an opportunity to protect the rights of the victims to truth, justice and redress in cases of involuntary forced disappearance… There is a lack of adequate legal and institutional framework for the victims and their families to seek justice in enforced disappearance cases in Thailand. I urge the Thai authorities to immediately ratify the International Convention for the Protection of All Persons from Enforced Disappearance."
Asked whether any concrete improvement can be expected, human rights lawyer Surapong Konchantuk, who was a colleague of Somchai, chuckled sarcastically before saying: "The Thai state should consider the suggestions and put them into practice."
Another high-profile case mentioned in the statement was the disappearance of Karen human rights activist Pholachi Rakchongcharoen, aka Billy, who disappeared in April 2014.