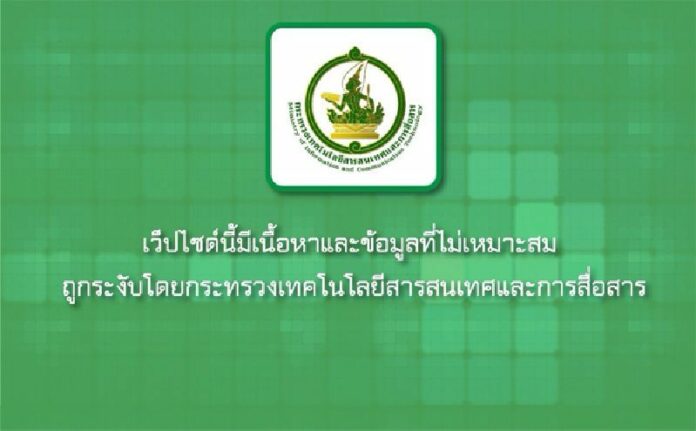 BANGKOK — The government announced yesterday that it has asked Facebook and YouTube to ban the accounts of users that distribute any offensive remarks about the monarchy on the internet.
In a meeting held at Government House on Wednesday, government officials said there are "almost 100 accounts on YouTube and 20-30 accounts on Facebook" that they want banned, according to the National News Bureau of Thailand.
The report said officials from the Ministry of Information Communication Technology had asked Facebook and YouTube to ban those accounts for criticizing the monarchy, which is a crime punishable by up to 15 years in prison in Thailand.
Members of the public are also encouraged to report any website considered to violate the royal defamation law through ICT Hotline 1212.
The Bangkok offices of Facebook and Google – which owns YouTube – declined to comment on the claim.
Since coming to power in the May 2014 coup d'etat, the military government has been stepping up crackdowns on discussion about the monarchy on social media.
On Dec.24, a junta-appointed media reform committee claimed representatives from Google are scheduled to meet the committee for a discussion on Jan. 14 and again on Jan. 21.
Maj. Gen Pisit Pao-in, a former commander of the Technology Crime Suppression Division who now oversees the government's "reform" of online media, also said he would ask to use the power of Article 44 to crack down on online media that incites "social unrest."
Panadda Diskul, the Minister of the Prime Minister's Office, who led the meeting on Wednesday, said the "urgent discussion" resulted from Prime Minister Prayuth Chan-ocha's concerns about "incorrect information" currently disseminated online.
Related stories:
Media Reform Committee Considers a Crackdown on Online Media Using Article 44.
Thai Net More 'Not Free' Due to Military Suppression: Freedom House