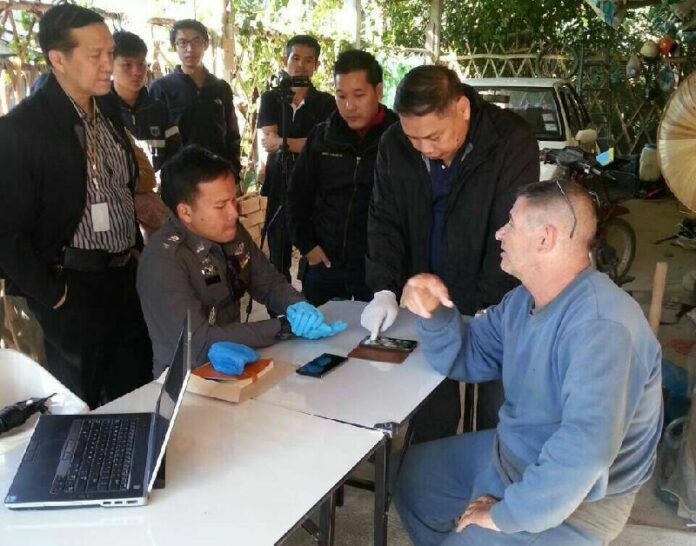 CHIANG MAI — Following a tip-off from American officials, police arrested a British national in Chiang Mai province yesterday on charges of uploading child porn to the internet.
Fabian Frederick Blandford, 64, was arrested at his home on Wednesday after the US Homeland Security Investigation team contacted Thai police about the matter, a spokeswoman of the US Embassy in Bangkok told Khaosod English.
"The United States has a long history of law enforcement cooperation with Thailand, including collaboration on key issues such as fighting child exploitation," spokeswoman Melissa Sweeney said today. "U.S. Homeland Security Investigations (HSI) recently shared with Thai authorities information which assisted an investigation leading to the Jan. 6 arrest of a British national for the possession of child pornography in Thailand."
Sweeney said US law enforcement officials regularly work with Thai law enforcement officials to tackle child trafficking and child exploitation in the Kingdom. The HSI alerted both Thai and British authorities about the investigation on Blanford, she added.
Blandford was arrested in a joint operation between the local police force and the Division of Special Investigation (DSI). He has been charged with possessing and distributing child pornography on a computer. He faces up to seven years in prison if convicted.
Police said Blandford is a former Buddhist monk who has been living in Chiang Mai's Fang district for a number of years.
According to an officer at Fang Police Station, Blandford sometimes brought kids to his home, took lewd photos of them and uploaded the images to the internet. "American officials found the photos and contacted the DSI about it," Police Col. Chollathep Maichai said yesterday.
A press officer at the British Embassy in Bangkok confirmed today that it has been informed about the arrest. "We are in contact with local authorities following the arrest of British national in Thailand on Jan. 6," said the officer, who requested not to be named, citing Embassy protocol.
Another police officer at Fang Police Station, Worachit Nitiprasart, said Blandford is still being interrogated at the time of writing. The suspect will be taken to Fang Provincial Court to formally face charges tomorrow, Police Lt.Col. Worachit said.
"The suspect confessed to the charges," Worachit told Khaosod English. "We have the evidence to implicate him. We have confiscated more than 15 items as evidence."
Representatives from British and American authorities were also present during the arrest, Worachit said.
He added that Blandford has declined to appoint a lawyer to represent him throughout the interrogation. Blandford's wife served as his interpreter, Worachit told Khaosod English.
To reach us about this article or another matter, please contact us by e-mail at: [email protected].
Follow Khaosod English on
and
Twitter
for news, politics and more from Thailand.