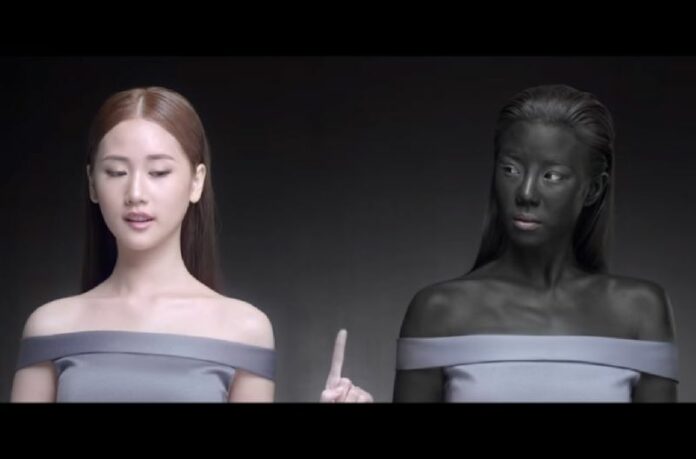 BANGKOK — A commercial featuring light-skinned woman mocking a woman with dark skin for her lack of 'whiteness' has drawn criticism from a number of internet users in Thailand.
UPDATED: The company behind the advertisement has apologized.
The commercial, made for a skin whitening product called Snowz, is the latest public display of the Thai obsession with light skin – an obsession some denounce as racist.
The advertisement was uploaded to Youtube by cosmetic company Seoul Secret on Wednesday. In the beginning, actress Cirin 'Chris' Horwang appears with her light skin seeming to glow and tells the camera:
"Do you know something? Before I got to where I am right now, the competition was very high. It's not easy to stay here for a long time. And once I stop taking care of myself, everything I have dedicated, [and] the whiteness I have invested in, will be gone."
At this point the camera pans left to show another actress next to her, with light skin, while Chris is transformed into a kind of blackface actress that you might have come across in nineteenth century America. The monologue continues:
"The new kid that will replace me may make me a dead star."
With a smirk, 'the new kid' reveals her success, a skin cream product named Snowz, with the tagline, "Just being white is enough to make you win."
The segment almost immediately prompted a torrent of negative comments online from users who feel the advertisement verges on racism and skin color-based discrimination. Apparently in response to the criticism, Seoul Secret disabled the comments section on the video Friday morning.
By Friday afternoon, the video had been removed from Seoul Secret's Youtube channel, but numerous copies of the video are still available online.
Eventually, at around 4.30pm, Seoul Secret posted a statement of apology on its official Facebook page. The statement ran as follows:
"Regarding the controversial clip of Snowz Gluta starring Cris Horwang, Seoul Secret, as the rightful owner of the video clip, would like to apologize for the mistake, and claim full responsibility for this incident. Our company did not have any intention to convey discriminatory or racist messages.

What we intended to convey was that self-improvement in terms of personality, appearance, skills, and professionality is crucial.

However, we would like to express a heartfelt apology and thank you all for the comments. Currently, we have removed the video clip, related advertisements, and other planned materials to show our responsibility in this incident.

Seoul Secret"
White skin supremacy
In a thread posted to popular web forum Pantip.com, discussion about the video rages on.
"Thai people have had it drilled into their heads for a long time, the idea that whiteness makes you beautiful," wrote a user named Bua Ban See Chomphu. "So, people who want to sell whitening cream and pills repeat this idea again and again. White is prettier. Black isn't pretty."
Another user believes the commercial merely reflects society's prejudice against dark skin. "Strictly speaking, in society these days, people who are white really do win. But it's not always the case for everyone, though." wrote Pantip user 2884545.
According to a press release distributed to the media by Seoul Secret, the commercial was filmed by director Paphangkorn Punchantarak and Hub Ho Hin production house. Concepts for the ad were designed by a company called Rod Wai Lert, the document said.
"Rod Wai Lert (Thailand) presents the idea as told through a real-life insight that every woman has experienced: people who have white skin tend to be so attractive that they 'steal the scene' from other people," the document said as it explained the concept behind the commercial.
A representative at Hub Ho Hin said Paphangkorn is currently on vacation overseas and is not available for interviews. The staff, who identified herself as Pern, said Hub Ho Hin only filmed the commercial, and referred all questions about its idea to Rod Wai Lert.
Rod Wai Lert does not appear to have any website at the time of writing. A business database shows the Bangkok-based company was registered in August. No telephone number was listed on the database.
Whitening products are huge enterprises in Thailand, largely fueled by Thais' ideal of beauty that treats lighter, white skin as "superior" to dark or tanned skin.
Advertisement campaigns for these products have occasionally been accused of dabbling in racism. For instance, in 2011 a "whitening" beverage launched by Oishi company was advertised by stickers on Skytain seats with the text "This seat is reserved for white people ." After intense criticism on social media, Oishi apologized and aborted the campaign.
More recently, in 2013 a whitening cream firm Citra staged a photo contest in which a 100,000 baht scholarship would be rewarded to university students with "fair skin." Citra, a Thai subsidiary of Unilever, later apologized.
To reach us about this article or another matter, please contact us by e-mail at: [email protected].
Follow Khaosod English on
and
Twitter
for news, politics and more from Thailand.