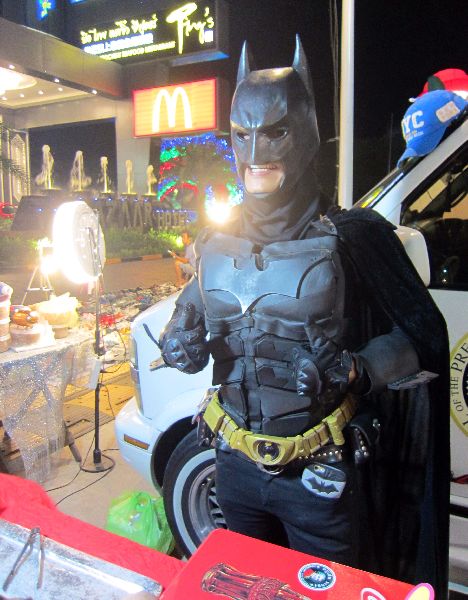 By Lisnaree Vichitsorasatra
Staff Reporter
BANGKOK — Several Santa Clauses straddle a dinosaur whose tail sways back and forth. Children ride on a carousel as their parents watch from the sidelines. Beside the dinosaurs scattered around one of Bangkok's newest outdoor markets, there's a Spider Man model, and a man in Batman costume selling duck-shaped jelly
Vintage toys for sale at Suan Lum Night Bazaar
There doesn't seem to be a theme at the Suan Lum Night Bazaar which opened last month at the Ratchada-Lat Phrao intersection. Its operators prefer the term "re-open," despite being over 10 kilometers from the original location next to Lumpini Park. But whatever the history, the premise today is that people will flock to a market so long as it's in a good location.
To make it a draw, incentives have been made to bring in vendors.
"We get the space for free now, but we'll have to pay later when we move inside the place," one said.
Beside the attractions targetting children, there were also vendors selling Thai whisky, knives and vintage toys. "You can drink this, but don't get up afterwards," the vendor warned me after I asked him about Thai Mekong rum.
It doesn't seem like it will become a popular market place but vendors are optimistic.
"Just give it a year!" said Kornnaya Saelim after I asked why she decided to set-up a stall selling clothes and bags there. Many vendors at the new Suan Lum Night bazaar believe that tourists will spend a lot of time here as a hotel opened right in the middle of the market. Hotel staff said that many tourists have already visited the bazaar when they stayed at the hotel which costs 2,500 baht a night.
Beside standard night market fare, there are some things standout. While Sukhumvit has its burger and pizza trucks, Suan Lum has stalls selling traditional Thai curry and a delicious somtam place. There's also a haircut stall called Old Day Barber, where you can get a vintage hairstyle for 200 baht. The hairstylist said he gets around 20 customers a day at other night markets, but gets less here as it's still in its early days.
Old Day Barber
It remains to be seen whether this night market will thrive, but it's a fun place to frolic around. Some families brought their kids here and couples roam around like it's a temple fest. After ambling around aimlessly my friend, we decided to go back and a dinosaur in the corner roared at us and we stopped to look, fascinated that it continued growling after we walked away.
By the way, the carousel is only 20 baht, and adults are allowed to ride.
To reach us about this article or another matter, please contact us by e-mail at: [email protected].