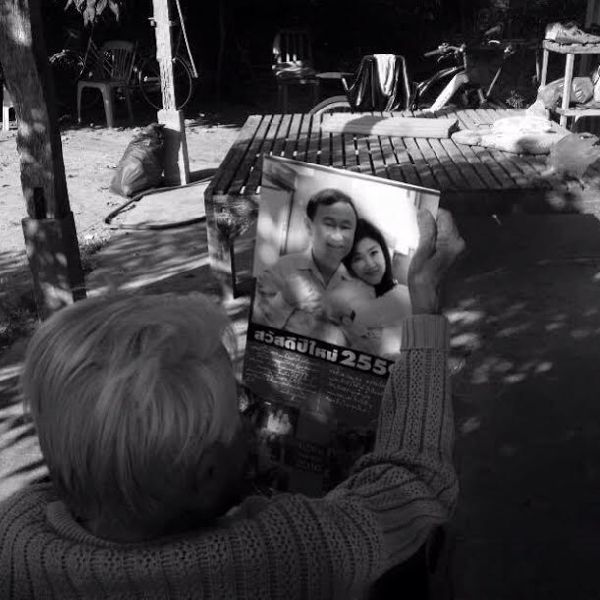 By Pravit Rojanaphruk
Senior Staff Writer
The latest petty prohibition ordered by the military junta is the open distribution of certain calendars in public.
Many opted to seek refuge in social media to display photos of themselves with their calendar of choice. Who would have thought that the mere act of displaying a photo of yourself with a calendar could become an act of resistance and defiance against the military regime?
And who would have thought that the junta, which claimed to be popular with 99 percent of the population according to their recent government poll, would go as far as to tell people not to distribute the calendar in public areas?
Calendarphobia, as some called it, has engulfed Juntaland since New Year as the Pheu Thai Party began giving away 300,000 calendars with photos featuring former Prime Minister Yingluck Shinawatra embracing her older brother, ousted and fugitive former premier Thaksin Shinawatra.
Two Redshirt Yingluck-Thaksin supporters in Khon Kaen province have been summoned for distributing the controversial paper calendar earlier this week.
Roi Et provincial Governor Anusorn Kaewkangwal instructed officials not to have anything to do with distributing it during office hours, as junta chief Gen. Prayuth Chan-ocha and his men have questioned the suitability of the calendars, which are a reminder of the persisting popularity of both Yingluck and Thaksin.
The failed bid to control the distribution has not only led to many netizens posting pictures of themselves flaunting the calendar, but has also made them 'must-have' items.
A History of Prohibition
Prior to the calendar controversy, simple acts such as eating sandwiches publicly or flashing a three-finger salute 'Hunger Games' style have been used as symbols of resistance to the military regime since they staged a coup in May 2014 and began ruling Thailand with absolute power.
As inventive as opponents of the military regime have become, the junta ends up issuing ever more absurd prohibitions.
Forbidding Yingluck-Thaksin calendars to be distributed outdoors and openly is one such ludicrous order. One Facebook user poked fun at the situation and asked if he has to hang the calendar in a secret spot in his house?
The list of what you are not supposed to do, to avoid being construed as publicly expressing opposition to the military rulers and their wrath, is getting longer as people invent new ways to register their disapproval of the regime.
Logic
"We now live in a country where logic is lacking. Don't get too stressed by such a predicament," Ekaphan Pinthawanij, a peace and human rights expert at Mahidol University told me on Thursday.
There's a "logic" behind a dictator issuing ever increasing ludicrous orders and prohibitions, however.
Dictatorial power basically rests on the threat of the use of brute force and arbitrary prosecutions, not on rationality, because rationality would eventually question the lack of legitimacy of the junta. A dictatorial regime is essentially insecure, even if it may pretend otherwise, as deep down they know their power is illegitimate.
Since illegitimate power is not justifiable rationally, it cannot rest on a rational justification. The closest the National Council for Peace and Order, the formal name of the junta, got to making a justification was that they had to usurp power through a putsch in order to prevent bloodshed, although whether the majority of the Thai people have really endorsed their action or not is another matter.
Absurdity
Absurd orders and prohibitions backed by the threat of detention and force make many people comply, although it's human nature to questions the junta's legitimacy or the lack thereof and the absurdity of the list of orders and bans.
In fact, the more absurd the order and prohibition the better, as many people may no longer bother to seek any rational justification and simply accept it as an order.
Dictatorship is about control and any anything that risk undermine their control cannot be tolerated.
This same 'logic' is applied by the military to its cadets and conscripts, by college fraternities or secret societies to their recruits. The new members or fresh recruits are often ordered to follow absurd instructions to ensure unquestioning obedience. This is exactly what the military junta is trying to subject Thai citizens to. The junta talks about the need for people to respect the law, including their arbitrary orders passed as law, while we are not supposed to question whether they themselves have respected the highest law (read: the constitution) when they staged the coup. (Don't worry, they settled that by granting themselves amnesty, thus they're technically not accountable for breaking any laws.)
But no matter how often the Thai junta tries to convince the public that they enjoy huge support, the latest calendar prohibition is unlikely to be the last as the junta kept deferring their roadmap to return power to the people. Absurd order and prohibition are essential in the maintaining of the artificial sense of order, the shaky façade of popularity and legitimacy of any illegitimate regime.
Pravit Rojanaphruk can be followed on Twitter at @PravitR
To reach us about this article or another matter, please contact us by e-mail at: [email protected].