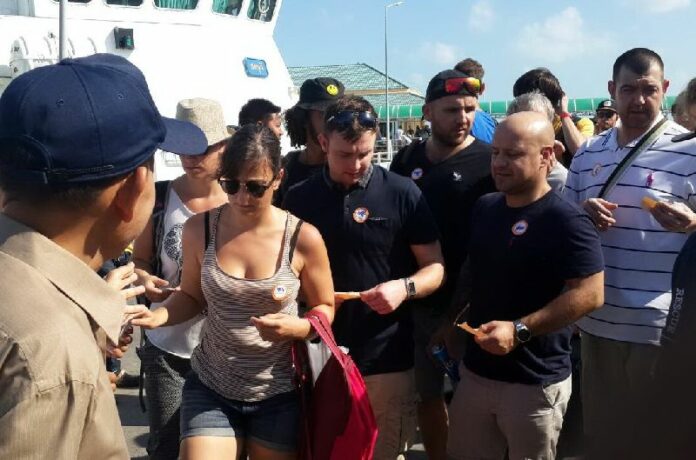 KOH TAO — A 26-year-old British man was found dead Friday morning in a hotel swimming pool on Koh Tao, police say.
According to Police Lt Col Napha Senathip, an investigative officer at Koh Tao Police Station, the Briton died after taking a plunge into the swimming pool at Sunset Resort. Police believe murder was not involved, Napha said.
"He must have climbed to the roof of a [nearby] DJ booth, jumped off, and his head hit the swimming pool floor, killing him," Napha said. He identified the deceased as a 26-year-old tourist from the United Kingdom.
Police Lt Col Chokechai Sutthimek, chief of Koh Tao Police Station, said the deceased was found in the swimming pool by a cleaning staff on Friday morning.
Police also found small wounds on his face that they believe were caused by barbed wire around the DJ booth as he climbed to the roof, said Napha, the investigative officer.
CCTV footage seen by police suggests that he may have been "heavily drunk" in moments prior to his death, according to Napha.
However, station chief Chokechai said he's not sure whether the tourist was indeed intoxicated. "That is why we sent him for an autopsy in Surat Thani [province], to find out what really happened," Chokechai said.
Koh Tao, a popular tourist destination in southern Thailand, is also where two British backpackers were murdered in September 2014, a case that attracted widespread media attention. Two Burmese migrant workers were found guilty of the murders last month and sentenced to death.
However, Napha stressed there is no sign of murder in the latest tourist fatality on the island.
"We found no sign of murder of struggles on his body," Napha said, referring to the 26-year-old Briton who died in the swimming pool. Nevertheless, investigation is ongoing, and more CCTV footage is being inspected, Napha told Khaosod English.
The tourist's body is now awaiting autopsy at Surat Thani Hospital, and the British Embassy in Bangkok has been informed, the officer said.
Chokechai, the chief of Koh Tao Police Station, also repeated that police suspect no foul play. According to Chokechai, the small island sees a large number of tourists die by drowning every year.
"If it's really murder, it would have been a huge issue for us. All the police commanders would be coming to the island already," chief Chokechai said. The British Embassy released the following statement:
"We are providing assistance to the family of a British national who has died in Koh Tao, Thailand. We will remain in contact with local authorities who are investigating."
When contacted by Khaosod English today the Embassy declined to give further details and simply re-confirmed the contents of the statement above.
The Isle of Wight County Press, a regional British newspaper based on the Isle of Wight, an island in Southern England, believes that the deceased may be from that county in Britain.
Update: Additional details regarding the time of death have been added.
To reach us about this article or another matter, please contact us by e-mail at: [email protected].
Follow Khaosod English on
and
Twitter
for news, politics and more from Thailand.