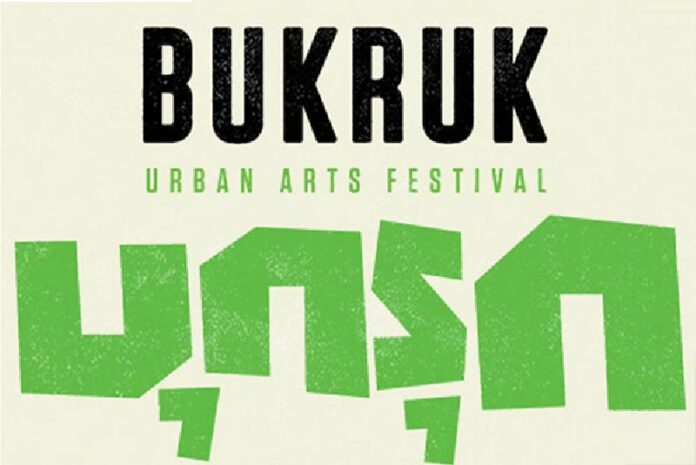 By Todd Ruiz
Editor
BANGKOK — Some of the world's most famed street artists are converging on Bangkok to use the capital city as their canvas for new, original works starting tomorrow.
But with the Bukruk Urban Arts Festival playing out over nine days in different locations, where to begin?
Here is Khaosod English's day-by-day guide to getting the most out of the event. Its slant toward visiting artists and musicians should not be taken as any slight against the awesome stack of local talents in play, but a function of opportunity cost.
Read: 9 Things You Must See at Bukruk
SATURDAY, Jan. 23
Much like Bukruk's first outing in 2013 is best remembered for its opening party, tomorrow brings 18 acts from down the soi and around the world to The Jam Factory. There's going to be so much good music, but don't know your French trip-hop from your Spanish indie rock? That's okay, here are some of the must-see-hear acts:
El Guincho, 9:45pm, Main Stage
Difficult to claim to have a heart unmoved by the syncopated steel drum beats of El Guincho's 2010 track "Bombay." From Barcelona producer Pablo Diaz-Reixa comes just as he's releasing a new El Guincho album six years after "Pop Negro."
La Fine Equipe, 8:30pm, Garden Stage
Feast on a French Boulangerie of trip hop courtesy of Blanka, Chomsky, Mr. Gib and Oogo; the quartet of beatmasters collectively known as La Fine Equipe.
Side Effect, 7:15pm, Main Stage
Coming from Yangon for the first time to Bangkok comes the Myanmar punk rock trio of Side Effect. Side Effect has been pounding out politically charged rock for more than a decade.
Alek et les Japonaises, 5:15pm, Garden Stage
This Belgian-Japanese duo has been described as Disco Deerhoof and are delightfully weird. It's said catching their live show is like an audience with the Pope: leaves you both mystified and delirious.
Paradise Bangkok, 8:30pm, Main Stage
As they take their show on the global road, it's becoming increasingly rare to see Paradise Bangkok back home where they built a scene by making the charging heart of Isaan music popular among too-cool-for-country city slickers. Don't miss it.
From Apartment Khunpa to Gramaphone Children and DCXNTR, there's a lot of other great music to see Saturday, but we still have eight more days to get through.

The Bukruk Music Festival runs 2pm to midnight Saturday at The Jam Factory. Tickets at the door are 900 baht.
---
SUNDAY (Jan. 24 – Jan. 31)
Bukruk is all about the walls. All other the high-culture ambitions aside, the festival is about watching 13 artists from Asia and Europe transform 13 walls in our sublime city into fantastic works.
They get to work on Sunday, but don't expect to see much for a few days: This is painstaking and time-consuming work. Check out your favorites, and also note how differently they work.
Here are our top picks:
Aryz, Barcelona
From brush to spray to graphics, Aryz does it all, and that's why he's become one of the world's most sought-after talents. A truly contemporary artist, Aryz is constantly tearing up his own past to reinvent and break with his own style. But you've got to see him work. No sketching, no tracing, he just runs up a wall and attacks it will rollers of paint. Aryz doesn't do every festival and getting him to Bangkok is a big deal. For Bukruk, Aryz is not exhibiting, just leaving his wall behind.
Aryz will be spraying a wall at 1390 Song Wat road, Samphanthawong.
Nychos, Styria

Photo: Nychos / Facebook
Nychos wants to take a look inside you. Nychos also likes to look inside horses, snakes, chicken, killer whales. There is folklore and myth writ large in old-school graffiti sprayed with incredible, gory detail.
Nychos was originally given a wall at the Bangkok Docklands, the original venue for Saturday's opening party before the Navy pulled the plug at the last minute. This location may change.
Daan Botlek, Rotterdam

Photo: Daan Botlek / Facebook
Dutch artist Daan Botlek is no stranger to Bangkok. His mural from Bukruk 2013 still perplexes passers-by on a wall in the southeast corner of Siam Square, and he completed a residency at Toot Yung Art Center in 2014. He returns for Bukruk II to amuse and disturb with his magic-real brand of weird and wonderful next week.
Daan Botlek is painting somewhere near the Shangri-La Hotel.
Motomichi Nakamura, Tokyo

A Chao Phraya riverboat painted by Motomichi Nakamura. Photo: Motomichi Nakamura / Facebook
Graphics and animation supergeek Motomichi Nakamura touches primal nerves in bold colors. Be thrilled and possibly terrified as his work unfolds on Decho Road off lower Silom Road. And keep an eye out for a Chao Phraya Express boat currently afloat with a sweet paint job by Nakamura.
Motomichi Nakamura is painting a wall on Decho Road.
Aitch/Saddo, Romania

Saddo's Siam Square mural under progress in 2013.
Muralists and illustrators Saddo and Aitch are partners in vivid fantasy dream allegories. They each have their own wall: Which will finish first?
Aitch is painting at 1121-23 Song Wat Road in the Samphanthawong district. Saddo should be devouring a compound wall at the French Embassy at 186 Soi Charoen Krung 36.
Interactive map to all 13 mural locations:
---
TUESDAY, Jan. 26

Courtesy Roa / Facebook
The first of six exhibitions of Bukruk artists starts Tuesday night at Bridge Art Space. Check out the illustrations of Bangkok illustrator Kult and Belgian graffiti artist Roa, a visual (cruelty-free) animal vivisectionist.
---
WEDNESDAY, Jan. 27

Courtesy: Fikos / Facebook
Three artists' exhibitions open at Serindia Gallery. Romanian muralists and illustrators Aitch and Saddo will show their work along with Greek artist Fikos, a graffiti artist who studied Byzantine technique and came up painting murals in Orthodox Christian churches.
---
THURSDAY, Jan. 28

Courtesy Daan Botlek / Toot Yung Nomad
Returning Bukruk artist Daan Botlek opens his exhibition at P. Tendercool. Be delighted, be confused and possibly disquieted by the Rotterdam muralist's warped wonders.
---
FRIDAY, Jan. 29

Lolay sculpture outside the Bangkok Art and Culture Centre
Japanese illustrator Motomichi Nakamura is aggressive but his work is stridently minimal. His exhibition opens Friday night at Soy Sauce Factory. He's showing with eminent Thai artist Lolay, an illustrator also known for large fiberglass sculptures you've probably seen around Bangkok.
---
SATURDAY, Jan. 30
Drink in the dark feminism of French mixed media artist Florence Lucas, whose show opens 5pm at The Jam Factory, but the main thing not to miss Saturday is Animation Night, to be held at the same venue. Watch award-winning and cult-classic animation shorts by 16 selected animators from around the world and locally.
---
SUNDAY, Jan. 31
Party, again. Head to the old Central Post Office building on Charoen Krung Road where Bukruk will hold its last hurrah. On the deck from Luxembourg, Sun Glitters will officiate with electro pop set to fun, while Motomichi Nakamura brings the historic building to life with his zany projection mapping.
Related stories:
Bukruk Fest Moves Opening Day to Jam Factory
Bangkok the Canvas for Urban Art to Shine for 10 Days of 'Bukruk II'