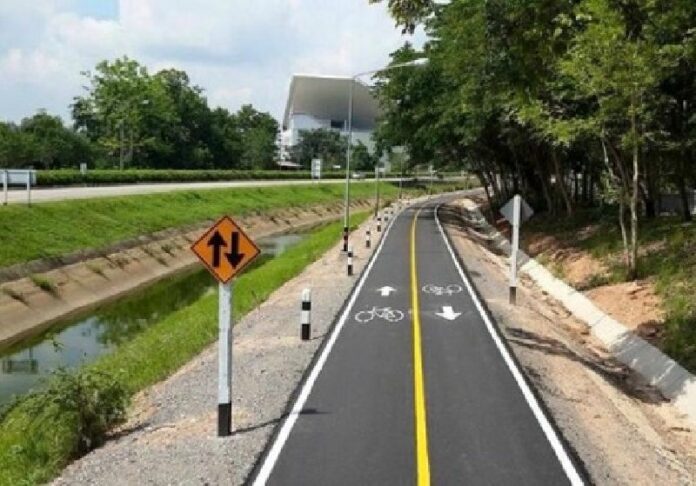 AYUTTHAYA — Over 1 billion baht would be spent to build a 200-kilometer bike lane through central Thailand with a lot of rubber mixed in to benefit struggling rubber plantations.
Starting from northern metro Bangkok, the route, widely misreported in state media and other sources as 2,000 kilometers, will run north to the Chao Phraya Dam in Chainat province.
The lane will be rubber-surfaced to provide a subsidy to rubber farmers, who earlier this month won support from the military government for a price-guarantee scheme under which the government will pay nearly double the market price for up to 200,000 tonnes of rubber.
It will start from Thammasat University's Rangsit campus and run north through Ayutthaya, Ang Thong and Sing Buri provinces before ending at the Chao Phraya Dam in Chainat province.
The construction plan has already been finalized by the Ministry of Transport, Ayutthaya roads official Jiraphong Pinthabute said in the state media report. Reached for comment by Khaosod English, Jiraphong said through his secretary he had given no interviews about the project recently.
First mentioned in April 2015, the plan was intended to honor His Majesty the King's December 5, 2015, birthday. It was previously reported to run 184 kilometers and be the longest of its kind in Asia, at a cost of 1.5 billion baht.
The 17-kilometer stretch running through the old capital of Ayutthaya would pass major tourist attractions such as the Bang Pa-In Royal Palace, Wat Phanan Choeng and world heritage area of the ancient city island.
The 200-kilometer route of the bike lane through five provinces expected to be finished in 2017.Graphic: Department of Rural Roads