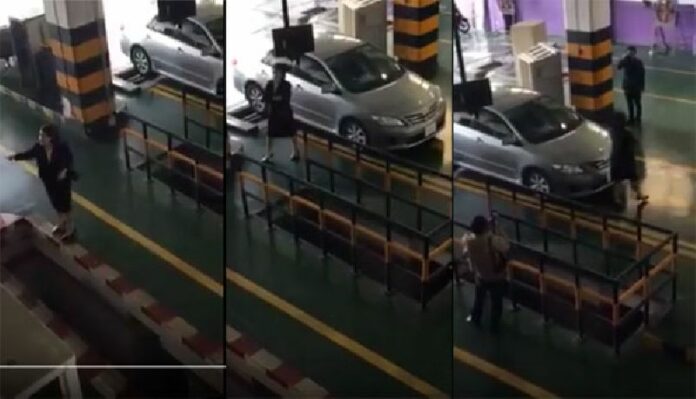 BANGKOK — A woman who went viral on the internet last week for her abusive behavior over a parking ticket was back with more today.
In a video posted online Tuesday, a woman was seen shouting incoherently at officials at the Department of Land Transport.
A representative at the Department of Land Transport confirmed the video shows a woman ranting at the venue, but said the incident occurred yesterday, not today as alleged by the Facebook page to which it was posted.
"… She was shouting something. We couldn't make out what she said," said the official, who spoke on condition of anonymity because she feared punishment from her supervisors. According to the official, the woman arrived in a car and drove away after she finished her ranting.
Asked whether the department will alert police about the woman's actions, the official said they have guards capable of handling security.
"As long as she doesn't do something violent, we won't call the police," the official said.
In the first video posted Wednesday, the woman was seen throwing a tantrum at department officials, reportedly after losing her temper over being ticketed for parking in a restricted area.

Editor's note: All identifying information was removed from this story after publication per instruction from the editorial management of Khaosod English's parent organization, Khaosod newspaper, who feared that it might lead to possible legal action.
To reach us about this article or another matter, please contact us by e-mail at: [email protected].
Follow Khaosod English on
and
Twitter
for news, politics and more from Thailand.