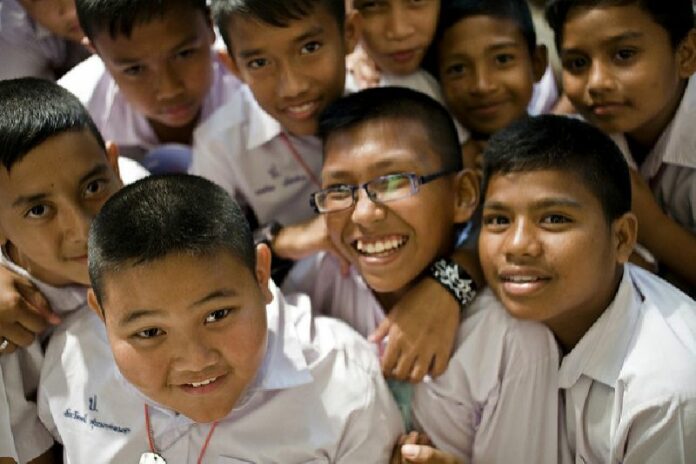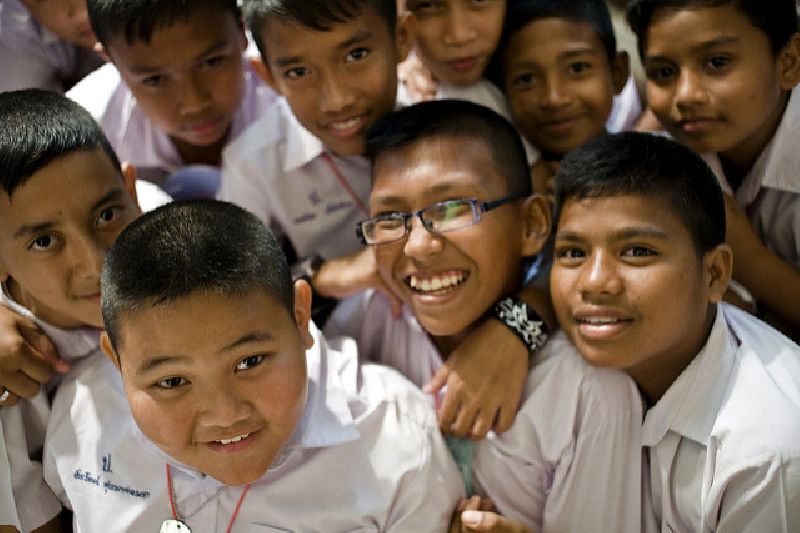 BANGKOK — Seeing him from a distance, young children call out their Singaporean teacher's name before sprinting toward him, excited to practice speaking English.
For their teacher, it's a rewarding moment he says he could never experience if they knew the truth about him: He's actually a Thai national who pretends he cannot understand every single word they say.
"They will value us less if they know we are a Thai teacher," said Natthawut, who teaches at a school in the southern city of Hat Yai and asked Khaosod English not to publish his real name out of concern for his employer. "They will no longer be eager to speak English with us."
Natthawut said he is among more than 200 English teachers, most of whom are recent graduates from Thai universities, working for the same company. For more than four years, the firm he works for has provided English teachers for both public and private schools across the country, especially those with special English programs.
Natthawut was one of three teachers working for the company, Make a Wit, to describe the same arrangement in which they teach children by posing as foreign English teachers. Their names have been changed for this story. After agreeing to be interviewed without reservation, two of the teachers said they did not want to be identified.
There's nothing illegal about the practice, and all three teachers and a representative of the company described what they do as a valuable teaching technique that forces students to speak because they believe their teachers are foreigners who cannot understand Thai.
Reached for comment by a reporter, one of the company's founders told Khaosod English they make it clear to schools and parents the teachers they provide are fully qualified Thai nationals.
He said their policy only calls for teachers to use English names and never speak Thai on school grounds, but said Make a Wit never advises them to lie to students about where they are from.
After answering several questions from a reporter, the company representative ended the interview and declined to give his name.
Ethical Deception?
Taya, another teacher at a school in Ratchaburi province said she told her students she was a Thai-American living in Canada before moving to Thailand six years ago.
When pressing her thumb on the fingerprint scanner at the school, what appears on the screen is the English name she invented for herself.
"The kids are always watching what the screen will say since they are skeptical of me," said the 23-year-old teacher. "But on formal documents, I use my Thai name."
Despite some initial reservations, all three teachers said they saw nothing unethical about the arrangement. The purpose of assuming a false identity, to them, is nothing more than a means of teaching that they believe works, and an effective method they were encouraged to use by the company which employed them.
"They told us it's not a disguise," said another woman, who goes by "Nicole" in the classroom. "But in practice, it is. They didn't tell us to do it directly but they implied it."
According to the teachers, the other school teachers and the students' parents are all aware of the arrangement. Inquiries made to several schools supported that, as teachers answering the phone confirmed their Intensive English programs were taught by Thai nationals.
The only ones being fooled, they said, are the children.
"We are not deceiving anyone. The company agreed with the school to hire teachers who have an accent similar to foreigners, and parents know that," Natthawut said. "We just don't tell children."
Taya said the company only hires Thai nationals because it believes they can better understand the children since they share the same culture and background and are familiar with the Thai education system, unlike foreigners.
"It is better to use a Thai teacher who has studied English directly than a European teacher who might carry the wrong accent," she said.
Suspicious Minds
Lying to the Internet Generation is, of course, not easy. Natthawut himself once got in trouble because one of the his student discovered his Instagram account on which he wrote in Thai.
"They tracked me from who is followed by my colleague's account," he said. "Back then I wasn't careful enough to set my Instagram to private."
Deeply wired Bangkok children are even craftier. Teacher Nicole, or Supaporn in Thai, said after a lot of tricks, some students finally found out she was Thai and not the Filipina she claimed to be.
"In the beginning I felt weird with a repressed feeling of, 'Why do I have to be another person, am I deceiving the kids?'" Supaporn said. "Now I let it go and think what I'm doing is more like training them."
But not everyone agrees that teachers misrepresenting themselves in the classroom is a good way to teach English. One well-known teacher who has stood before classes of students for 32 years said it should not even be an option.
"It's a totally wrong concept. Moreover, what kind of ethics are you teaching to the children?" said Somphot Panawas, an expert on English language instruction at Suan Dusit University.
For Somphot, the psychological reasoning behind the technique – that students are more engaged and forced to speak – is an excuse.
"The excitement comes from the activities and the teaching methods, not the nationality of the teacher," he said.
Teaching English to beginners without the support of their mother language is not always the best means, Somphot said was the opinion of experts, and can make the instruction useless for weak learners.
Lower-Cost Alternative
According to government regulations, teachers in English programs are not required to be native speakers, however they must achieve a required score on tests of English ability.
The quality of English language instruction in Thailand has long been lamented, and stories of poor student performance are news media staples.
Some parents prefer their children learn English from foreigners, but qualified teachers tend to be in short supply, especially due to the relatively low pay at public primary and secondary schools.
In a cost-saving measure, the Ministry of Education announced in November it would seek to cut the number of foreign teachers and invest in intensive training of Thai teachers.
Authorities at the Ministry of Education said schools face other obstacles in hiring qualified foreign teachers, such as a contentious Thai language and culture course they are required to complete.
But the most important reason cited by a high-level education official is the fact that schools receive no subsidy to employ foreigners, so they often have to go with the most affordable choice.
"Native speakers' wages are usually expensive," said Deputy Permanent Secretary Chaiyot Imsuwan. "But if you only want someone who can speak English, the wages are less."
While people debate over whether the nationality of teachers influences attitudes of English-language learners, Chaiyot said one matter is already settled: The quality of their teachers depends on how much their parents can afford.