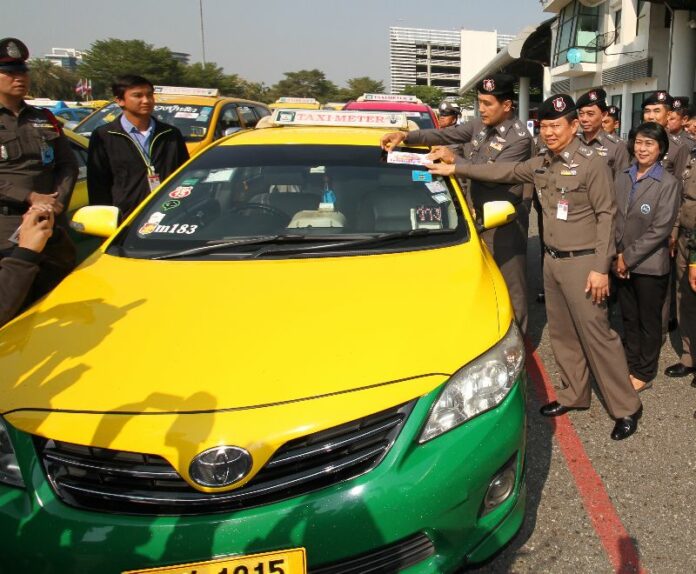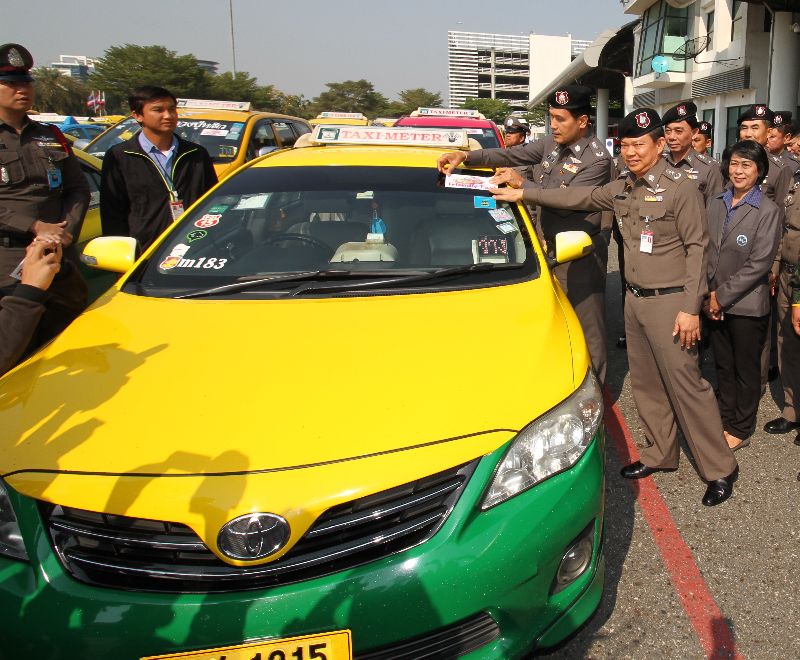 SAMUT PRAKARN — Where mass public pledges, complaint hotlines and a smartphone app have failed, police said they have come up with a new measure to discourage abusive behavior among taxi drivers at Bangkok's airports: a lecture and sticker.
Under the "Friendly Taxi" campaign, police officers today delivered a lecture encouraging taxi drivers to obey the law and refrain from ripping off, refusing, fooling and threatening passengers as found in many complaints on social media. Participating taxi drivers will get a "Friendly Taxi" sticker to display on their window.
More than 200 taxi drivers stationed at Suvarnabhumi Airport were the first batch of cabbies to join the briefing today, said Thana Chuwong, deputy commander of the First Region Police, whose jurisdiction covers the airport.
"We urged them to understand principles of servicing foreign tourists," Maj. Gen. Thana said. "We started at Suvarnabhumi Airport first because it's the face of our country."
According to Thana, the project will expand to other provinces that cater to tourists, such as in Nonthaburi, where many taxi drivers can be found who service the nearby Don Mueang Airport, and Ayutthaya, a historic site that once served as capital city of the Siamese kingdom.
"We want to encourage taxi drivers to join the activity, so that they will be ambassadors of hospitality who impress foreign guests of our country," Thana said.
Although the rest of Bangkok is not included in the "Friendly Taxi" program, the officer said that authorities there can implement a similar program.
Complaints about airport taxis range from long lines and expensive surcharges to some taxi drivers' tendency to overcharge foreign tourists or refuse to take Thai passengers.
In January 2015, a Japanese man posted an account to Facebook of a taxi driver who demanded an expensive flat rate for his trip, and the post soon went viral on the internet. Netizens' condemnation of the incident led airport authorities to ban the driver in question from the premises and pledge to improve quality of taxi service there.
Measures launched in the past year included the introduction of an online taxi complaint application called DLT Check In, mass arrests of taxis that refuse to pick up passengers in downtown Bangkok and lectures about service mindedness.
A recent Bangkok Post report quoted an official saying that 720 complaints about Suvarnabhumi Airport taxis were received in 2015 of the three million trips made by the 5,000 taxis registered there.
Related Stories:
Airport Taxi Busted for 'Turbo' Meter
Taxi Association Condemns 'No Japanese Passengers' Sign
Thai Govt Releases Taxi Rating App
Teeranai Charuvastra can be reached at [email protected] and @Teeranai_C.