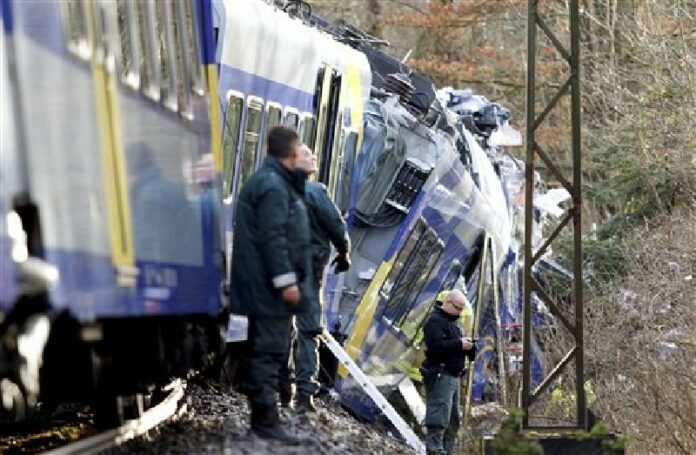 BERLIN — German police say the death toll in the train crash in southern Germany has risen to eight. Police spokesman Stefan Sonntag said 150 people were injured in the Tuesday morning crash, including 50 severely.
The two trains crashed head-on into each other shortly before 7 a.m. on the single line that runs next to the Mangfall river in Bad Aibling, Bavaria.
Injured people are being carried by helicopter and boat from the inaccessible site of a train crash in southern Germany.
Rescue helicopters are carrying people on a rope across the Mangfall river to ambulances waiting on the other side, four hours after the two trains crashed head-on. Federal police spokesman Stefan Brandl says the stretch of line on which the two trains crashed is squeezed between the Mangfall river on one side and a forest on the other, which is making rescue operations very difficult.
A German news agency reported that the rail line is used by commuters going to Munich for work. Usually schoolchildren also take the trains, but they are currently on winter vacation.
The operator of the two trains that crashed, Bayerische Oberlandbahn, says on its website that the trains of the so-called Meridian line both partially derailed and are wedged into each other.
Both the trains' operator and federal police in Bavaria have activated phone hotlines for family and relatives.
The statement did not address the cause of the crash, and officials decline to comment on it.
Story: Associated Press