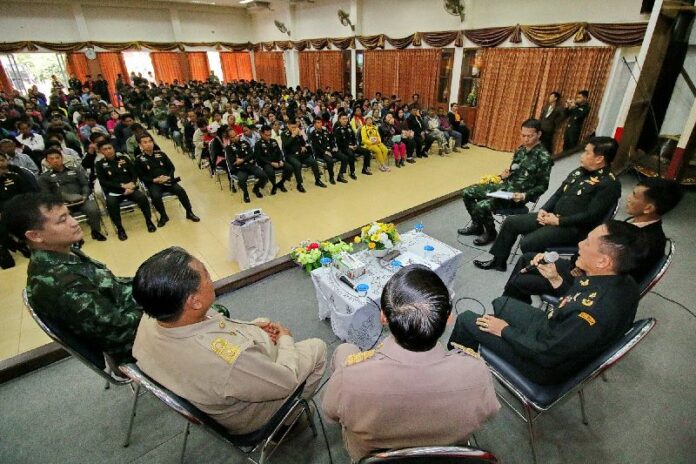 BANGKOK — A leader of the ruling junta said today he saw nothing wrong with dispatching soldiers to convince people across the country to support the new constitution drafted under its oversight.
Deputy junta leader Prawit Wongsuwan said today the troops will meet with local communities through Thailand to "create understanding" about the charter draft and encourage them to participate in the upcoming referendum.
"We won't tell people whether to accept or reject the constitution," Gen. Prawit told reporters.
The plan for the PR blitz came as the military regime is using state media to praise the new charter draft, which was completed last month and is scheduled for a vote in July.
---
Charter Gets Broadcast Boost, But Criticism Will Not be Televised
---
When a reporter asked whether Prawit believed the use of armed forces in the campaign would denote the military's interference in politics, Prawit said he didn't think so.
"How can it be political?" Prawit said. "I don't think it will do any harm, because telling people to vote in the referendum is not a political issue."
The campaign already started Monday in Ratchaburi province, where soldiers briefed an audience of around 500 people about how the new charter is an improvement from the previous one.
According to the junta's roadmap to restoring democratic rule to Thailand, national elections will be held in late 2017 if voters approve the new charter in July.
The military junta, which seized power from an elected government and dissolved the previous constitution in May 2014, has been keen to urge the public to accept the new constitution in the upcoming vote, and ensure a smooth transition.
State media also recently started broadcasting daily segments of a talk show to praise the new constitution draft. There's no sign that any critic of the charter will make appearance on the show, called "Unveiling the New Constitution," any time soon.
Related Stories:
Junta Orders Media to Discuss Charter 'Respectfully'
The Good, Bad and Ugly of Junta's 'Anti-Corruption' Constitution
Teeranai Charuvastra can be reached at [email protected] and @Teeranai_C.