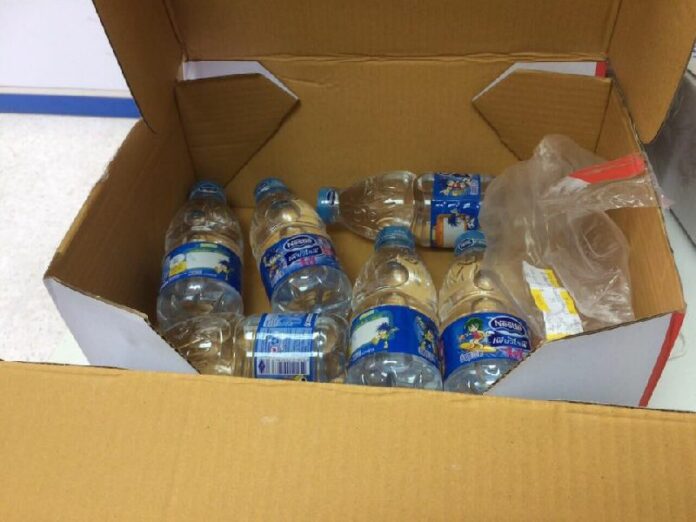 PHETCHABUN — When Narawuth Kunakham ordered a Yamaha guitar from an online shopping forum, he probably didn't expect to get six bottles of water instead.
Now after finding himself the victim of a common scam that has long plagued the budding e-commerce industry in Thailand, Narawuth, deputy mayor of Petchabun city, said they scammed the wrong guy. He's taking legal action.
"I want this case to be an example. This kind of thing happens everyday," Narawuth said over the telephone today. "Many people get fooled, many people get scammed. But many of them did nothing. They thought it wasn't worth their time, which only encouraged scammers to continue doing the scam. That's why I want to set an example."
Earlier this month, Narawuth ordered a second-hand guitar from a seller on Kaidee.com, a portal for buying and selling between private parties. Instead of the guitar for which he paid 1,800 baht, Narawuth said he received Monday a box containing six bottles of water.
Narawuth said he filed a fraud charge against the scammer – Kaidee.com user Ppsweetpork – with Phetchabun City Police Station yesterday.
Lt. Cpt. Warut Chuelinfa, an officer at the police station, confirmed the charge has been lodged, but declined to provide more information.
According to Narawuth, he found out the seller's name, phone number and home address because he ran the name of her bank account in the ID card database at his office. He said he has handed over all the information to the police.
"I'm confident the police will be able to make an arrest, because they have everything," Narawuth said. "If only I had an arrest warrant in my hand, I'd make the arrest myself."
Narawuth said the scammer actually phoned him to apologize after news he had filed charges spread and wired the money back to him. But Narawuth vowed to press charges anyway.
"She returned the money to me, but I told her she has to return money to everyone she has scammed. And I won't settle this matter out of court," Narawuth said. "Returning the money [to everyone] merely makes her eligible for some reduction in her jail term."
Online shopping scams of this nature are common in Thailand, where e-commerce has recently exploded. In July 2014, police arrested a man for allegedly sending rocks to his clients who thought they were buying iPhones from him.
Four months later, in November, a 16-year-old student filed a charge with police after she received a box of soap instead of the iPhone 4S she ordered from an online vendor.
Teeranai Charuvastra can be reached at [email protected] and @Teeranai_C.