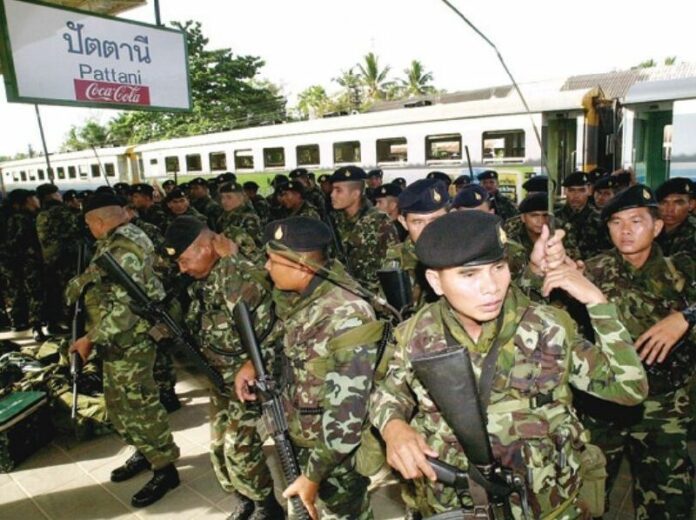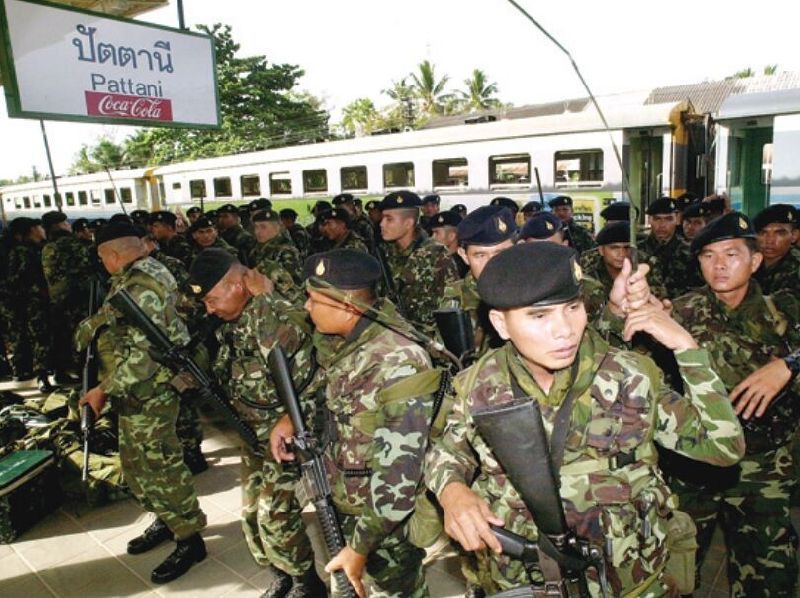 BANGKOK — Torture ranging from waterboarding and strangling to threats of violence and sexual assault are used systematically by the army and police to force confessions from suspected insurgents in the Deep South, a new report alleges.
The second such report to be issued this month based on interviews with former detainees, the report to be released Wednesday by the Cross Cultural Foundation, Network of Human Rights Organizations in Pattani and Dua Jai Group warns that the alleged abuse undermines not just the justice system but support for the Thai state among Thai-Malay Muslims in the southernmost provinces.
"Torture in the [southern] border provinces is done systematically," states the 120-page report. "It is destroying confidence in the structure of the state, both in acceptance of governance and confidence in the legal and justice systems. In the end, [suspects] may be lured into joining the violent struggle [for independence]."
Read: Army Denounces Deep South Torture Report as Product of 'Imagination'
Col. Pramote Promin, spokesman for the Internal Security Operation Command, or ISOC, said they had not seen the report but dismissed it as yet another figment of its authors' imaginations. He also accused one of its principal authors, foundation Director Pornpen Khongkachonkiet, of wanting to discredit the army and state.
Pornpen told Khaosod English the authorities should look into the findings of the "Report on Torture Situation and Inhumane, Cruel and Degrading Treatments in Southern Bordering Provinces 2014-2015," before rejecting it outright. She stood by her findings, saying psychological evaluations of its sources, who are unidentified, were conducted to ensure the reliability of their accounts. The report includes testimony between 2014 to 2015 from 54 people, who recounted allegations of incidents both recent and old.
The tally by human rights groups counts more than 6,200 people killed between 2004 and 2014 in the Deep South, the report notes.
"My understanding is that ISOC doesn't know its duty. The state has the responsibility to examine what's happening. But they don't read the reports, don't examine their shortcomings and their policies," Pornpen said, saying that ISOC's stance is to ignore such torture allegations.
The report follows another released Feb. 2 by the Pattani-based Muslim Attorney Center Foundation. It contained similar allegations, saying the military used a wide range of physical and psychological abuse in 2015 to secure confessions from suspected insurgents.
Prominent human rights lawyer Somchai Hom-laor, another figure behind the report, said some torture techniques are now being adopted against ordinary Thais elsewhere in the kingdom who are believed to be threats to national security.
"We don't want to condemn them or create hatred but want them to rectify the situation because it is undermining the state itself," Somchai said.
The report noted that no single security officer has even gone to jail during the past decade over cases involving torture. The closest came in the 2007 case of Ashari Sama-ae, 25, who died while under detention without charge. The Supreme Administrative Court on Aug. 21 ordered the Prime Minister's Office to pay his mother, Baedoh Sama-ae, compensation of 534,301 baht plus interest, which amounted to 1,014,000 baht, after the court found that Ashari died of head injuries while in the custody of ISOC, which operates under the prime minister's office. No soldier was ever brought to justice in the case, however.
The report said that detention without charge under martial law, which is allowed for up to 37 days under the Emergency Decree, has created more opportunity for abuse, torture and degrading treatment of separatist suspects.
"The rights of these people have in fact been limited more so than criminal suspects who have been charged," the report stated, adding that detainees are not allowed to see their relatives or attorneys, have no right to seek bail or temporary release, and in some cases are transferred to different detention facilities without the knowledge of family members.
The report claimed that both physical and psychological torture often starts when suspects are first arrested. Former detainees said mistreatment included having M16 rifle barrels stuck in their mouths, beatings, threats to kill them or their family members, threats of rape against their wives and more.
In one dramatic case, the report tells of a 27-year-old suspect who said he was arrested without charge in March 2014. He accused police officers of telling him to run from their vehicle for his life, which he refused to do out of fear of it being used as a pretext to kill him.
"The police officers said they would let me run, and if I succeeded [in fleeing], I would survive. I didn't, and a police officer said, 'That's too bad, otherwise I would have sent you to join your dad [in the afterlife],'" he was quoted on page 21 of the report.
During interrogations, the report alleged a wide range of torture methods have been employed, such as waterboarding, stripping suspects naked, squeezing male suspects' genitalia, strangulation, sleep deprivation, sensory deprivation by blindfolding and hooding, flagellation, foot roasting, electric shock, Chinese water torture and more.
Medical personnel have been complicit in the abuse, according to the findings.
Page 23 of the report notes an unnamed 29-year-old suspect's account of being beaten in February 2014 only to be taken to see a medical doctor the next day.
"I was taken for a medical examination in the morning inside the [military] camp. The doctor didn't examine me but issued a medical certificate stating that I wasn't tortured," he said.
The man alleged he eventually caved after three days of severe beatings and ominous threats.
"In the end I signed the document because the officers assaulted me all over my body and threatened to harm my wife, burn down my home, harm my parents and threatened that if I didn't confess, they can send me to prison."
The researchers said their subjects and alleged victims are suffering from anxiety, depression, Post-Traumatic Stress Disorder, anger and a desire for revenge.
"When I drive and see officers I feel scared, vengeful and as much as possible try to avoid seeing them," one alleged victim was quoted saying.
Another described anguish over being subjected to unjust treatment.
"[I am ] stressed and worried. Why did they repeatedly arrest me when I didn't do anything?" he is quoted saying. "I feel pain and anger in my heart that I am not getting justice."
The report is in Thai with an English-language version forthcoming.