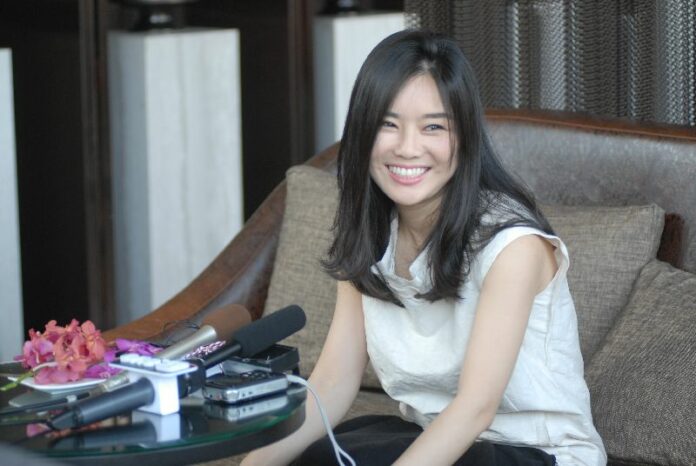 By Simon Duncan
Deputy Editor
BANGKOK — In January 2008, Hyeonseo Lee boarded a flight from Shanghai to Bangkok via Seoul. Lee differed from the millions of Chinese who fly to Thailand each year: Her Chinese passport was fake.
She was actually North Korean.
Lee never made it to Bangkok that day, as she got off the plane on her stopover in Seoul and sought asylum. After months spent in detention centers, she won her freedom after proving to authorities she was a North Korean refugee.
Now in her mid-30s, Lee finally set foot on Thai soil last week, eight years after her exodus from China, not just to promote a Thai language version of her book but also create awareness for the thousands of North Korean refugees who sneak into Thailand each year in hope reaching the South Korean embassy in Bangkok.
Eighteen years after she sneaked out of North Korea at 17, the first glimpse of the vast metropolis that is Bangkok shocked Lee, who said she was taught in North Korea that Thailand was "low status" and less developed than her homeland. In North Korea, she said "memorizing the fake history of the Kim dynasty is important" and something she excelled at, to the delight of her teachers.
Thailand is "the most important country for North Koreans," Lee said Saturday in her speech at Bangkok Edge, because it allows safe passage from the border with Laos to Bangkok and the South Korean embassy.
"A shining beacon of hope at the end of a dark journey," she said.

Hyeonseo Lee speaks Saturday at the Bangok Edge Festival.
Straight Lines Not Always the Shortest Distance
Most North Koreans looking to start a freer life in South Korea do so by traveling overland to Thailand via China and Laos. After some time in an immigration detention center, they may apply for asylum at South Korea's embassy. That is if they are not caught and sent home before reaching Thailand – a fate that happens to many.
According to Lee, some 90 percent of the 30,000 or so North Korean refugees living in South Korea came via the embassy in Bangkok.  
Once in the Thai capital, Lee worried few would attend her discussion Saturday, despite the fact her 2013 TED talk has been watched more than 4 million times and was named the series "most riveting" ever by Oprah Winfrey.
It was hard to find a free chair in the room.
Contrasting the stereotype of North Koreans as dour people, Lee peppers her speech with witty comments and constant gestures. She recounted for the audience how, as a child, she asked her mother why the ruling Kim family was so fat. Her mother told her it was due to Kim Il Sung passing an "unlucky" disease to his son, Kim Jong Il.
Mocking the leader is a serious offense in North Korea, unthinkable in public and risky even in private, as people may inform the police.
Why does she dare criticize Kim Jong Un now? Somebody has to do it, Lee said.
"North Korea is the most ridiculous country [in the world], I believe," she said.

Hyeonseo Lee speaks to reporters Friday at Bangkok's Shangri-La Hotel.
The Ethical Dilemma
In an interview the day before her talk, Lee said she knew about Bangkok's Pyongyang-owned restaurants and had even visited those in Shanghai when she grew homesick during the decade she lived in China. Passing herself off as Chinese, she risked discovery and deportation back to North Korea just for a taste of home.
Now she discourages people from visiting them. The staff at such places only receive about 5 percent of the income, she said, with the remainder funneled back to Pyongyang. She also alleged that some staff in these establishments are encouraged to have sex with some customers in exchange for money or information.
Lee's admonishment was echoed several days later by South Korea's Foreign Ministry, which on Wednesday warned its citizens to avoid North Korean restaurants when abroad.
As for visits to North Korea, Lee was adamantly opposed.
"The money will be used for more missile tests," she said.
At the sound of a popping balloon, Lee appeared distressed. It's been nearly 20 years since she snuck out of her homeland, but she said she still lives with one eye over her shoulder and believes there are North Korean spies in Thailand.
There are worse places to unwind, she said, adding that she's partial to her hotel's massage service.
Hyeonseo Lee's "The Girl with Seven Names: A North Korean Defector's Story," is available now in English with a Thai translation to be released in March.
Related stories:
South Koreans Told to Boycott Overseas North Korean Restaurants
Table the Politics and Bite Into North Korean Cuisine at 'Pyongyang Okryu'
7 North Koreans Arrested on Thai-Laotian Border